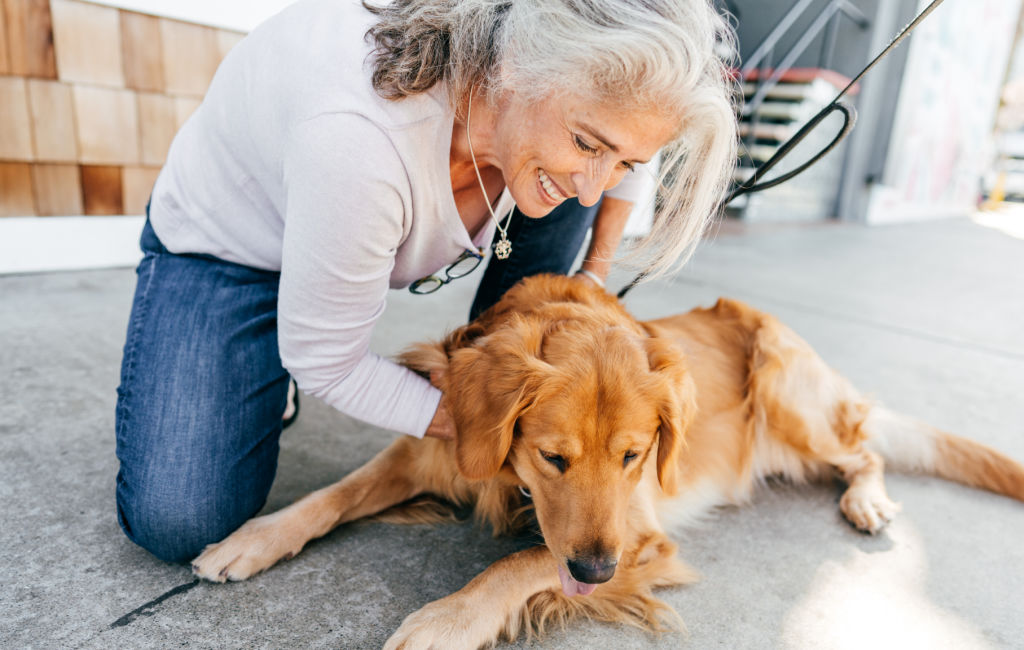 CBD has become highly popular in humans, and maybe you've even tried it for yourself. Naturally, you want to keep your dog as healthy and comfortable as possible, so you might be considering giving CBD to your dog. But is it safe? Here's what you need to know about safely giving CBD to your canine companion.
In 2018, the World Health Organization reported that CBD is safe and well-tolerated in both humans and animals. Because giving CBD to dogs is a relatively new practice, there's limited research available on its effects, but some studies have published encouraging results. A study on CBD use in humans published in 2017 found that CBD has a positive safety profile, with the most common side effects being fatigue, diarrhea and changes in appetite or weight.
A 2018 study on the use of CBD in dogs noted no observable side effects, and a clinical trial focused on using CBD in dogs with epilepsy is underway. Additionally, a 2019 survey of 2,130 veterinarians revealed that most of the participants supported the use of CBD products in animals.
While many CBD products may be safe for your dog, there are some precautions you should be aware of in buying and using CBD.
CBD vs. THC
When choosing a CBD product for your dog, look for one that has no detectable THC. Dogs are more sensitive to THC, which is the chemical compound in the cannabis plant responsible for the high that humans experience. Many products labeled for use in dogs contain both CBD and THC, and they may elicit psychoactive effects in your dog.
To be safe, look for a product that's been tested to ensure it doesn't contain detectable levels of THC or less than the 0.3% THC as allowed by law. 
How to Buy Quality CBD For Your Dog
When giving CBD to your dog, you need to know exactly what's in it and how much CBD the product contains.  Here's what to look for to ensure you're buying high-quality CBD that is safe for your dog:
The manufacturer should tell you where the hemp was grown and how the CBD was extracted.
The ingredients should be clearly listed on the label, and there should be no fillers or artificial additives listed.
The product should be third-party tested to ensure no detectable levels of THC and to show that the amount of CBD matches what's listed on the label. The company should make test results available for each product batch.
The administration directions are clear and reflect appropriate dosages for your dog's weight.
Third-party testing is particularly important, and it's one of the criteria that many manufacturers currently skip. Zebra CBD canine products are all made with organically grown hemp from Nevada and Colorado farms. Not only are crop THC levels tested multiple times before harvest, but all Zebra CBD canine products are third-party tested twice to ensure they meet our CBD and THC content claims. We post full COA results for every product batch on our website for you to view, ensuring full transparency so you can buy with confidence.
Dosing and Directions
When giving a CBD product, carefully review and follow the dog CBD dosage directions. Recommendations for pets are normally based on weight, so make sure that you have an accurate weight for your dog.
According to the ASPCA, dogs that ingest large doses of THC may experience symptoms like mild sedation and urinary incontinence, a drunken appearance and loss of muscle control. A dog experiencing a THC overdose will need veterinary treatment, including IV fluids and anti-nausea medication. This highlights the importance of buying a quality, third-party tested CBD product and using it in the recommended dosages.
Maybe you've already seen how CBD helps you, a friend or a relative's dog. Whatever the reason, you can safely give CBD to your dog with some precautions. As long as you carefully vet the canine CBD products you buy, your dog will likely realize some of the same benefits — including more a relaxed disposition and fewer body aches — that many of his human counterparts are experiencing.
To be safe, look for a product that's been tested to ensure it doesn't contain detectable levels of THC or less than the 0.3% THC as allowed by law - such as our CBD calming chews for dogs.