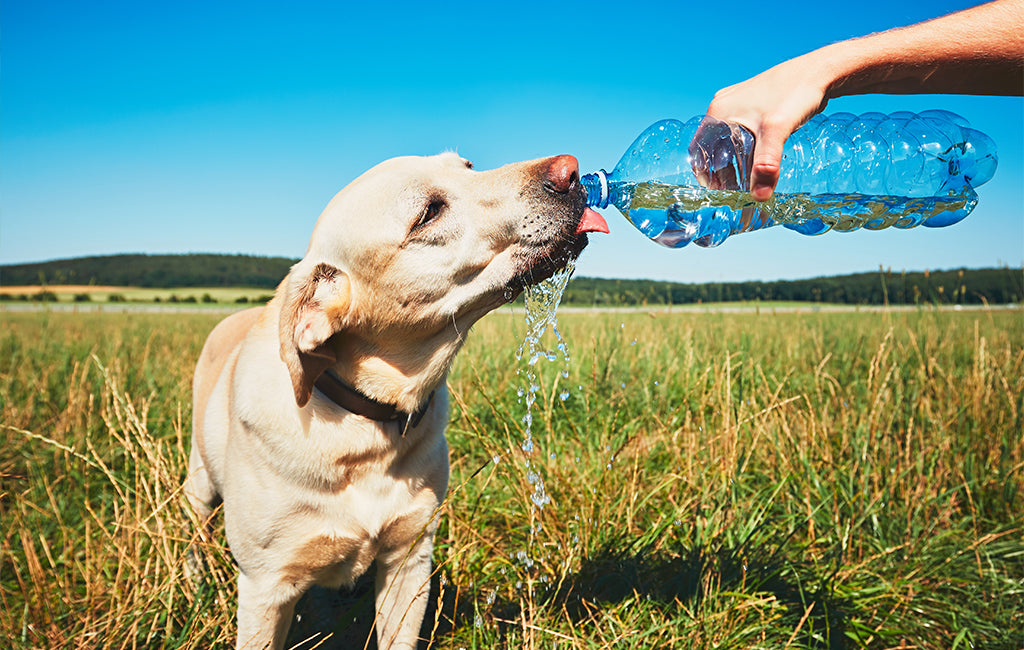 Dogs and summer go together like flip-flops and the beach. Frolicking in the great outdoors, going for long walks, playing fetch in the sun — there's just something about sunny days that brings out the best in your dog. 
That said, thanks to their boundless energy and fur coats, it's easy for dogs to overheat in hot weather. But that doesn't mean you have to restrict their summertime activities to air-conditioned spaces. So you may have asked yourself: "How to keep my dog cool in the summer?" Every pet owner knows the summer heat can be detrimental to your pets, especially older dogs. Some smart planning ahead, a few tips and a few product ideas can help make your summer worry-free.
If temperatures are rising where you live and you're ready to take your best furry friend along for any summer adventure, read on to find out everything you need to know about how to keep your dog cool in summer.
How Dogs Cool Off   
The first step to understanding how to keep a dog cool in summer heat is understanding how dogs keep themselves cool in the first place. Like humans, their bodies are designed with a couple of ways of cooling off when things get too hot.
When the human body needs to cool down, it produces sweat. Then, the body cools itself by using its own excess heat to evaporate sweat from the skin. But that only works because the human body is covered with skin and sweat glands instead of a thick coat of fur. 
That means the canine body has to find other ways of cooling off. And the primary way it does that is by panting.
When your dog pants, its body performs a function that's very similar to how humans cool off through sweating. Essentially, it's a quick way for your pup to release warm air from its lungs that evaporates moisture in the mouth and on the tongue. As a result, your dog cools off because: 
Warm air in the lungs is replaced with cool air from outside the body.
Excess body heat is expended during the evaporation process. 
That said, dogs do sweat a little bit. Your puppy's snout and the pads of its paws have sweat glands that also help expend extra body heat. But when it comes to lowering body temperature, sweating plays a very minor role.
Another seasonal problem that dogs have in the spring and summer are allergies. If you're wondering: "What can I give my dog for allergies?", you'll find that there are several solutions to help your dog with seasonal allergies.
8 Tips for Helping Your Dog Keep Cool in The Summer 
Even though your dog's body has its own methods for keeping cool, it can always use a little help from you. And knowing what you can do to help your pup stay cool means you don't have to miss out on any summer fun with your dog.
Here are eight tips if you're wondering, "how to keep my dog cool in the summer?"
#1 Keep Your Dog Hydrated
Think about it: what's the one thing you crave when you've been outside on a hot summer day? The answer is probably a cold drink of water or a frozen treat. If dogs could talk, they'd tell you the same thing.
Make sure you always have a way for your dog to get a cool drink. If you're at home, this is as simple as keeping a fresh water bowl nearby. Make sure you keep the bowl clean and full of cool water. 
If you're out and about — whether you're on a hike, taking a long walk or playing in the park — you'll need to investigate other ways to carry water for your dog. The best solutions are:
Portable water bottles for dogs – The handiest way to keep your dog hydrated is to invest in a portable water bottle for dogs. They're lightweight and feature built-in water bowls for easy drinking, meaning they're designed with you andyour dog in mind.
Collapsible water bowls – These are another great option for how to keep a dog cool in summer and hydrated when you're on the go. Unlike water bottles, they don't carry their own water, so be sure you have an extra supply for your dog. When you're not using them, these bowls fold up so that you can easily carry them with you.
Hydration packs – If you're going on an extended adventure, it might be worth investing in a hydration pack for dogs. These wearable packs feature pockets for carrying extra water bottles.
Although water is good for your dog, be careful not to give them too much water. Doing so can be harmful, especially when it's hot outside. If your dog is playing or you're taking a long walk, giving them a small amount of water every 15 or 20 minutes should be enough.
#2 Be Smart About When You Go Outside 
Keeping your dog cool in the summer means restricting their exposure to extreme heat. That means you should avoid taking them outside during the warmest hours of the day. Usually, those midday and early afternoon hours are the worst times for your dog. 
When the sun is at its highest, your pup's risk of overheating is at its greatest.
That still leaves tons of time for you and your dog to enjoy the warm weather. Take full advantage of the chilly weather of early mornings and late evenings for all your dog's daily activities, like: 
Exercise 
Walks and runs
Puppy playdates 
#3 Make Sure They Have a Shady Spot
When you're playing outside with your dog, especially if you plan to be out for an extended period of time, make sure they have a shady place for them to rest when they feel hot or tired. Remember that dogs have sensitive paw pads that can easily overheat on hot pavement, artificial grass or asphalt. 
If you're out and about and your dog starts to get warm, seek out the shade of a large tree or building. You can also consider investing in one of the following: 
Elevated dog bed with canopy – These dog beds have an easily assembled design that makes them great for transportation and quick construction. Keeping your dog elevated promotes air circulation on all sides, while the canopy provides necessary shade from the hot sun. 
Cooling mats – Filled with either cold water, ice or a special stay-cool gel, these mats give your dog a cool place to rest and help their bodies chill out.
#4 Water Sports
For humans, one of the best ways to cool off when it's hot is to go for a swim. For dogs, taking a plunge can have the same cooling effect. This summer, you can spend quality time with your dog andhelp them ward off the heat by including them in your trips to: 
The beach – Dogs love scampering in the surf, and the water can help keep them cool. Just be sure to bring ample sources of drinking water and something to keep them shaded when they need a break.
Pet-friendly water parks and dog beaches – Depending on where you live, there may be a nearby splash pad or waterpark that welcomes dogs. You may also be able to find a dog beach where your pup can play with other dogs.
Sprinklers and puppy pools – If you're home, letting your dog run through the sprinkler is a simple solution to keep your dog cool in the summer. You can also consider getting a puppy pool for them to splash around in.
#5 Cooling Clothes
Many dog owners will be pleased to discover that there are some fashion-friendly ways to keep your dog cool. 
To make sure your dog is the coolest at the dog park in every way, consider bringing along:
Cooling vests – These special vests do what your dog can't do for itself: sweat. When you drench the vests in water and put them on your dog, they mimic the process of evaporation by using the warm air and your dog's body heat. 
Cooling collars – Pop these gel-filled ice packs in the freezer before you take your dog and they'll slowly melt, which can help keep your dog cool. 
Cooling bandanas – You can drench these bandanas in cold water, wring them out and put them around your dog's neck for a quicker cooling solution. 
#6 Know the Signs of Overheating
Knowing how to keep your dog cool in summer is essential. But it's also important to know what signs to look for that tell you when your dog is too hot. When you know what to look for, you can act quickly to help your dog cool down and avoid overheating.
Here's what to look out for:
Excessive panting or labored breathing
Excessive or unusual whimpering or whining
Excessive drooling
Discolored or gray mouth 
Disorientation
If your dog exhibits these symptoms, get them to a cool place immediately. Give them water to drink to help the cooling process. 
#7 Take Frequent Breaks
When it's hot, one of the best things you can do for your pup is to give them time to rest and cool down. Whether you're playing in the yard or going for a long walk, make sure you're taking breaks. Overexertion will only overheat your dog's system.
A time-out of even five or ten minutes is an excellent opportunity for your pup to drink water, rest and cool off. 
#8 Cold Treats
If you've ever run off to the Dairy Queen on a hot day, then you can understand why giving your dog a frozen treat is one method for how to keep a dog cool in summer. And many of the same cool foods that you enjoy are available for your dog. 
Making delicious and healthy frozen snacks for your dog is as easy as popping ingredients into a blender, pouring them into a mold and giving them time to freeze. Think about making pup-sicles for your dog with:
Frozen fruit – Puree delicious summer fruits like bananas, watermelons or cantaloupe, then freeze them in an ice tray for single-serve frozen snacks. 
Frozen yogurt – Mixing yogurt with pureed pumpkin or sweet potatoes and freezing them in a mold makes a summertime treat your dog will drool over. You can also add a few drops of CBD oil for dogs. 
CBD chews – Treat your pup to something special with a few frozen CBD chews that help support your dog's overall wellness.
When It Comes to CBD, Zebra Sets the Standard
Ensure your pup stays cool in extreme heat with plenty of water, shade and breaks. And keep your pup feeling their best with Zebra CBD. 
Made with the highest quality ingredients, Zebra CBD Oil for Dogs and CBD Calming Chews are two safe ways to use CBD to support your dog's overall wellness and mood. Each of our products is tested twice in third-party labs to ensure your dog gets exactly what's on the label.
Stay cool with Zebra CBD and shop our CBD for dogs collection today. 
Sources:
River Landings Animal Clinic. 5 Common Reasons Why Dogs Pant. http://www.riverlandingsanimalclinic.com/news/why-do-dogs-pant#
Purina. 6 Tips on How to Keep Dogs Cool in Summer. https://www.purina.com/articles/dog/care/6-tips-how-to-keep-dogs-cool
K9 of Mine. 5 Best Dog Cooling Vests to Keep your K9 Cool. https://www.k9ofmine.com/best-dog-cooling-vests/
The Shot Spot. Is My Dog Overheated? How to Tell and What to Do About It. https://theshotspot.org/news/pet-overheated/