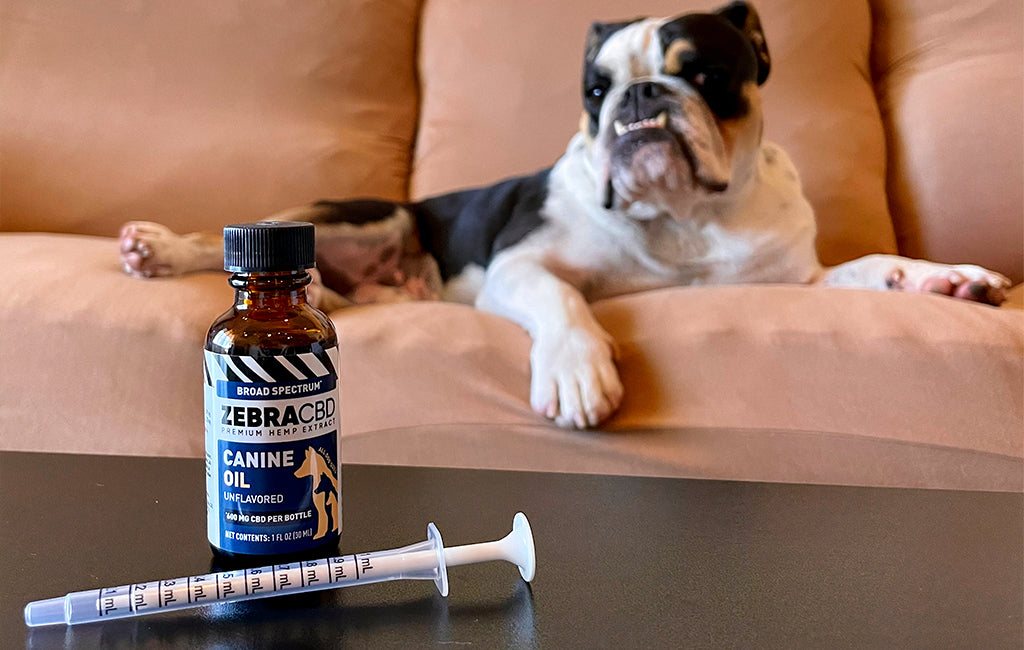 As we walk through the door each day, we're often greeted by our furry friends' wagging tails, wide eyes and smiling faces. Our dogs give us plenty of support throughout the day, whether it's welcoming us home or cuddling with us on the couch after a long day.
But sometimes our furry friends need some extra support, too. While a belly rub and romp to the park will certainly help to elevate your dog's mood, canine CBD products may also provide your pup with many benefits. 
More specifically, CBD-infused chews, balms and oils may support your dog's physical comfort, sleep habits, mood and appetite. In this guide, we'll walk you through CBD's potential benefits and how to give dog CBD oil as a CBD dog treat. 
What CBD Products Are Available For Dogs? 
There are several ways you can give your dog a pet CBD oil. The best product option depends on what your dog needs support for. The three most commonly used types of dog CBD products include:
Edible CBD – Edible CBD products for dogs usually come in chew form. These deliver CBD to your dog's system via the digestive system. Once the CBD passes through the digestive system, it enters the bloodstream and is carried to endocannabinoid receptors around the dog's body.
Sublingual CBD – If you prefer a more direct delivery system of CBD for your dog, sublingual may be the way to go. You can rub the oil onto their gums oreven on the underside of their ears. This allows the CBD to bypass the digestive system since it goes directly into the bloodstream for faster effects.
Topical CBD – Lastly, you can give your dog CBD by using a topical balm. The dog's skin can absorb the CBD and it interacts with the endocannabinoid receptors located there. Balms are a good option for targeted CBD applications.
What Benefits Might Your Dog Get from CBD?
It's important to note that very little conclusive research has been conducted on the benefits of CBD for dogs. Most of the research that exists pertains to human subjects. However, limited research andanecdotal evidence do suggest that there are benefits to giving your dog CBD.
1. May Ease Joint Stiffness Due to Normal Exercise
Is your dog an active pup that loves nothing more than chasing after the squirrels in your yard? Are you an active, outdoor adventurer who brings your furry friend with you on your escapades? If so, your dog might need a little support for its joints from some CBD treats.
Luckily, CBD products may be able to help. It's thought that CBD oil and topical CBD balm can be healthy options to:
Keep your dog feeling its best
Support flexibility and movement 
Promote full-body wellness
With a dog CBD oil in your back pocket, you may be able to support your dog's health and wellness as a dog owner to keep you and your adventure pal active and on the trails.
2. Might Have a Calming Effect
Many dogs can struggle to calm down when a lot is going on around them, from hearing the neighborhood garbage truck to meeting new strangers. If your pup struggles to relax, CBD might be able to:
Promote relaxation
Support balanced behavior
Help curb destructive behavior
Maintain calmness
You don't like to feel nervous or worried and neither does your dog. Helping them feel more relaxed is one way to promote your dog's well-being as a pet owner, and you can consider options like high-quality CBD calming chews for dogs to support their relaxation and overall health.
3. May Support a Healthy Sleep Cycle
Do you have restless nights where you can't fully relax and fall into a restful sleep? If you do, you probably know how rough the mornings after poor sleep can be. Everything feels offwhen you don't sleep well. Your furry friend also needs healthy, restful sleep to be at their best.
CBD might be beneficial for dogs that struggle to calm down for a peaceful night at rest. Since it might ease joint stiffness resulting from your dog's normal daily activity, CBD may help your dog sleep more comfortably. The support CBD offers to promote relaxation can also help your pup drift off into sleep more easily.
4. Can Promote a Healthy Appetite
Some dogs (large dogs or small dogs) can struggle with digestion. Luckily, CBD may be able to help promote a healthy appetite by supporting proper digestion and bowel health. In turn, you might find that your dog maintains a healthy appetite that supports its active lifestyle. 
How Much CBD Should You Give Your Dog?
It's really difficult to determine an exact CBD amount for dogs that is appropriate. Think about a Mastiff and a Yorkshire Terrier. They're both dogs — but they've vastly different creatures. 
Species variance is just one reason why there isn't a set amount of CBD that's considered perfect for all dogs. Other factors that go into determining how much CBD is right for your pet include:
Type of product – The amount of CBD you use for your pup will vary by product. For example, the perfect number of chews for your pup may be two, but when it comes to oil, you may need a few more drops. As such, make sure you always read the instructions on the packaging carefully and only give your dog the recommended amount.
Your dog's body composition – Your dog's size, age, metabolism, health and more contribute to how their body metabolizes CBD. Most products will contain instructions based on a size range as guidance. Keep in mind that these only take pet weight into consideration and don't account for health conditions and metabolic rate.
Amount of CBD in the product – CBD oil that you rub into your pet's gums is more concentrated than a CBD chew or balm. It also reaches your dog's system more rapidly and at a higher rate. That's why you'll find that you can give your pup fewer amounts of highly concentrated oils, compared to other CBD products.
So, what does this look like in terms of actual CBD? The baseline guidance suggests starting small and setting a rule of no more than 0.2 mg of CBD per pound. This means a dog that weighs 40 pounds should have no more than 8 mg of CBD.
However, this is merely a suggested guideline. You should always speak with your pet's veterinarians for guidance related to your dog's specific needs, and see if they have their own recommended veterinary medicine.
How Do You Know if CBD is Working For Your Dog?
Wouldn't it be wonderful if your dog could speak and tell you how he feels? Unfortunately, until science discovers how to make that happen, you have to rely on your observations to provide you with insight into whether or not CBD is helping your dog. 
Think about the reasons you gave your dog CBD in the first place and ask yourself if you see any improvements. For example, does your dog:
Sleep more restfully at night?
Appear calmer and more balanced?
Have a healthy appetite?
Keep up with you on long hikes?
These might all be signs that your dog is feeling their best and that CBD is helping to support their wellness.
Is CBD Safe For Dogs?
CBD is typically safe for dogs. Most canines can be given a CBD product without harmful side effects. However, common mild side effects some dogs may experience include:
Dogs who take certain medications should not use CBD as there may be a risk of unwelcome interactions. If your pup takes medication, speak with your veterinarian before giving them CBD.
Lastly, dogs should never be given THC. Make sure you're only purchasing CBD products free from trace amounts of THC as it can be toxic and even deadly to dogs. Only purchase pet CBD from reliable, trusted sources to ensure the product quality and the safety of your furry buddy. 
Additionally, you should never give your pets a drop or two of your own full-spectrum CBD, as it does contain trace amounts of the hallucinogen. 
What Should You Look for In CBD Products For Dogs?
Many of the same guidelines you use to shop for your own CBD products also apply to canine CBD. To ensure that your pup is getting only the best, look for the following:
Certificate of authenticity (COA) – A COA is proof that an independent, third-party lab has tested the product and given it a thumbs up. You can find the COA on the company's website or by scanning a QR code on the packaging of the product.
Label accuracy guarantee – Labels for CBD products are often misleading or downright fictitious. Zebra CBD products for dogs (and their people) are the only CBD products that come with a Label Accuracy Guarantee. This means they promise that the label is a truthful list of what is in the product you're purchasing. 
Dangerous ingredients – Certain ingredients should neverbe in your dog's food, treats or anything else it consumes. When choosing CBD for your dog, make sure that the product doesn't contain any pesticides, heavy metals or potentially harmful additives. You also shouldn't give your dog CBD products that contain THC. Typically, only products that use full-spectrum CBD oil may contain trace amounts of THC.
Choose Zebra CBD For Your Dog's Health and Vitality
You want the very best for your canine pal. If you think your dog might benefit from a little CBD in their routine, you've come to the right place. CBD for dogs is often available in chews, balms and oils. You can typically give dog CBD with food, starting with a small dose and carefully monitoring your dog's behavior will help ensure its safety and comfort.
Choosing CBD products from a trusted source, like Zebra CBD, is also a must for your furry friend. Our line of dog-friendly CBD products is made with the same care as our human-friendly products. This means the same Label Accuracy Guarantee gives you the peace of mind you crave. Choose Zebra CBD for your dog's total well-being. 
Sources:
American Kennel Club. CBD for Dogs: What You Need to Know. https://www.akc.org/expert-advice/health/cbd-oil-dogs/
American Kennel Club. Does CBD Work for Your Dog? https://www.akc.org/expert-advice/health/does-cbd-work-for-dogs/
PetMD. CBD for Dogs: Everything You Need to Know. https://www.petmd.com/dog/general-health/cannabis-oil-dogs-everything-you-need-know
Canine Journal. CBD Dosage for Dogs: Clearing Up the Confusion. https://www.caninejournal.com/cbd-dosage-for-dogs/