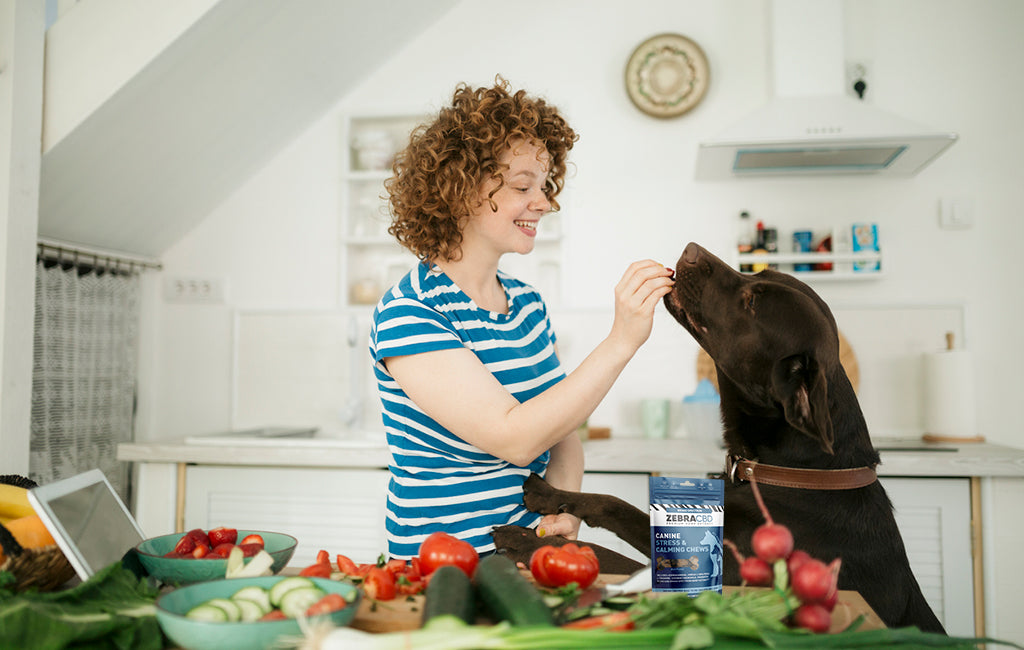 When you give your dog CBD, do you do it first thing in the morning before feeding him breakfast? If so, a simple change to your routine could maximize the absorbency and effectiveness of the CBD. Your dog might see improved benefits if you give him some food before his CBD.
Should You Give CBD With Food?
In 2019, the Epilepsia journal published a study of adults who had been prescribed CBD to manage epilepsy-related seizures. The study examined the effects of taking CBD before vs. after eating. Study participants were broken up into groups. One group took CBD in the morning four hours before eating anything. The other group ate a breakfast burrito that was high in fat 30 minutes before they took CBD.
During the study, blood samples showed that the participants who ate the burrito experienced quadruple the CBD absorption recorded for the group that didn't eat before taking CBD. The study implies that eating a high-fat meal before taking CBD may significantly increase its absorption.
Fats have long been known to help with vitamin and mineral absorption, and food's apparent ability to help with CBD absorption means that it may be particularly important to strategically time when you give your dog his CBD.
This doesn't mean you need to feed your dog super high-fat foods. High-fat diets can lead to obesity, which can contribute to many other health issues in your dog. Instead, you might add small amounts of foods with healthy fats, like fish or coconut oil. Be sure to discuss any dietary changes with your veterinarian.
To maximize the effectiveness of the CBD, plan to give your dog a half an hour to digest his food before giving him CBD.  
Other Ways to Make the Most of CBD For Your Dog
Following are a few additional ways you can maximize the effectiveness of the CBD you give your dog:
Choose the Right Delivery Method. How you give your dog CBD can also affect how quickly and how well it works. Topical applications let you concentrate on a specific area. Transmucosal applications  (e.g., rubbing CBD oil onto your dog's gums) work well because your dog's mucous membranes absorb the CBD, so it goes directly into his bloodstream without traveling through his digestive system. You can also give CBD as a chew. This is a particularly easy way to give your dog CBD. Because the CBD has to be absorbed through your dog's digestive system, it will take 30 minutes to an hour before your dog will start to feel its effects.
Keep Dosing Consistent. When you give CBD daily, it builds up in your dog's system, so the effects are consistent. It's also important to find and maintain the right amount for your dog's weight and needs to get the effects you're looking for.
Choose a Quality CBD Product. The quality of the CBD that you give your dog can also affect the benefits that your dog experiences. Look for a product that's been third-party tested to verify that it doesn't contain detectable levels of THC (with the exception of topicals) and to demonstrate that the amount of CBD it contains matches what's listed on the label.
All of Zebra CBD's products, including our CBD calming chews for dogs, CBD oil, and CBD joint & hip chews, are third-party tested. You can easily view the testing information for these products online. This transparency ensures that you can give our products to your dog with confidence, knowing exactly how much CBD they contain, and that you're not inadvertently giving your dog THC (which can cause undesirable side effects in dogs).
By choosing a quality product and strategically giving it to your dog, you can maximize its absorbency and effectiveness for better results with every dose.