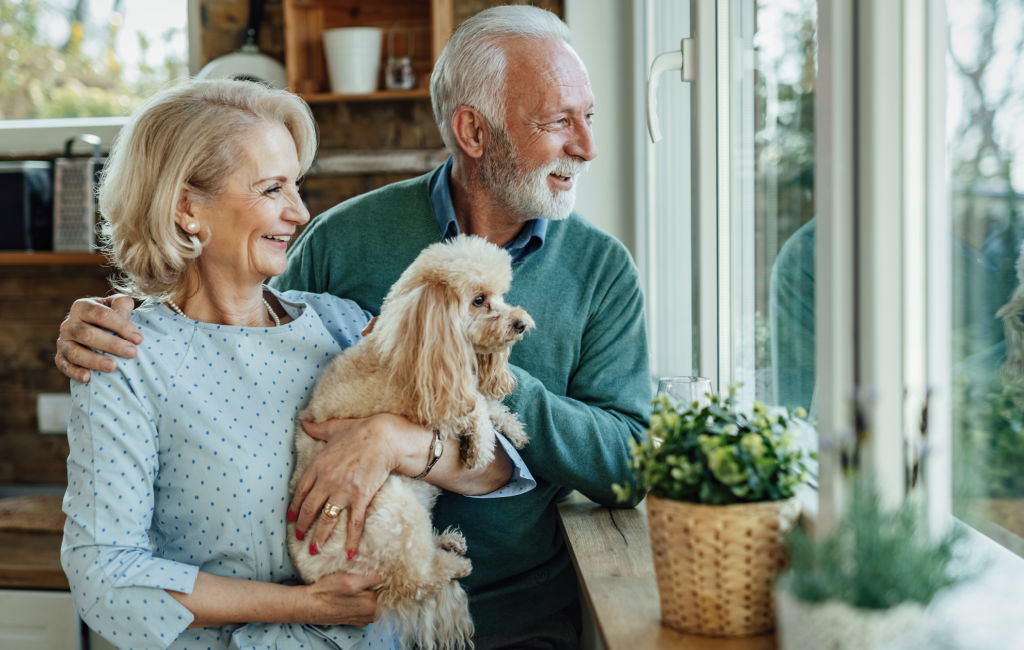 If you've experienced the benefits of CBD firsthand, perhaps you've considered giving some of your favorite supplements to your furry friend. After all, if CBD helps you relax in stressful situations, manage daily discomfort and live a balanced life, you may want the same for your pet.
And while your pooch may be more afraid of thunderstorms than public speaking, his endocannabinoid system can similarly benefit from CBD.
If you trust your brand, you should follow their guidelines in order to give your canine companion the proper dog CBD dosage.
So what's the appropriate CBD dosage for dogs?
In this short guide, we'll go over the safest ways to help your pup live a happier, healthier life with CBD.
CBD Safety For Dogs
Before you decide how much CBD to give your pup, it's important to make sure the product and brand are right for your dog. While there are not many large-scale CBD studies on dogs, there are some that confirm the substance is generally safe for dogs and cats. As a pet owner, it is important to consider which CBD product is right for your pet. So when you're thinking about pet CBD or CBD chews, be sure to do your research.
In 2019, scientists tracked eight healthy dogs as they received 2 mg of CBD twice a day. They observed no adverse effects.
Individual veterinarians have attested that CBD has beneficial effects for their clients, as well as their own pets.
The AKC Canine Health Foundation is currently conducting a longitudinal study on CBD's potentially beneficial effects.
CBD Dog Dosage and Side Effects: Individual Considerations
While CBD is generally safe, it may not be right for every dog.
CBD has some potential side effects for people. These include dry mouth, diarrhea and drowsiness. To that end, while unlikely, there's a chance your dog may experience these same effects.
Additional side effects may include eating and drinking to the point of vomiting. If your dog already has this bad habit, a dry mouth may lead to excessive drinking and the ensuing mess. Very small dogs may feel lightheaded due to a change in blood pressure. It's common sense that a Chihuahua needs less food than a Great Dane. Likewise, CBD quantities that are appropriate for humans or large dogs may have a much greater effect on small dogs. Because our pets can't tell us how they're feeling, it can be difficult to tell when CBD has taken effect, which can lead to overdosing. Resist the temptation to give your pet too much CBD at once.
What to Look For on the CBD Product Label
As a loving dog owner, are you worried about your dog getting "high" from CBD?
Legal CBD is derived from industrial hemp, which by definition contains less than 0.3% of the psychoactive compound THC. That means that legal CBD products should theoretically have too little THC to produce distortions in memory, the "munchies" and other psychoactive effects. However, it's important to keep two things in mind:
Not all CBD products meet their label claims. Some may contain more THC than advertised. Excess THC could give your dog a confusing experience.
Some CBD products may contain heavy metals, pesticides and potentially harmful additives.
Kinds of CBD
If you'd like to completely avoid exposing your dog to THC, carefully read the product label.
Full-spectrum CBD contains the full spectrum of cannabinoids and terpenes that naturally occur in the hemp plant. While these compounds contribute to the beneficial "entourage effect," some people may feel more comfortable when there's zero chance of exposing their dog to THC.
Other options include:
Broad-spectrum CBD – This is similar to full spectrum but without the THC.
CBD isolate – This form of CBD is produced using advanced techniques to extract pure CBD and exclude all other hemp compounds.
How to Give Your Dog CBD
Once you've found a reliable source of CBD, it's time to figure out the right way to administer it.
There are several ways that humans can take CBD. However, for obvious reasons, some may be less effective for dogs. To that end, consider:
Sublingual CBD – CBD is most efficiently absorbed through mucous membranes like the one under the tongue. But good luck explaining to Fido why he needs to hold the CBD oil in place for a minute before swallowing!
Topical CBD – CBD can also be absorbed directly into the skin. But there's a good chance your dog will immediately lick off just about anything you rub on him. 
CBD edibles – While the concentration of CBD is reduced when it is absorbed through the digestive system, this is by far the easiest method for administering CBD to your dog. CBD chews and other edibles make giving your dog CBD a breeze.
CBD Dosage For Dogs
When it comes to pet CBD oil, most canine CBD products include the recommended CBD dosage for dogs. If you trust your brand, you should follow their guidelines in order to give your canine companion the proper dog CBD dosage.
But some pet owners may want to know the official word on the right amount of CBD for their pet. Aside from looking at the packaging to find the right dosage, you can find other helpful sources online. While you can find online sources that recommend about 1 mg per pound, Canine Journal recommends staying on the safe side at 0.2 mg per pound of body weight. Zebra CBD canine products are recommended for regular use at 0.25 mg/lb, and for extra strength at up to 0.50 mg/lb.  
So if you're wondering how much CBD oil you should give your dog, you can't go wrong starting on the lower end of the recommended dosage for your dog's weight.
...you need to ensure that the CBD you give your dog is ethically sourced, formulated with quality ingredients and contains less than 0.3% THC
Keep in mind that current studies have confirmed that in smaller amounts, CBD is safe for dogs, while larger CBD oil dosage for dogs remains unstudied.
There's absolutely no harm in starting out with less CBD than recommended by the Canine Journal or on individual product packaging.
What to Expect
Once you've figured out the appropriate starting amount for your pup, what exactly can you expect when you give him CBD?
CBD has the potential to provide the following benefits:
Quelling nerves – Some dogs are just antsy. Whether the culprit is travel, the mailman, alone time or fireworks, CBD can help soothe your dog so that your whole household rests a little easier.
Supporting healthy sleep cycles – We expect our pups to wake us up whenever they need a trip outside. It's only natural! But some dogs are more restless than others and tend to toss, turn and bark through the night. If this sounds like your pup, CBD might help you both sleep better.
Promoting a healthy appetite – Is your dog a picky eater? If he's prone to tummy problems, CBD may calm his upset stomach so that he can return to healthier eating habits.
Soothing aches – Some dog breeds are prone to achy joints. CBD interacts with the human endocannabinoid system to help regulate our response to discomfort. It may help your dog feel a little more comfortable, too.
Easing joint stiffness due to normal daily exercise and activity – You know how you feel after hitting the gym hard. As your dog ages, you may notice he's a little more creaky and fatigued after a long hike. CBD might help him recover more quickly.
Getting Started With CBD
When advising people on how to begin using CBD, our general advice is to start with half the recommended quantity and then work your way up until you experience the desired effect. This is a little more difficult with your furry friends who can't exactly tell you, "Thanks, I'm feeling better now!" You'll need to use your eyes, ears and intuition as you and your pet go on a CBD journey together. If you're just starting out, keep the following in mind:
With your chosen CBD oil product, start with half the recommended quantity for your dog. After the first dosage, closely observe your pup's response. Is he showing any possible signs of a negative reaction, like lethargy, change in appetite, excessive thirst or disorientation? If so, you may want to reduce the dosage next time. If negative side effects persist, cease usage.
If there are no negative side effects, look for beneficial effects. Is your dog showing changes in his target symptom (discomfort, stress, etc.)? Does he wag his tail and show other signs he's happy? If so, you may have already hit on the correct dosage!
If your pet isn't showing negative side effects or clearly getting better, slowly bump up the amount by around 0.5 mg per day. Again, cease use if negative side effects arise. If you ever want a second opinion, you can always give your veterinarian a call as well.
When your pet seems happy and healthy, you've found the right CBD dosage.
Zebra CBD: Your Dog's Best Friend
Despite the initial amounts you decide on, you need to ensure that the CBD you give your dog is ethically sourced, formulated with quality ingredients and contains less than 0.3% THC. After all, heavy metals and harmful chemicals aren't any better for your pet than they are for you.
Zebra CBD is the only CBD brand that provides a Label Accuracy Guarantee™. Our natural, hemp-derived CBD products are specifically formulated to deliver exactly what they list on the label. With us, you don't need to worry about giving your dog CBD that doesn't meet its label claims.
To that end, we're excited to offer our high-quality oil and chews formulated specifically for your dog! Whether it's to promote a healthy sleep cycle, negate undesirable behavior or help soothe physical discomfort, we have the perfect CBD product for your canine companion. Ready to take your dog on the CBD journey? Start
here
.
Source:
AKC Canine Health Foundation. https://www.akcchf.org/news-events/news/clinical-trial-to-study.html
Canine Journal. CBD Dosage for Dogs. https://www.caninejournal.com/cbd-dosage-for-dogs/