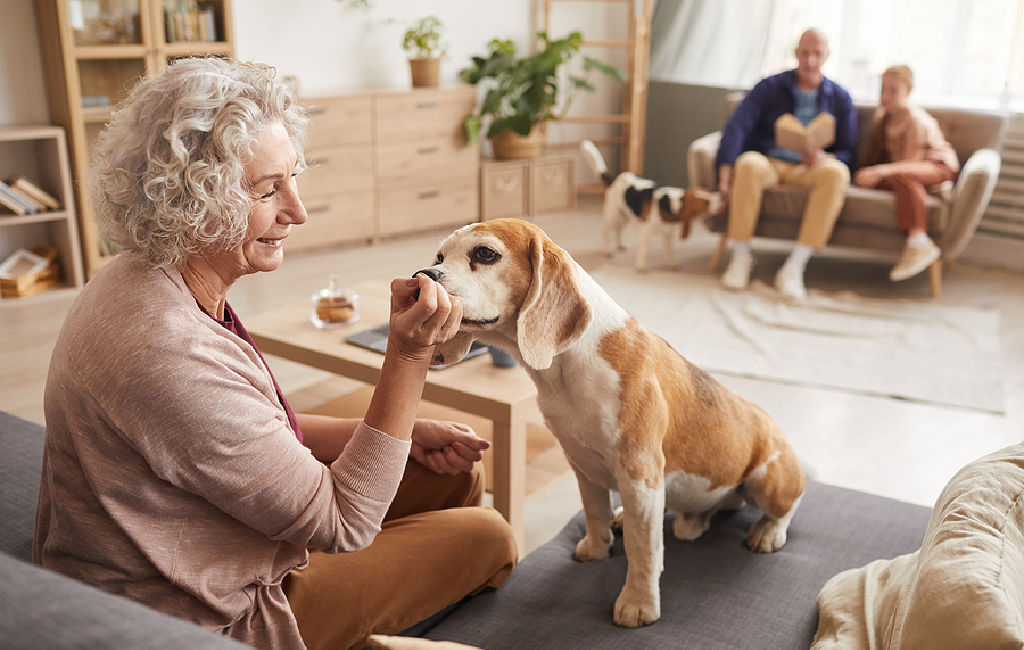 If you're already a happy CBD user, it's reasonable to wonder if hemp-derived CBD could also have beneficial effects for your furry friend. From CBD oil tincture to CBD dog treats or even CBD drops, it is easy to wonder as a pet parent if Fluffy or Spot will react well to a new product.
The good news? Just like us humans, dogs likely have an endocannabinoid system (ECS) that readily interacts with cannabinoids, most notably CBD.
If you've taken CBD yourself, you can probably predict some of its likely uses for your pooch.
Whether you're a CBD novice or expert, we'll walk you through the top six dog-friendly benefits of CBD and the best ways to integrate this cannabinoid into your pup's daily routine.
CBD Safety For Dogs
Before we dive into the top six benefits, it's worth saying more about the general safety of CBD for pets. CBD is recognized as safe for humans by the World Health Organization. While there are not many existing studies on CBD for dogs, current research confirms its general safety.
This safety testing study reported found no detrimental effects based on lab values drawn on dogs given  4 mg of CBD per day.
The AKC Canine Health Foundation is currently studying CBD's therapeutic uses for dogs
Depending on the state regulations, individual veterinarians can recommend CBD to their patients.  
CBD Source and Quality
The most important consideration with giving your dog CBD as a pet owner is the quality.  You want to make sure you have the best CBD for dogs. 
Hemp-derived CBD must legally contain less than 0.3% psychoactive THC. However, make sure you purchase your pet CBD from a reliable brand that is transparent about its extraction techniques. 
Broad-spectrum CBD should have no detectable THC. Check to see if your pet's CBD is broad-spectrum or full spectrum.
Some brands may also contain heavy metals and pesticides. Check the Certificate of Analysis (COA) to make sure your pet CBD of choice has no detectable amounts of these potentially harmful substances.
Amount
When it comes to dosage, keep in mind that most pets are much smaller than people. Therefore, they need much less CBD to experience the same effects. That is why a CBD pet product is different from the CBD supplements you as a pet owner would take. 
Of course, a mastiff may need more CBD than a chihuahua. That's why it's best to purchase CBD from a brand with clear dosage recommendations. Then, start small and see how your pup responds.
Can you give your dog too much CBD? While CBD is highly unlikely to be fatal, excessive amounts could lead to unwanted side effects, including:
drowsiness
upset stomach
changes in blood pressure
Benefits Are Ahead
Once you find the right amount of CBD for your pet, they can start to experience benefits like the following.
#1 Eases Joint Stiffness
If you regularly take your pooch on long walks or hikes, you probably notice that you feel a little stiff the next day.
Why would that be any different for your furry friend?
Unfortunately, our animal companions can't tell us when they're getting tired or feeling stiff. However, there are some potential tell-tale signs. 
Your dog trails behind you or has trouble keeping up when you're on the trail
Your dog sits down during a walk
They are no longer using the stairs on their own
They don't want to be towel dried
Some pets may also show uneven wear on their nails
CBD For Joint Stiffness
How can CBD help discomfort? As we noted,  the compound interacts with the ECS. This system of nerve receptors extends throughout the body, sending out neurotransmitters to check and see if everything is functioning well. CBD seems to help neurotransmitter function, which helps the body more quickly return to homeostasis after an upset.
If you use CBD on your own joints, you're probably used to applying a balm. Needless to say, your pup might lick it off! Luckily, you can use a specially formulated  CBD dog balm. Our balm includes a number of joint-soothing ingredients along with ravensara essential oil, which discourages pups from licking.
#2 Supports Mobility
Perhaps you've noticed a change in mobility in your own body over time. Maybe it's a little harder to touch your toes, or perhaps there's a crick in your neck that prevents you from turning all the way to the left.
Too many people assume that that's just life. Unfortunately, you can see the results of their decision as they walk down the street at odd, forward angles.
But there's a better way.
When we have more mobility, we're more able to adapt to our environments. That means less discomfort when we go on hikes, swim in the ocean and even sit on the couch.
The same is true for our pups. Good mobility makes it that much easier to hop in and out of the car, on and off the bed and to prance wherever their leash carries them.
CBD oil benefits for dogs include supporting healthy joints as well as overall mobility.
#3 Helps Cope With Stress
It's heartbreaking when your dog isn't his normal, happy self.
But as you know full well, your pup doesn't understand everything about the human world, and there's nothing you can say that will make them feel better when confronted with one of their triggers.
Some dogs hate flying. Others start yapping when they hear the sound of thunder, the doorbell or even the toaster oven!
Many pooches get stressed or unsettled in situations when they have to interact with new animals or people.
Just as CBD can help you with your test-taking or air-travel nerves, it can potentially help your pet. CBD pet treats may be in your future air-travel survival kit!
#4 Supports Energy and Mood
Canine or human, we all have off — days when we're less energetic or more easily irritated. Some of the factors we've already discussed can play a role in mood and energy. When you're overwhelmed with stress or focused on bodily discomfort, it's difficult to seize the day!
Many people find that taking CBD just helps them feel better — more energetic and more truly themselves.
While more studies are needed, scientists believe this is due to the way CBD interacts with the endocannabinoid system.
Because CBD supports the ECS, it helps our bodies maintain a healthy equilibrium and balance.
With fewer resources needed to scout for problems or put out fires, pets and humans alike have more energy for fun, active days.
Behavioral Issues
If your dog has inexplicable moods–days when they just want to sleep, or days when they just don't get along with their beloved furry friends — it's possible that CBD could help maintain their equilibrium. 
Just be sure to check with your vet to rule out any other issues before dispensing CBD.
#5 Maintains Well-Being
As we begin to do more research, we're beginning to realize a profound connection between all bodily systems, including the mind, emotions and physical body. 
We humans call this the "brain-body connection." The general idea is that when our mental health gets better, so does our physical health — and vice versa.
There's still a lot we don't understand about CBD and its specific effects. However, it makes intuitive sense that by supporting serenity, joint health and mobility, CBD can have a synergistic effect that supports overall well-being.
Many people find that taking CBD on a daily basis leads to gradual effects over time.
Likewise, it's easy to make CBD chews a part of your pet's daily routine.
#6 Delights Senior Dogs
CBD can be great for adult dogs.
However, many owners report that it's an especially effective ally for senior pets.
You know well enough that most people get more crotchety and stiff with each passing year!
We hope your pooch has a much sweeter disposition and nimble frame than your grandpa. At the same time, integrating CBD into their routine might just help them age a little more gracefully.
Choosing a Pet CBD Product
If you already have a stash of CBD products, it may be tempting to share with your dog. However, sharing your CBD hemp oil, or CBD tincture oil with your furry friend might not be the best pet parent move. 
To experience all the benefits of CBD oil for dogs, we recommend buying specially formulated pet CBD products.
Why?
As we already noted, the dosage is key. Clearly labeled pet CBD packaging with recommendations by weight can help ensure you're not overwhelming your pet and risking negative side effects.
In addition, Zebra CBD's line of dog-friendly products is specially formulated with adaptogenic ingredients that can further support your pup's vitality.
Choose from the following options for best results:
Pet CBD balm – Our topical balm contains full-spectrum CBD. Thanks to the presence of other cannabinoids, terpenes and flavonoids, this balm has the potential to produce the famous "entourage effect" (whereby the hemp plant's compounds naturally add to the CBD's effectiveness). Bitter Ravensara essential oil helps deter licking.
Pet CBD oil – Our broad-spectrum oil is extracted to eliminate THC and contains no traceable amounts of the psychoactive substance. That means it can safely be given in their mount or applied topically. Your pup can still experience the entourage effect.
Joint & hip chews – Broad-spectrum CBD combines with Boswellia extract, green-lipped mussel, omega-3 fatty acids and hydrolyzed collagen type II to support joint health and overall mobility in one delicious chew.
Stress & calming chews – Ashwagandha, omega-3 fatty acids, green tea amino acids and probiotics partner to strengthen CBD's calming effects.
Zebra CBD For Pets and People
At Zebra CBD, we're industry leaders in specialty CBD formulations for pets and people. In fact, we're the only brand with a Label Accuracy Guarantee™. As our labels state, our products are formulated from legal hemp-derived CBD with no detectable heavy metals or pesticides. Thanks to clear dosage instructions, it's easy to find the right CBD for your dog. 
By partnering CBD with other adaptogenic herbs and vital nutrients, we deliver optimal formulas for supporting human and canine wellness goals — from more energy to stress support and beyond.
Source:
Links Veterinary Group. Stiff & Painful Joints. https://www.linksvet.co.uk/blog/december-2018/stiff-painful-joints