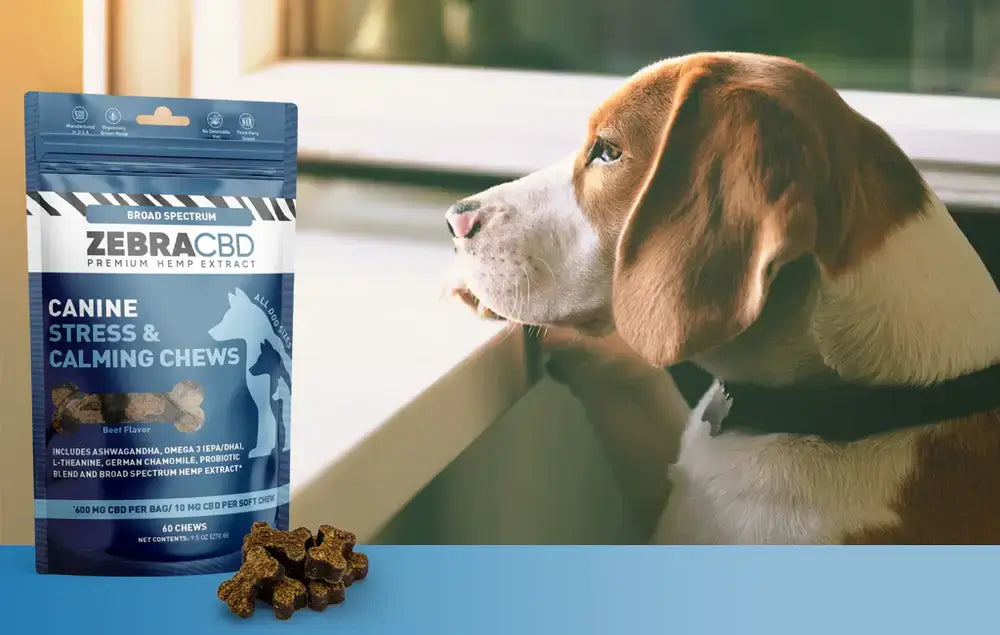 By Ana Reisdorf, MS, RD
If your dog is constantly on high alert, brimming with energy, or if he doesn't do well when he's separated from you, life is probably stressful for you both. We designed Zebra CBD Canine Stress & Calming Chews to promote a calming effect and manage normal stress for your dog. These chews contain premium ingredients to maximize the support they can deliver. Each ingredient offers valuable benefits and complements the other ingredients to help keep your dog happy and relaxed.
Broad-Spectrum Hemp Extract
Extracted from the hemp plant, broad-spectrum hemp extract includes many beneficial elements of the plant, including It contains cannabinoids, omega-3 and omega-6 fatty acids, vitamins, protein, minerals and more. These ingredients all work together to promote health in your dog. Broad-spectrum hemp extract promotes relaxation and balanced behavior. Its properties also promote joint health to help make your active or aging dog more comfortable, as well as coat and skin health.
While broad-spectrum hemp extract contains many elements of the hemp plant, it has no detectable THC. THC has a psychoactive effect, so its suitability for dogs is questionable in an ingestible form. This formula delivers all the benefits of CBD and hemp without THC.
Ashwagandha
Ashwagandha, a plant from the nightshade family, is a medicinal herb with many potential benefits for your dog. It has valuable properties that may help to keep your dog physically comfortable. It also promotes normal, healthy brain activity while helping your dog cope with external stressors. 
Magnesium Citrate and Zinc Sulfate
Magnesium citrate and zinc sulfate are naturally occurring minerals that help regulate bodily functions. They're connected to brain development and may help with behavioral disorders. They have also been linked to healthy development and function of the brain, and may  promote relaxation in dogs.
L-theanine
The amino acid L-theanine is found in green and black tea leaves. It helps to increase gamma-aminobutyric acid (GABA), dopamine and serotonin levels within the brain. L-theanine may help to relieve stress,improve behavior,and decrease emotional distress in dogs.
German Chamomile
Sometimes called blue chamomile, wild chamomile or Hungarian chamomile, German chamomile is an herb native to Europe that may have anti-stress effects for your dog.
ProbiosSEB DUO™ 
A very special ingredient, ProbiosSEB DUO™ is a blend of two probiotics and a prebiotic. Together, these support the microflora balance in your dog's intestinal tract. This is particularly important because — just as in humans — your dog's gut and brain constantly communicate, and balancing gut microflora may help to decrease his stress.
ProbiosSEB DUO™ has other important benefits for your best friend. The probiotics and prebiotics can endure rapidly changing environments inside your dog, meaning they survive and still deliver maximum effectiveness. The probiotics can also help to kill pathogens that get into your dog's digestive system, helping to keep him healthy and comfortable.
Omega-3 Fatty Acids
These polyunsaturated fats deliver many important benefits. They support your dog's brain function and development, making them an excellent addition to our chews. They may also improve bone and joint health.
More Reasons to Try Zebra CBD Canine Stress & Calming Chews
In addition to the active ingredients above, Zebra CBD Stress & Calming Chews feature tasty, inactive ingredients like beef liver, pollock oil and sweet potato. There soft, chewy texture makes them easy for even older dogs to consume. They also feature a break line down the middle for convenient administration of half-size portions. There's no need to worry about mixing supplements into your dog's food or getting him to eat a capsule.
Each chew contains 10 mg of broad-spectrum hemp extract, which is more than you'll find in our competitors' products. Thanks to our Label Accuracy Guarantee™ , you'll know exactly what's in each and every soft chew. We publish certificates of analysis on our website as proof that our chews contain the CBD content that's indicated on the label, so you can feed them to your pet with confidence.
If your dog is high-energy and is prone to stress, it can be tough on both of you. Zebra CBD Canine Stress & Calming Chews provide a simple way to help ease stress and support relaxation for both you and your dog.