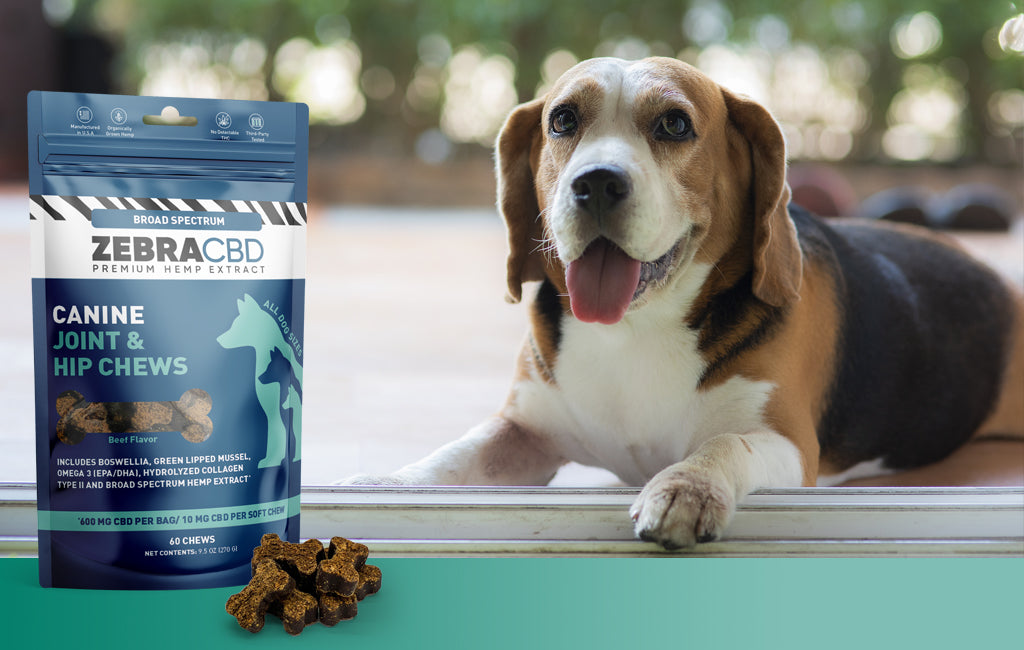 By Ana Reisdorf, MS, RD
Are games of fetch becoming less exciting, and walks becoming shorter? Joint stiffness and mobility limitations can put a damper on the fun times you and your dog enjoy together. Zebra CBD Canine Joint & Hip Chews support joint and connective tissue health, plus they help to ease joint stiffness caused by normal daily exercise and activity. This vet-reviewed formula features broad-spectrum hemp extract plus a combination of other active ingredients to help keep your dog mobile and comfortable.
Broad-Spectrum Hemp Extract
Broad-spectrum hemp extract enhances the functions of joint and connective tissue with daily use. Extracted from the hemp plant, this extract contains CBD and naturally occurring cannabis plant extracts, such as terpenes, cannabinoids and flavonoids. Together, these ingredients help to support joint health and comfort in your dog.
Our premium extract is third-party tested, with no detectable THC, pesticides, heavy metals or microbes. 
The extract is manufactured in the U.S.A. from organically grown hemp.
Boswellia Extract
Boswellia extract is also called Indian frankincense. This herbal extract comes from the Boswellia tree and plays important roles in joint health. It can help to relieve occasional joint stiffness and supports joint mobility. It also promotes connective tissue and bone health. 
Green-Lipped Mussel
A shellfish native to New Zealand, green-lipped mussel is frequently used to support joint health and comfort. It provides building blocks that your dog's body uses to produce synovial fluid. 
Omega-3 Fatty Acids
Our chews contain both EPA and DHA omega-3 fatty acids, which help to ease joint stiffness. They may also improve both bone and joint health and are essential for everyday health and strong muscles. 
Hydrolyzed Collagen Type II
Found in joint cartilage, this type of collagen can help to maintain normal, healthy cartilage and joint function. It may also help to ease joint stiffness related to normal daily exercise and activities. 
Additional Reasons to Try Zebra CBD Canine Joint & Hip Chews
The ingredients included in our formula are just as important as what you won't find in these chews. They contain no detectable soy or grain, which are common allergens for dogs. They also have no detectable THC, so you can feed them without risk of psychoactive effects.
Each chew has a soft consistency that's simple for any dog to enjoy. They feature a break line down the middle so you can feed your dog just the right amount. When you feed these chews, you don't have to worry about measuring out powders or trying to hide a tablet inside some food. We add ingredients like beef liver, sweet potato and molasses to make them tasty.
Every chew contains 10 mg of broad-spectrum CBD, which is more than you'll find in products from our competitors. With our Label Accuracy Guarantee™, you'll know that you're getting exactly the amount of CBD that's on the label. We publish certificates of analysis on our website, proving that the chews contain the precise amount of CBD indicated on the label. You'll be able to feed these chews to your dog with confidence, knowing he's getting the right amount of CBD to support his joint health. 
Stiff joints can slow your dog down, but these chews make supporting your dog's joint function and comfort simple. Zebra CBD Canine Joint & Hip Chews offer a convenient way to help your dog keep moving with greater ease.