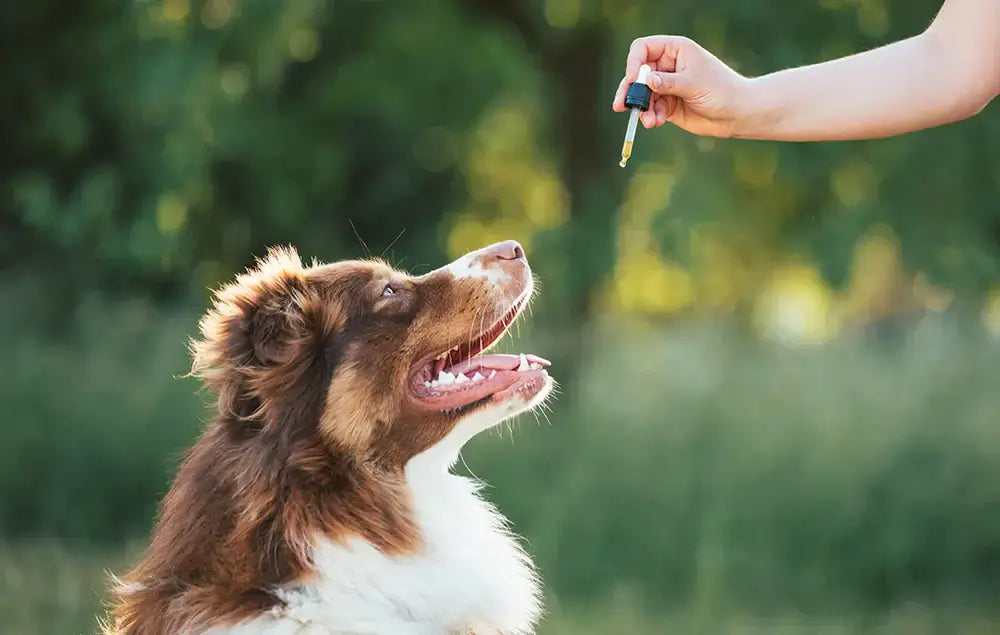 It's walk time — a daily occurrence that's typically accompanied by loud howls, a wiggly bottom, and a grand stampede toward the door. But this time, your sweet pup meets your declaration with puppy-dog eyes and a long sigh before settling back into its bed.
Whether your dog is experiencing sore muscles, lethargy or melancholy, CBD oil may help to support healthy joints and elevate energy levels and moods. And today, many veterinarians support the use of CBD for canines.
[CBD is] a natural cannabinoid that's structurally similar to naturally occurring endocannabinoids of many invertebrates and vertebrates, including dogs.
In this guide, we're discussing everything you need to know about dogs and CBD to return unbridled enthusiasm to you and your dog's lives. We'll discuss vet discourse on CBD, relevant laws, and how to choose the right product for your pal.
What Is CBD For Dogs?
Cannabidiol oil, or CBD oil, comes from the cannabis, or hemp, plant. It's non-psychoactive, meaning your dog won't experience a loss of coordination, heightened sensory perception or slower response times. 
As such, CBD oil is recognized by the World Health Organization and the Food and Drug Administration as generally safe for use. However, there is a potential for mild side effects for both humans and pets when using CBD oil. These include:
Dry mouth
Diarrhea
Lack of appetite
Drowsiness
Nonetheless, CBD oil is generally thought to be safe for dogs. It's a natural cannabinoid that's structurally similar to naturally occurring endocannabinoids of many invertebrates and vertebrates, including dogs.
More specifically, these endocannabinoids and their receptors are found in the endocannabinoid system of your pup. In this system, a network of receptors and chemical signals work together to regulate various biological functions within the central and peripheral nervous system, including:
Appetite
Mood
Cognition
Metabolism
Growth
Sleep
Immunity
That said, there is a lack of published formal studies pertaining to the effects of CBD oil. However, scientists have begun gathering data. The American Kennel Club Canine Health Foundation is currently working with the Colorado State University's College of Veterinary Medicine and Biomedical Sciences to evaluate the effects of CBD on dogs with abnormal brain activity.
Can Vets Legally Recommend CBD?
There's been a lot of confusion in recent years regarding the legal status of CBD. For decades, the cannabis plant sat on the federal list of controlled substances. However, in 2018, congress passed the Farm Bill. This legislation legalized the production of hemp — cannabis plants that contain no more than 0.3% THC.
In effect, hemp-derived CBD oil swept the nation. Let's explore the conditions of this act in more detail:
Legalized hemp production – Hemp is a specific classification of cannabis grown for non-psychoactive purposes. Hemp lacks significant levels of THC and is cultivated for textile use, biofuel and CBD extraction. With the passing of the Farm Bill, hemp could once again be legally grown in the US.
Strict limits of THC content – The 2018 Farm bill also issued strict limitations on USDA-certified hemp. According to law, no federally-legal hemp plant may contain more than 0.3% THC per section. This stipulation wasn't arbitrary. Ultimately, it was determined that 0.3% THC represented a safe threshold of THC, considered too low to cause any psychoactive side effects.
Nation-wide legalization of CBD – With the legalization of low-THC hemp cultivation, CBD products containing no more than 0.3% THC were also legalized. The Farm Bill affects every state in the US and the District of Columbia, allowing a range of items like CBD treats and products to be purchased freely across the country. 
Still, there are state-specific regulations pertaining to CBD oil. 
Some states have drafted specific legislation restricting CBD use, potency levels and access. On the other hand, 19 states have legalized all forms of cannabis (including recreational marijuana), allowing nearly unrestricted access to CBD products like CBD treats for your pets.
That said, do vets recommend CBD oil for dogs? The American Veterinary Medical Association states that "veterinarians may not administer, dispense, prescribe or recommend cannabis or its products for animals" since research is limited.
But that doesn't mean CBD products are completely off the table for Fido.
Individual states like California are passing legislation that allows vets to recommend CBD oil for pets. Other states, however, may require veterinarians to endorse alternative medications or treatments.
How to Talk to Your Vet About CBD
As a pet owner, your vet is often the best source for information regarding your dog's well-being and health concerns. Fortunately, many veterinarians are engaged in the current national conversation regarding CBD, and your vet may have relevant advice and data to help you decide if CBD is right for your dog.
Most notably, while your vet may not be able to prescribe CBD oil for your dog, they can still engage in a productive conversation regarding the potential benefits of CBD.
If you're unsure how to begin a productive conversation about CBD, consider the following tips:
Ask about their experiences with CBD – Vets may be able to share anecdotal findings about other patients who have used CBD and provide some tips on how to give dogs CBD oil. It's even possible that your veterinarian has used CBD with their own dogs. Often, vets are more than happy to discuss the benefits they've seen firsthand when using something like a dog CBD oil product.
Ask for resources – If your vet doesn't have all the information you need, they can likely point you to online resources to help. Gather a factual picture of the world of CBD and pet health through reliable sources like peer-reviewed articles and studies.
Get a full picture of your dog's current health – When changing your dog's diet or adding a supplement to their daily routine, it's always best to consult your vet, especially when giving your dog CBD oil for the first time. Ask your vet for a full report on your pet's current health and wellness needs and then assess how CBD could help.
As veterinary research continues, the discourse around CBD will continue to expand and veterinary practices around the country may have a very different approach to the use and recommendation of CBD dog treats and other CBD products for pets.
Potential Benefits of CBD Oil For Dogs
While research is limited, the relationship between CBD oil and the endocannabinoid system suggests that CBD oil may help support your dog's overall health and well-being. 
More specifically, CBD can help promote the following:
Calmness and relaxation – Is your dog bouncing off the walls or cowering in the corner every time a car drives by? All pups deserve a healthy mood and CBD may help ease feelings of panic, nervousness, or apprehension. Introducing CBD oil to your dog's diet may help to better its disposition and mitigate restlessness. Plus, CBD won't leave your dog feeling disoriented or lower their general energy levels.
Joint health – Dogs go everywhere on their four legs. That means a lifetime of exercise and movement can leave their joints worn and torn. Fortunately, organic CBD oil may support joint health for active and aging dogs and help ease stiffness and aches and promote joint mobility.
Cognitive function – As dogs age, they often deal with declining mental faculties. Because CBD oil interacts with the central nervous system, it may help support your dog's memory and focus during its golden years.
Skin health – When ingested or used topically, organic CBD oil may have anti-inflammatory effects that can ease swelling, itchiness, and dryness. Learn more about CBD for itchy dogs.
How to Choose CBD Products For Your Dog
Sourcing your CBD isn't always easy, especially if you're just beginning your exploration of this highly effective substance. There are thousands of CBD retailers across the US and it can be difficult to distinguish what makes a quality CBD product.
Notably, the Food and Drug Administration (FDA) has minimal regulatory power when it comes to CBD. Currently, the FDA prioritizes investigating fraudulent claims associated with CBD and ensuring the general safety of CBD products.
That means the onus falls on the consumer to decide what CBD products are ideal. When searching for CBD for your dog, prioritize products that meet the following criteria:
Organic
USA-grown
Purity tested
A label guarantee or Certificate of Analysis also ensures that the CBD product you're buying has been tested for potency and label accuracy. With backing from a third party, you can feel confident that you're purchasing a superior CBD product.
When investigating CBD, you'll also want to understand the three categories of CBD products:
Full spectrum – Full spectrum CBD oil products contain CBD and other cannabinoids. These cannabinoids are naturally occurring in the cannabis plant and while full spectrum products may contain up to 0.3% THC, they are not psychoactive.
Broad spectrum – Broad spectrum CBD products contain cannabinoids but no THC. These products contain 80% to 90% CBD alongside naturally occurring terpenes and flavonoids.
Isolates – Isolates offer a pure form of CBD. Refined from the plant material and stripped of any additional cannabinoids, a CBD isolate product often comes in a crystalline form. These products are THC-free but continue to offer the potential benefits associated with CBD.
You'll have your choice of CBD products for your dogs but broad spectrum CBD may offer the best results. Every dog is different, so consider exploring a range of dog-friendly products to discover which your pet prefers. 
Tips For Administering CBD Oil to Your Dog
Most dogs are happy to chow down on just about anything and CBD doesn't have to be any different. There is a range of chews and balm options available, but CBD oil may be the most versatile option for delivering CBD to your pup.
After your CBD oil arrives, you might be curious about the most effective ways for introducing this substance to your dog.
Consider the following options for administering CBD oil:
With food – Kibble, can, or home-cooked, you can add CBD oil to whatever you feed your pup. Sprinkle a few drops in their bowl before meal time and you begin seeing effects in under an hour.
Directly from the dropper – To ensure your dog receives a full serving of CBD, it could be best to administer oil from the dropper. Most CBD oil products are completely flavorless, so your dog shouldn't have any trouble taking their serving directly.
Add to water – To provide small, consistent amounts of CBD to your dog, consider adding it to their water. This method will likely restrict the total quantity and concentration of CBD, but it could also ensure that your dog always has access to this helpful substance.
Be sure to follow all label instructions to ensure your dog gets the ideal amount of CBD oil. Typically, larger dogs require larger amounts of CBD, so be precise and vigilant about how much you administer. If you're concerned about giving your dog the right amount of CBD, turn to pet care professionals, vets, or experienced CBD users for help.
Our Top Recommendation: Zebra CBD
It's a great time to be a dog (and a dog owner). With more research on the horizon regarding the potential benefits of CBD and more CBD products crafted just for dogs, it's never been easier to dive into the CBD community.
If you're looking for a guide on your journey and access to the world's finest products, look no further than Zebra CBD.
We've seen it first-hand — dogs love CBD. Whether you're checking it out on a vet's recommendation or doing your own research, Zebra CBD has everything you need. We're proud to offer high-quality canine CBD Oil For Dogs, in addition to CBD Calming Chews For Dogs and CBD Balm For Dogs. We've got everything you need to keep your dog running, jumping and feeling its very best. Explore our offerings today.
Source: 
World Health Organization. Drugs (psychoactive): Cannabidiol (compound of cannabis). https://www.who.int/news-room/questions-and-answers/item/cannabidiol-(compound-of-cannabis)
American Kennel Club. How to Talk to Your Veterinarian About CBD Oil for Dogs. https://www.akc.org/expert-advice/health/talk-veterinarian-cbd-oil/
FDA. Hemp Production and the 2018 Farm Bill. https://www.fda.gov/news-events/congressional-testimony/hemp-production-and-2018-farm-bill-07252019
NCSL. State Medical Cannabis Laws. https://www.ncsl.org/research/health/state-medical-marijuana-laws.aspx
Consumer Reports. Should You Try CBD for Your Pet? https://www.consumerreports.org/cbd/should-you-try-cbd-for-your-pet/
AVMA. Cannabis use and pets. https://www.avma.org/resources-tools/animal-health-and-welfare/cannabis-use-and-pets
AKC. CBD Oil For Dogs. https://www.akc.org/expert-advice/health/cbd-oil-dogs/
California Legislative Information. Assembly Bill No. 2215. https://leginfo.legislature.ca.gov/faces/billTextClient.xhtml?bill_id=201720180AB2215