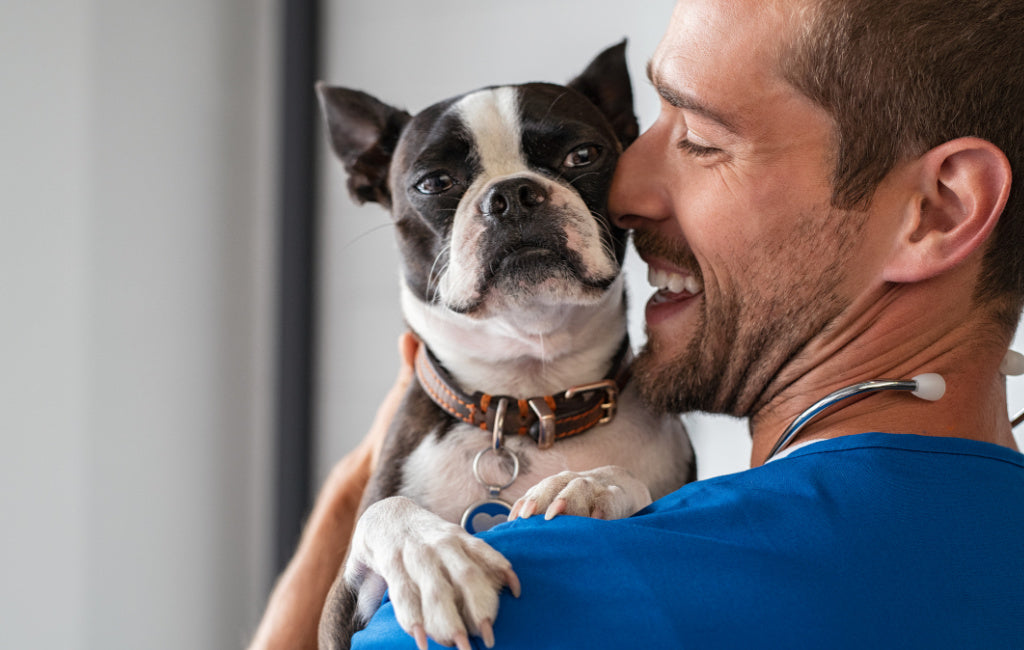 When it comes to your canine companion, you can never be too cautious about their health, especially before giving them something new to try. So if you've heard the buzz around CBD and all its potential positive uses for people, you might be wondering: Is CBD OK for dogs?
The short answer is affirmative — two paws up. You can find CBD balm, CBD oil and CBD chews for dogs that are safe and beneficial whether you have a tiny Chihuahua or a hulking Great Pyrenees.  
Want to know even more about dogs and CBD? Then this is the CBD pet product guide for you.
Most of our knowledge of CBD and its neurochemical interaction in dogs is based on anecdotal evidence.
The general consensus from veterinarians is that CBD is safe for dogs. Additionally, it may help their quality of life, particularly when used in combination with other types of therapies. A recent safety assessment concluded that, "In healthy dogs and cats, an oral CBD-rich hemp supplement administered every 12 hours was not detrimental based on CBC or biochemistry values." 
Currently, our knowledge about CBD is still largely undeveloped. It seems that almost every month scientists discover new revelations daily about its benefits for humans.
Because the study of CBD is still budding, there's even less hard science on dogs and CBD. We know that, like humans, dogs have an endocannabinoid system (ECS), but we don't know whether it interacts with CBD in the same way that researchers speculate it does in humans. Dr. Jerry Klein of the American Kennel Club writes: "Currently, there has been no formal study on how CBD affects dogs. What scientists do know is that cannabinoids interact with the endocannabinoid receptors located in the central and peripheral nervous systems, which help maintain balance in the body and keep it in a normal healthy state."
New CBD Studies Are Underway
Most of our knowledge of CBD and its neurochemical interaction in dogs is based on anecdotal evidence. For instance, Mark Verdino, senior vice president and chief of veterinary staff at North Shore Animal League America, uses CBD for his own dog to help him relax and sleep. "At nighttime when the lights are dimmed down, it's dark out, they don't see well in the dark, and he gets a little spooked," he told the Huffington Post. "And when I give him the CBD, he seems to just go to sleep."
In 2017, the AKC Canine Health Foundation announced a partnership with Colorado State University's College of Veterinary Medicine and Biomedical Sciences to begin one of the first long-term scientific studies on dogs and CBD. The leader of the study, Dr. Stephanie McGrath, stated: "With the changing public perception of Cannabis, it is time that we put science behind the stories and claims. We need to know if this drug is safe and if it works … it has the potential to save the lives of dogs around the world."
With the trend toward Cannabis legalization and societal acceptance only having been accelerated by a booming market, it's likely that soon more studies on the subject matter will follow. 
Common CBD Uses For Pets
Now that we've confirmed that CBD is safe for most dogs, what are the most common reasons why dog owners are turning to it for their pet's daily issues? Common uses include:
Easing aches and discomfort – Just like humans, as your best friend gets older, his body stops working as it once did when he was a puppy. Years of exercise and pressure on the hips, joints and back add up, causing these areas to stiffen and ache with the passing of time. This might make it harder for him to get up or lay down. But, with a topical CBD balm or CBD oil, you can support your pup's health by soothing his discomfort. 
Helping with stress – Some dogs are more hyper and tense than others. This tension makes it hard for them to be left alone, sleep and interact with other dogs and people. Some owners have found that CBD had a beneficial impact on their dog's behavior, making it easier for them to handle normal environmental stress. 
Sleep support – Does your dog have sleep issues? CBD combined with natural sleep-inducing ingredients may help relax him, supporting a healthy sleep cycle, full of deep doggy dreams about bones, cats and mailmen. 
May help with tension – Certain types of dogs tend to be always on edge. Over time, this tension contributes to chronic  unhappiness. But with CBD, your dog may be able to function throughout the day in a more relaxed manner. 
Supporting healthy digestion – As your dog ages, his diet may become more selective. Fortunately, CBD may support whole-body wellness while also promoting a healthy appetite. 
Types of CBD For Dogs
CBD pet-care products come in a variety of shapes and sizes that are similar to what's available for humans. The three most common types of doggy CBD products include: 
CBD balms – These are topical products that are rubbed onto the dog's joints and muscles. They can help target localized aches and ease joint stiffness due to normal daily exercise, all the while helping maintain normal moisture content of the skin and fur. 
CBD chews – Doggy soft chews can be administered orally. Pups love these chews, especially when flavored. Chews can be used to help with emotional and temperamental issues as well as physical discomfort. 
CBD canine oil – Just as we do with our human Zebra CBD oil, we make dosing of our canine CBD oil easy. Our broad-spectrum CBD oil for dogs can easily be administered via the Zebra CBD easy-measure, no-mess dosing system to potentially help with dog stress, sleep and appetite. 
Will CBD Get My Dog High?
A common question a dog owner may have about CBD is "will it get my pet high?" The answer is no for both humans and pets. CBD won't get you or your dog high, as long as you're using a hemp-based product. 
Why? To answer that, we must first quickly revisit what CBD is.
Although we lack scientific data on CBD side effects for dogs, veterinarians speculate that some of the side effects humans experience could be shared by dogs
Cannabidiol (CBD) is one of the more significant natural cannabinoids found in the cannabis plant. The other cannabinoid that you're likely familiar with is THC (the psychoactive compound found in marijuana that gets you "high"). These cannabinoids can trigger the ECS, which is responsible for regulating a variety of bodily functions, including but not limited to: 
sleep
discomfort
appetite
emotions
Marijuana, typically contains between 20% and 30% THC. CBD, on the other hand, is the dominant cannabinoid within the hemp plant and doesn't cause the same psychotropic sensations. And, for hemp-based CBD to be legally sold (which all doggy-centric CBD items would have to be), it must contain less than 0.3% THC. 
It's important to note that some CBD companies are not honest about  the ingredients in their products, so it's always important that you research reputable CBD companies and demand that they provide a Label Accuracy Guarantee™. That way, you know exactly what you're giving your dog!
Possible Side Effects of CBD For Dogs
Although we lack scientific data on CBD side effects for dogs, veterinarians speculate that some of the side effects humans experience could be shared by dogs, such as: 
dry mouth
changes in blood pressure
drowsiness 
To cut down on the possibility of potential side effects, it's paramount that you're following the proper dosage and monitoring your dog after they take CBD. 
How Much CBD Can You Give Your Dog? 
When it comes to pet CBD, choosing the proper CBD dosage for your dog depends on several factors, including their breed, weight, underlying health issues and intended use. 
First, review your product's recommendations and instructions for dosage.  Also, consider your dog's activity level and health conditions, which can impact the rate at which they metabolize CBD. Finally, be sure to consult your veterinarian before you give your pup any CBD products.
Zebra CBD: Your CBD Expert
After reading about the benefits of and safe uses for canine CBD, you might wonder, "can I give my dog my CBD?" While others have done this safely, we don't recommend it. Although the CBD itself may be safe, there could be other ingredients within your CBD product that are safe for you, but not for dogs. It's much more responsible to select a CBD that's made specifically for dogs.
This brings us to Zebra CBD. Our line of doggy-centric, premium hemp-based CBD chews, balm and oil are designed with your furry friend in mind. Whether your pup needs general health support or relief from stress, aches and discomfort, we've got the perfect products for them.
At Zebra CBD, every CBD solution is doubly third-party tested and comes with the Zebra CBD Label Accuracy Guarantee™. This means that when you give your pup Zebra CBD, you know exactly what they're getting.
So yes, CBD is "OK" for dogs. You just have to make sure you use your human acumen to choose quality products and administer them according to the provided recommendations.
Source:
Huff Post. CBD Oil for Dogs. https://www.huffpost.com/entry/cbd-oil-dogs-pros-cons