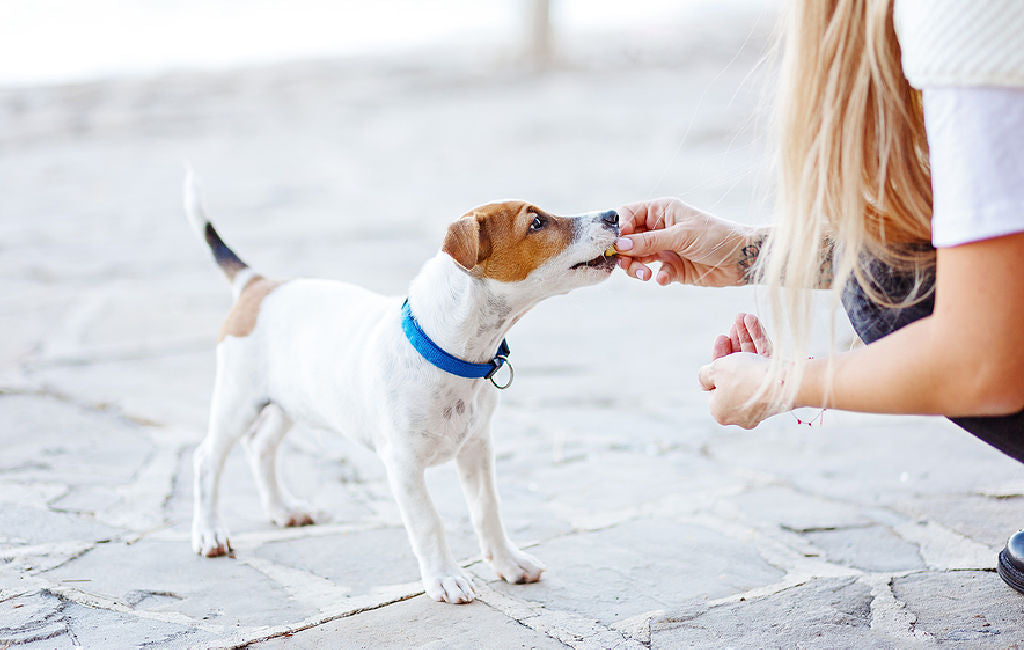 Over the past few years, CBD has become a hot new topic for dog owners across the world. Given the current era, individuals are turning to natural supplements and remedies to support their health, wellness and vitality. Once they experience positive outcomes from CBD, they turn to their beloved pet and wonder: Will this work for you?
The answer to that question is likely yes!
From CBD pet oil to CBD soft chews or even CBD pet tincture, there are a lot of CBD pet product options to choose from as a dog owner. But because the market is oversaturated with products and there's so much to know about CBD, it's easy to get overwhelmed. As a pet owner, you want to help your beautiful dog, but where do you start?
If you're looking for the most comprehensive (and easiest) way to research the best CBD for dogs, then this is the guide for you.
What's Up With Your Pup?
If you've got a furry friend who's older or has lost a little pep in their step, CBD may be worth trying out. It can be hard to tell what's going on with your dog at first, but you can tell he might need some help if he is:
restless
hyper-energized
slow and can't go out on hikes
experiencing appetite issues
lonely when you're away (or sad when you come back)
destroying furniture or personal belongings
Dogs experience the ebbs and flows of life just like we do. If you notice a change in your pooch, or you find he or she is acting out for the first time, it might just be the perfect time to introduce CBD into your pet's wellness routine.
Why CBD?
CBD (or cannabidiol) is a naturally-occurring compound found in the hemp plant, and it mimics the endocannabinoids naturally found in living creatures' brains. Cannabinoids are the molecules that come from outside the body, while endocannabinoids are what they turn into once they're inside the brain.
The endocannabinoid system (ECS) scoops up the extra cannabinoids in CBD, which triggers the release of endocannabinoid molecules. These endocannabinoids affect the rest of the body and brain in positive ways. However, unlike cannabis, CBD is non-psychoactive and safe for dogs.
There are many different kinds of CBD (along with the terpenes found in them), so it's important to figure out what's bothering your pooch before finding the best CBD for your dog.
Essentially, the best CBD for your dog is going to be the type that complements your pooch's specific needs. That being said, there are a lot of CBD benefits for dogs depending on those needs. To that end, CBD may help with:
Cozier sleep – Restlessness is a common issue with aging dogs, since their vision and hearing may be a little less "tip-top" than it used to be. Your dog may have trouble sleeping through the night because they become frightened or disoriented in the dark. This might cause them to start wandering the house at night. CBD mixed with natural ingredients (like melatonin) may help promote restful sleep and daytime energy.
Stress and tension – New environments, people or other animals can set your dog on edge. Some dogs experience a higher level of stress than others and this can be difficult for them to manage on their own, leading to a lower quality of everyday life. CBD might help them adapt to their surroundings.
Aching and discomfort – Like people, dogs slow down as they age. Because dogs are active in their formative years, all that wear and tear on their hips, back and joints build up. They might struggle to lay down or hobble along on your walks, showing clear signs of discomfort. With CBD chews or topicals, you might bring back some pep to their step.
Appetite issues – You may have noticed that as you get older, your tastes change (remember hating broccoli as a kid?). As your dog ages, he or she may become pickier with food too. CBD may help them maintain a regular, healthy eating schedule.
Now that you have an idea of how CBD might be able to help your dog, let's move on to how much your pup may need before you pick a CBD supplement, full-spectrum CBD oil, or another CBD product to try.

The CBD Size Guide
The size of your dog directly affects how much CBD they should take, no matter the CBD brand.
For instance, let's say that Rex is a teeny 10-pound terrier. He doesn't need nearly as much CBD as Duke, the gargantuan 100-pound Great Dane. Rex's mom wants to help him calm down at the end of the day, so she gives him half of a Zebra Canine Stress & Calming Chew. But Duke needs some help with some joint stiffness due to normal daily exercise and activity, so his dad gives him three Zebra Canine Joint & Hip Chews.
Remember that whenever you're giving your dog something new (be it food, medication or stimulation), it's best to take the process slowly and pay careful attention to all the directions.
Pamper Your Pooch With Only the Best
Now that we've covered some of CBD's benefits, how it might help your pooch, and the appropriate dog CBD dosage (given your dog's size), you're probably curious as to what CBD products are best for your dog.
When it comes to canine CBD, chews and oils are a fantastic starting point!
Calming Chews
Looking for a CBD pet chew that your furry friend will love more than peanut butter? In come the CBD soft chews. Chews are dog CBD made easy. We all know the appetite of a happy dog, so a delicious chew formulated with their taste buds in mind makes giving them CBD a breeze. For instance, to make the best CBD dog treats, our natural beef-flavored soft chews were formulated for easing restlessness and promoting relaxation, especially in older dogs. A CBD treat is loaded with clinically tested ingredients, like omega-3 for healthy brain activity and German chamomile for calmness. The chews may help your pup overcome her fear of fireworks, thunderstorms, vet visits and more!

Joint & Hip Chews
Given how easy it is to give your dog a tasty treat, these chews are formulated with different needs in mind. For instance, our Zebra Canine Joint & Hip Chews might help ease joint stiffness due to normal daily exercise and activity. This broad-spectrum hemp extract is paired with cartilage, bone and joint support like green-lipped mussel, omega-3 and collagen. What's more, they're beef-flavored!
Unflavored Oil
If you are a pet owner who dabbles in CBD yourself, you may know that there are a lot of different products like CBD oil for dogs (from full spectrum CBD oil) or CBD tincture hemp oil When it comes to canine CBD oil, you can use the dropper to give them some CBD drops directly in their gums. For instance, this premium unflavored oil was created with your pup's balance and vitality in mind. It promotes overall wellness and keeps your dog's mood calm and relaxed. Included in the pet CBD oil formula is organic hemp seed oil, which supports healthy skin, a vibrant coat and lively brain function.

Incorporating CBD Into Your Dog's Routine with Home-Baked Treats
At the end of the day, there are tons of different ways to incorporate CBD into your dog's routine. From chews to oils, there's a type of product that complements your dog perfectly. With that being said, sometimes it's a rewarding endeavor to bake your own CBD treats! If you've decided that the unflavored oil is the best CBD for your dog, consider utilizing some of these doggie treat recipes.
You Love Your Dog, and So Does Zebra CBD
At Zebra CBD, we kept your pup's health and vitality in mind when we created all our uniquely-crafted canine products. But to that end, remember that finding the best CBD for your dog takes time and patience. When you find what works, your best friend will thank you with extra snuggles and a beaming smile.
Here at Zebra CBD, all of our products come with a Label Accuracy Guarantee™, meaning our products are tested by two independent third-party labs. Our label claims don't falter, our CBD is ethically farmed and our policy is quality. Try the chews or oil to discover what your dog likes (and responds to) best.
After all, the best CBD for your dog is the one that complements his needs and uniqueness.
For that, there's Zebra CBD.
Source:
New York Post. Pet Owners Embracing CBD Remedies to Treat their Ailing Animals. https://nypost.com/2020/02/01/pet-owners-embracing-cbd-cannabis-remedies-to-treat-their-ailing-animals/
Reader's Digest. 14 Ways Your Dog May Be Asking for Help. https://www.rd.com/list/ways-your-dog-may-be-asking-for-help/
WebMD. What is Chamomile? https://www.webmd.com/diet/supplement-guide-chamomile#1
Healthline. Full-Spectrum vs. Broad-Spectrum CBD. https://www.healthline.com/health/full-spectrum-vs-broad-spectrum-cbd#comparison
WebMD. New Zealand Green Lipped Mussel. https://www.webmd.com/vitamins/ai/ingredientmono-830/new-zealand-green-lipped-mussel
AllRecipes.com. Pet Treat Recipes. https://www.allrecipes.com/recipes/853/everyday-cooking/more-meal-ideas/pet-food/pet-treats/