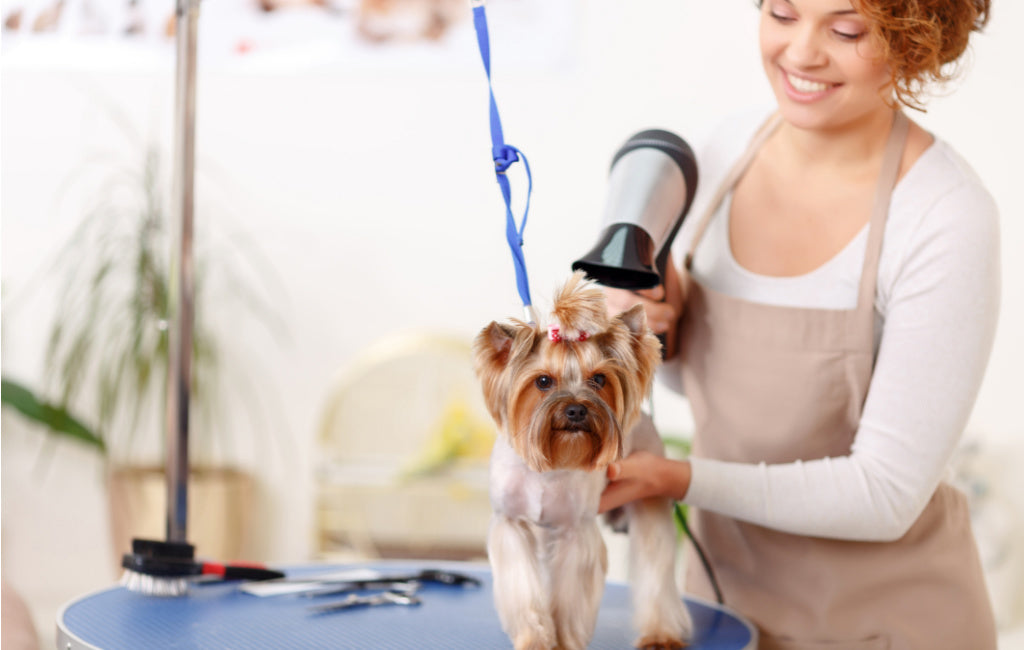 A trip to the groomer's may be a routine part of your dog's life, but it can still evoke stress in many dogs. The calmer and more relaxed your dog remains, the better the job a groomer can do — and that's where CBD products can be helpful. CBD can help to promote a calm temperament in your dog so he's better able to cope with the stress he might feel during grooming. This makes for a better overall experience for your dog, your groomer and you.
Prepping Your Pup For Grooming Cuts Stress 
Zebra CBD Canine Stress & Calming Chews help to reduce the effects of normal environmental stress, promoting a relaxed and calm demeanor. They support balanced behavior in dogs that exhibit nervousness, hyperactivity, bad behavior or that respond to environmentally-induced stress, like a trip to the groomer. In addition to CBD, these chews contain ashwagandha and L-theanine to help your dog cope with external stressors. German chamomile, zinc and magnesium may promote a sense of relaxation in your dog. Chews are a convenient way to administer CBD to pets.
If you're training your dog to accept having his nails trimmed or his teeth brushed, consider giving your dog CBD before... 
Zebra CBD Canine Oil also induces a calming effect and supports normal, balanced behavior. It may help with stress, cognitive functions and sleep. Hemp seed oil is added to promote normal, healthy brain activity.
While giving your dog CBD before it's time to get in the car can support him through the entire journey to and from the groomer's, you can also use CBD when you're preparing to groom your dog at home. If you're training your dog to accept having his nails trimmed or his teeth brushed, consider giving your dog CBD before the session to help him cope with any stress that may arise.
Promote Healthy Skin
CBD products can also help to support your dog's skin health, making trips to the groomer's more comfortable for your dog and allowing the groomer to do a more thorough job. If your dog suffers from dry, itchy or irritated skin, grooming can be uncomfortable. Supporting your dog's skin health can help.
Find the Right Timing
To maximize the benefits your dog experiences from CBD products, it's important to time when you give them so they take effect before the grooming appointment. Zebra CBD Canine Stress & Calming Chews take effect within 30 minutes to one hour. Those effects last for six to eight hours. Our canine oil effects kick in within 15-60 minutes and last four to six hours.  
Be sure to also refer to the dosage instructions on the label to ensure your dog's safety and make sure your dog enjoys the maximum effects of the product you choose.
Help to Make Grooming a Success
CBD can support a positive grooming experience, but it's important to take other steps, too. Work with a groomer who is willing to take adequate time to acclimate your dog to the grooming process. Make grooming positive by rewarding your dog with a trip to the park or another activity that he enjoys. You can also introduce your dog to the basics of grooming at home by handling his paws and brushing him while rewarding him with treats and praise.
Grooming can be stressful for some dogs, but with a little preparation, your dog can brush off the jitters and make the process easier for everyone involved.