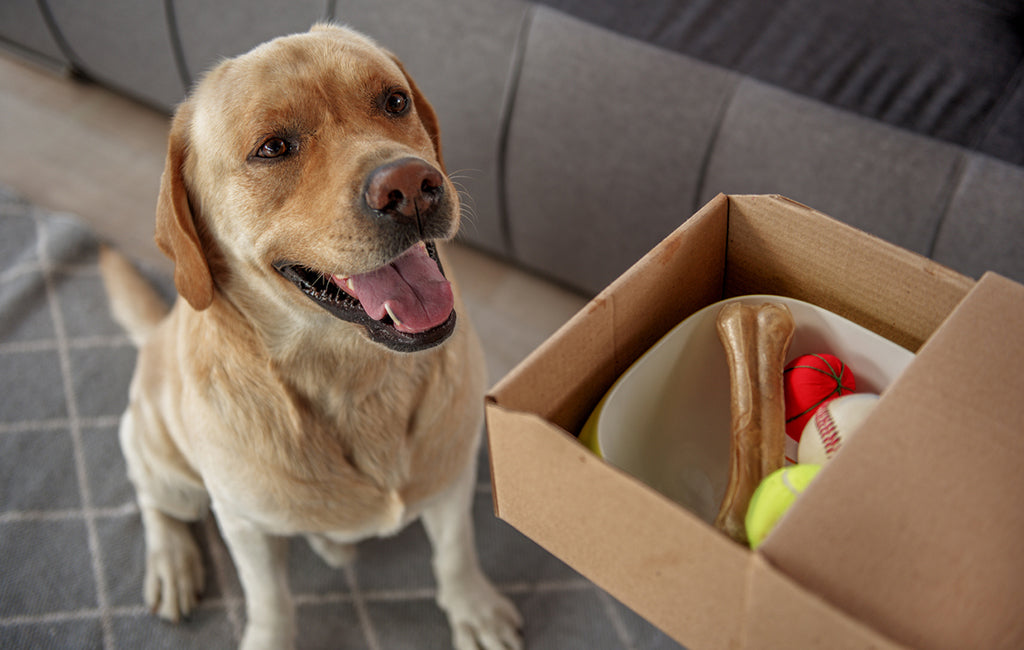 Moving to a new home is a highly stressful event for many dogs. Even though your family may be right alongside your dog the whole time, the household disruption caused by a move can still cause him lots of stress and worry. Taking some extra steps to support your dog during this time can reduce his stress and make the transition easier.
Try to Stick to An Established Schedule
As much as possible, try to keep your schedule consistent before, during and after a move. By feeding, walking and playing with your dog at the same time each day, you're creating a routine that's comforting for your dog. Maintaining this routine even when other things are changing can help to reassure your dog and give him some consistency.
Pack Your Dog's Items Together
When packing up your old home, leave your dog's items until the last minute and then pack them all together. Clearly label the box so you can quickly and easily find those items in your new home. Being able to give your dog his favorite items like his bed and some toys can be reassuring and can help to make your new house start to feel like home.
Be Extra Cautious at Your New Home
A move is unsettling for dogs, and he may be on edge when you get to the new home. Before letting him roam throughout the home, look for potential escape routes, like loose gates or doors that don't latch securely. Don't let your dog out into a fenced-in backyard until you have time to carefully inspect all of the fencing.
Supervise your dog carefully during those first few days or weeks in your home. If your dog is crate-trained, using the crate during this time can help to keep him safe when you're not able to supervise him directly.
Give Your Dog Extra Attention
Moving can be an overwhelming and busy time, and at the end of the day, you might not feel like taking your dog for the long walk that you typically do. But it's also important to realize that your dog needs your attention during this time.
Even though you may be busy and tired, make extra time for your dog. Take a walk to explore the new neighborhood; spend time relaxing with him on the couch after dinner; and give him plenty of affection and belly rubs..
Use CBD For Extra Support
You can support your dog through the move with a product like Zebra CBD Canine Stress & Calming Chews. These chews contain 10 mg of broad-spectrum hemp extract and promote relaxation. Given consistently, they have a calming effect on your dog's nerves and help to promote mood stability and balanced behavior. These chews are a great way to help your dog better deal with the stress of the move.
While you won't be able to remove all of the stress that comes with moving to a new home, you can take steps to minimize the stress that your dog feels during this time. Carefully planning out the move and putting these tips to work can help, but it's also important to monitor your dog. Look for signs that he needs extra attention during this time, and respond promptly with the support he needs.