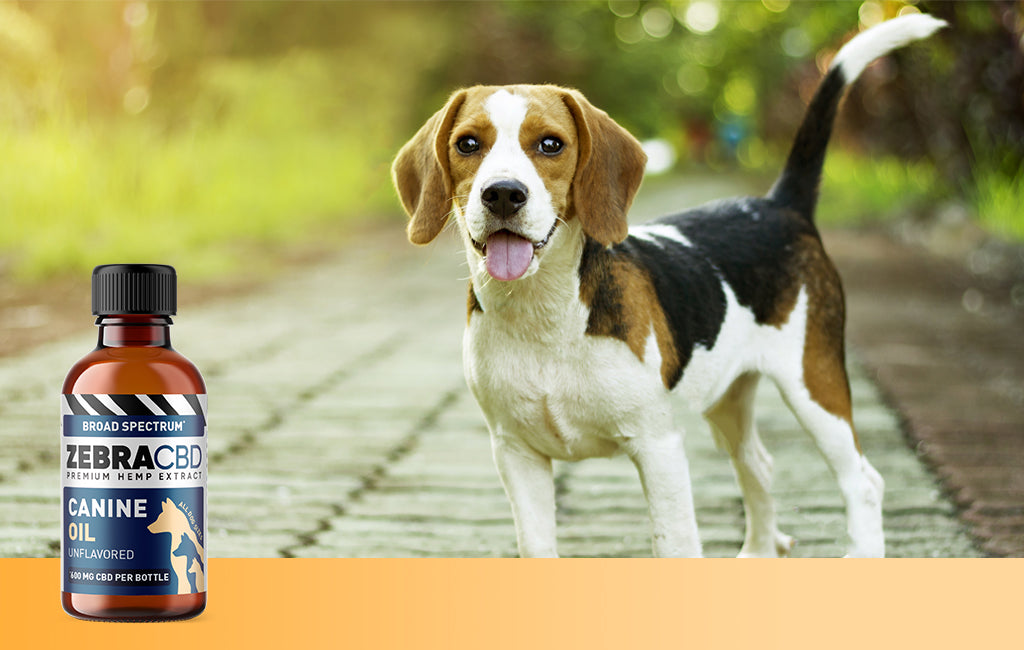 Zebra CBD Canine Oil promotes health in your dog in many ways, thanks to its carefully selected, quality ingredients. Hemp seed oil, broad-spectrum hemp oil and CBD from hemp extract all work together in this easy-to-feed oil. Natural and effective, these ingredients have been carefully selected to create a formula that will help your dog feel his best. 
One Ingredient You Won't Find: THC
Tetrahydrocannabinol, or THC — the active ingredient in marijuana and found in trace amounts in full-spectrum CBD oil, can have a psychoactive effect, so it's not ideal for use in dogs. Giving your dog a broad spectrum CBD oil lowers the chances of negative psychoactive effects in your dog. When you shop for canine CBD oil, look for products that have undetectable levels of THC, so they promote health in your dog without concerns about nervous system side effects or THC toxicity.
Hemp Seed Oil
Hemp seed oil is extracted from Cannabis sativa plant seeds. The seeds are dehulled and then put under pressure to release the oils. This oil contains no detectable THC, CBD and other cannabinoids. Instead, hemp seed oil is rich in omega-3 and omega-6 fatty acids, antioxidants, Vitamin D, and B vitamins. 
When consumed, hemp seed oil delivers important nutrients. Its antioxidants may support immune system health and support your dog's skin and coat health because of its balance of omega-3 and omega-6 fatty acids. 
Broad-Spectrum Hemp Oil
The broad-spectrum hemp oil used in Zebra CBD Canine Oil is extracted from the hemp flower. It contains CBD and several naturally occurring cannabis plant extracts, such as terpenes, cannabinoids and flavonoids, which may offer benefits beyond CBD alone. All of these elements work together to support health and comfort in your dog. Broad-spectrum oil doesn't contain detectable THC.
CBD From Hemp Extract
CBD from hemp extract is sometimes confused with hemp seed oil, but these products are made from two different parts of the plant. While hemp seed oil is extracted from hemp seeds, Zebra CBD hemp extract is extracted from the hemp flower. Unlike hemp seed oil, hemp extract oil contains CBD and a profile of phytocannabinoids, terpenes and flavonoids. Zebra CBD hemp extract interacts with  the receptors in the endocannabinoid system (ECS) to support the overall well being of your dog's health.
MCT Oil 
Since CBD is fat soluble, our broad spectrum hemp extract is carried in MCT Oil providing increased bioavailability. Bioavailability is the amount of CBD and other ingredients that end up getting absorbed into your body.
Benefits of Zebra CBD Canine Oil
Canine CBD oil supports healthy skin, hips and joints, brain activity as well as a calming effect for normal, balanced behavior. CBD may also manage normal stress, induce sleep and enhance immune response and cognitive function for a happier and more comfortable dog. 
Additional Reasons to Try Canine Oil
Quality, carefully selected ingredients are just the beginning, and there are many other reasons to try Zebra CBD Canine Oil. Our oil contains no detectable THC. It's manufactured in the U.S.A. and produced from organically grown hemp. It's also unflavored, so it's recommended even for picky eaters and pups with sensitive noses. 
Each bottle delivers 600 milligrams of CBD, and you can trust that number. That's because — just as we do with our products for our human consumers — we test every lot twice for potency through independent, certified third-party labs. This rigorous testing ensures that the oil contains the correct percentage  of CBD, and that it contains no detectable THC  as well as heavy metals, harmful microbes and unnatural pesticides. The result is an oil that you can confidently give to your canine companion. 
Packaged with a separate syringe, Zebra CBD Canine Oil is easy to feed to one or more dogs and wash between uses. Try it now and see the positive effects it can have on your dog's health.