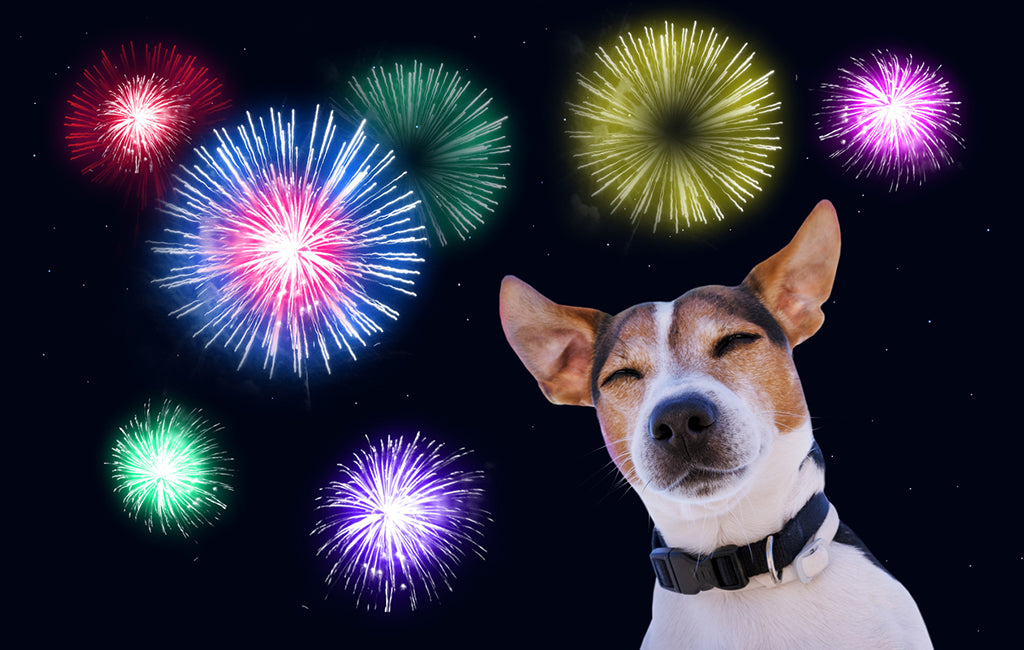 By Paige Cerulli
You and your family might look forward to celebrating the Fourth of July, but for your dog, the holiday can be a frightening and stressful experience. Large parties, changes in schedule and fireworks can all stress your dog, and dogs often go missing after being frightened by fireworks. But the holiday doesn't have to be a dreaded experience for your four-legged friend. With some preparation and precautions, you can support your dog through this holiday.
Keep Your Dog Safe During Parties
If you're having a bunch of friends and family over to your place for a party, take some extra steps to make sure your dog stays comfortable and safe. 
In larger gatherings where it's difficult to keep track of who's coming and going, it's safer to keep your dog confined.
Start by determining whether your dog should be out and about during the party, or if it would be less stressful for him to be in a quiet area of the house away from the guests. Some dogs love to socialize, and if that's your pup, then make introductions to guests gradually and in a controlled manner. If your dog starts to get overwhelmed by all of the action, then it's best to separate him. Have a bed or his crate ready with some treats or a chew toy so he can relax elsewhere. 
If you decide to include your dog in the outdoor festivities, make sure that all gates and doors are closed, and that they stay closed. In larger gatherings where it's difficult to keep track of who's coming and going, it's safer to keep your dog confined. 
Stick to a Schedule
Our schedules naturally tend to change around holidays, and that disruption can add to the stress your dog feels. Try to keep your schedule as consistent as possible. Get up and give your dog breakfast at his normal meal time. If you're hosting a party, make sure your dog still gets in his regular dinner and walks. 
In fact, try to give your dog even more exercise than he normally gets. Extra time outside playing fetch or an extra-long walk before dinner can help to relieve stress. It has the added benefit of tiring your dog out a bit, so he may be better able to relax and sleep even though there may be a lot going on around him. 
Support Your Dog Through Fireworks
Of all of the Fourth of July activities, fireworks tend to be the most stressful and frightening for dogs. Start by looking up your town's fireworks schedule so you know just when they'll occur, and when your dog will need extra support. 
Try to arrange to be home with your dog during this time. Your presence can be reassuring, and you can monitor your dog to make sure that he doesn't get hurt if he panics. If you can't be home, consider bringing your dog to a friend's house or hiring a pet sitter to be with your dog. 
Before the fireworks start, bring your dog into the quietest area of your house that will be quietest. A basement is often ideal. You can run fans or an air conditioner, or play the radio or TV to help drown out some of the fireworks noise. MakeBe sure that the area is secure, and avoid taking your dog outside at all duringwhile the fireworks display are happening. Remember, if your dog panics, he might run away and could get lost, so indoors is the safest place for him to be. 
You might want to try a product like a Thundershirt. These products create gentle pressure that helps to reassure and calm dogs during stressful situations.  
You can also give your dog CBD to help him deal with the extra stress of fireworks. Zebra CBD Canine Stress & Calming Chews contain premium, broad-spectrum hemp oil extract. OurThat extract is paired with additional potent natural ingredients to help keep your dog relaxed, even in stressful situations. With consistent daily use, these chews may help to calm your dog's nerves, promote relaxation and support more balanced behavior.
While you can't entirely eliminate the stress of the Fourth of July for your dog, you can help to minimize it. When you plan ahead for your dog's needs, then your whole family can enjoy the holiday.