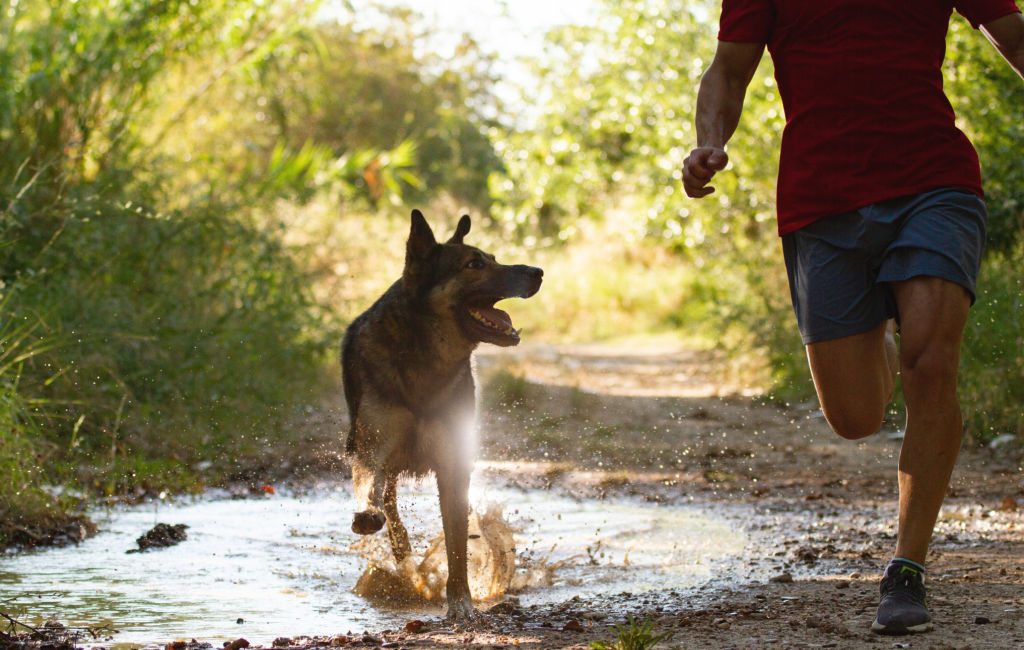 Exercise is essential not only to your own health, but to your dog's as well. Regular, appropriate exercise can help to keep your dog from gaining too much weight, and can also help him to lose a few extra pounds. Excess weight can make issues like hip and joint discomfort worse, and can contribute to serious health issues like heart disease.
Make it a goal to explore new trails. The change of scenery will liven up your hikes and can get you and your dog motivated and excited for each outing.
Luckily, there are many ways that both you and your dog can work out together — and exercising can even be fun when you have your four-legged buddy by your side.
Explore New Trails
If you and your dog love the outdoors, make a point of exploring new trails together. You can find out about different trails through online hiking groups, and even on the websites of local towns. Make it a goal to explore new trails. The change of scenery will liven up your hikes and can get you and your dog motivated and excited for each outing.
Run, Walk or Bike
If you haven't been exercising with your dog yet, running or walking are some of the easiest ways to start. Before you and your dog do more intense activities, start slow with shorter walks, then gradually build up to longer adventures and start to incorporate some running.
Feeling ambitious? You can bike with your dog, too — but only do this once your dog is fit enough to comfortably keep up. Though there are many bike leash attachments to help keep your dog at a safe distance, it's also important to do plenty of training to prepare your dog. Make sure that he has a good heel and callback response, and train him not to lunge after or chase animals like squirrels or rabbits.
Go For a Swim
Swimming is great for both you and your dog. Not only does it provide valuable fitness benefits, but it's a low-impact activity in which you can both participate, even if you have stiff or achy joints.
If your dog isn't yet used to water, start slow. Look for a quiet pond or lake and bring along a floating toy. Start with just getting your dog's paws wet, and incorporate plenty of play and treats to make it a positive experience.
As your dog gets more confident, you can start to head deeper into the water, and even start swimming together. If your dog isn't yet a strong swimmer, then it's a good idea to invest in a canine life jacket.
Try a New Sport
Consider giving a dog-related sport a try for a fun, competitive challenge and another way to get plenty of exercise with your pet. You might want to start with obedience training, since this will give you and your dog a great foundation for the sport of your choice.
When it comes to dog sports, you'll have plenty of options. Agility is a fast-paced and intense sport that will have both you and your dog racing around courses. Flyball and dock diving are also great sports for dogs who love a good game of fetch. Check with your local canine club or dog owners' groups to find out about available sports in your area.
Getting in a workout is more fun with your dog by your side, and you'll have the added satisfaction of knowing that you're prioritizing your best friend's health as well as your own. Before you do any sort of exercise with your dog, it's always a good idea to start with a trip to your vet for a checkup. Your vet can check for underlying health conditions, make recommendations for appropriate exercise intensity and advise you on how to best get started exercising with your dog.
Even with a gradual start, your dog might experience some stiffness following exercise. Using a CBD product like
CBD oil for dogs
 or
CBD canine joint and hip chews
, along with
CBD calming chews for dogs
, can help to alleviate occasional joint stiffness and help your dog bounce back faster from each activity so he's ready for your next adventure. 
These CBD solutions promote overall well-being, keeping your furry companion happy, active, and ready for outdoor activities.