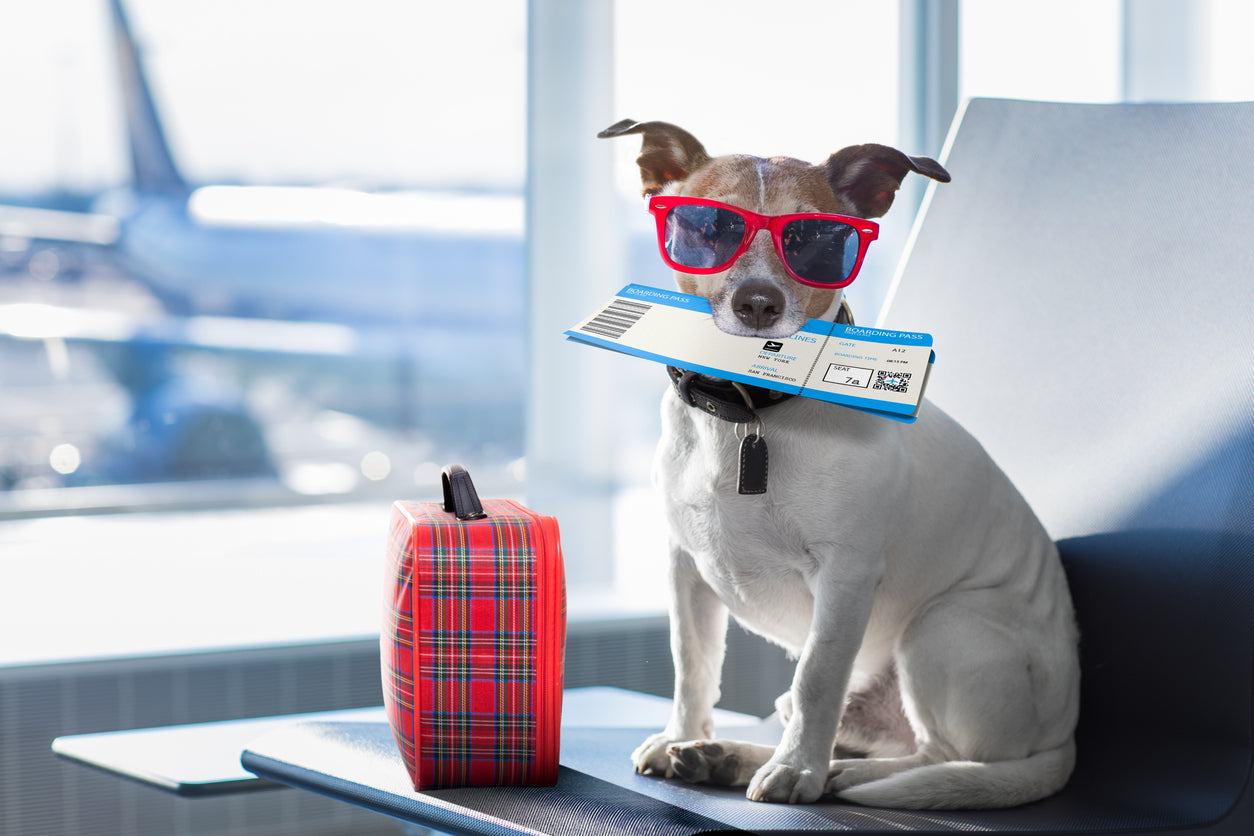 You're all set to go — the destination is chosen, the ticket is bought, the suitcase is packed and your furry friend is loaded into the car. Your destination? The airport.
Traveling with dog on plane for the first time takes a lot of planning ahead. You'll need to acquire the correct documentation, abide by airline pet policies and decide whether your pet is riding in the cargo compartment below or with you in the passenger cabin. Plus, you will need to look for ways to keep your dog calm, like giving them CBD oil chews. 
All of these might seem daunting, however, if you keep your ducks in a row, air travel with dogs can be as smooth as the flight itself. 
Gathering the Right Documentation and Paperwork
The required documentation will be largely dependent on whether you're flying nationally or internationally.
Your Dog's Health Records
When flying cross-country, you'll need to make an appointment with your vet to acquire your dog's veterinary records. The records need to include all of the following:
blood tests
rabies vaccination and other vaccinations
microchip identification
This information acts as your pup's health certificate. When booking a domestic flight, make sure that the certificate is no older than 10 days at the time of takeoff. If it's any older than 10 days, it may be considered invalid. 
When going on an international flight, most countries require a USDA health certificate from a USDA-certified veterinarian before your dog can enter its borders. Even if your destination country does not require this type of certificate, the airline you're using may. Be sure to do your research beforehand to make sure your dog is plane-ready upon the travel day. 
To find a USDA-accredited vet near you, visit the Animal and Plant Health Inspection Service vet search tool. 
Required Airline Paperwork
Depending on which airline you and your dog are traveling to, you may be required to fill out additional paperwork prior to your travel day. 
Most cross-country travelers with dogs in tow need only to provide the airline with a health certificate and identifying information, such as:
breed, sex, age and color of your dog
your name, phone number and address
When traveling overseas or to a bordering country, most airlines will require more information depending on the country of destination. Prior to travel, view the specific pet policies for each country by visiting:
The website of your destination country's embassy or consulate to receive guidance on additional pet requirements or documentation
While each airline has its own documentation requirements, when traveling with a dog internationally, you'll need to submit a GSA Waiver. Each airline will have its own version of the waiver. By filling it out, you ensure that your pup makes it to your intended destination. If the airline is unable to transport your pet, the Foreign Service will take over to make sure your pup makes it safely.
Airline Pet Policies
When looking for how to take a dog on a plane, pay special attention to the airline's pet travel policies. While policies differ across the board, American airline pet policies can actually be quite restricting:
Weight requirements – Many airlines have weight restrictions that determine which dogs can and cannot ride in the airplane's passenger cabin. Additionally, the airline may charge an additional pet fee if your dog surpasses a certain weight, such as 100 pounds (the weight typically includes your dog and its dog carrier or dog crate). The weight and size of your dog can also determine whether it's allowed to ride in the cabin.
Breed restrictions – Generally, short-nosed dog breeds are not allowed to fly, as recommended by the American Veterinary Foundation, which explains how to fly with a dog. Pugs, Boston terriers, boxers, Shih Tzus and bulldogs can also experience health risks when flying. 
Length-of-flight restrictions – Some airlines will only allow dogs to fly if the flight is less than, say, 10 hours. Most restrictions are made with the health and safety of your pup in mind.
In addition to airline-specific restrictions, you'll also need to be aware of each carrier's in-flight pet policies. Typically, there are three ways to fly with a dog:
Separate flight – If you're unable to fly alongside your pup, you can book a separate flight for your furry friend. Your dog will ride in a temperature-controlled and ventilated cargo hold. Each airline will differ, so make sure it's a viable option with your carrier of choice. 
In the cargo – Your pup can also ride as cargo on the same flight as you. Most likely, you'll be charged a fee for this service, as well as for any weight restrictions your pup may break.
In the cabin – If your pup meets the airline's size and weight requirements, they can travel with you in the airplane's cabin. Your dog and its carrier must fit under the seat in front of you during the flight. Larger dogs can travel in the cabin if they're certified service animals.
Traveling With a Service Animal
According to the U.S. Department of Transportation (DOT), if you're traveling with a service dog, you must provide the airline with the proper documentation to prove that your helpful pup is a certified and trained service animal who can assist you or a family member with a physical or psychiatric disability with:
U.S. DOT form attesting to your dog's health, behavior and training
U.S. DOT form attesting to whether or not your dog can go potty in a sanitary manner if the flight is 8 hours or longer
Once proven, your dog can travel in the cabin alongside you, free of cost. 
Unfortunately for a pet owner of Emotional Support Animals (ESA), your ESA pup no longer has the same benefits.
Navigating the Airport
On the day of travel, you may be feeling a bit overwhelmed. You have the proper paperwork and your pup is set to take flight, but there's still the task of walking them through the airport — a crowded place brimming with strange sights and sounds.
The first ground rule? Make sure your dog is leashed at all times.
If your dog is flying in the cargo hold, take them for a quick potty break outside before walking them to the check-in line and loading them in their carrier. Make sure to give them a few extra kisses and hugs before you set off for the security line.
If your dog is taking to the skies in the airplane's cabin, you'll need a little more preparation.
When going through security checkpoints, make sure you have your dog's identification tag and any paperwork on hand if you're asked to present it. Most likely, you won't be. But it doesn't hurt to be safe. A more intensive check will take place once you arrive at your flight's boarding area.
During the security screening, remove your leashed dog from the carrier and send the bag through the X-ray machine. Your dog will then be asked to walk through the metal detector, and your hands will be swabbed.
If your dog sets off the metal detector, do not touch them. Instead, keep a hold of your dog and a TSA agent will come over to inspect your pup's harness, collar, or leash. For this reason, stray away from accessories with large amounts of metal when traveling.
Once you and your dog have successfully made it through the security checkpoint and to your terminal, keep an eye out for designated pet relief areas. You'll want to visit these spots a few times before takeoff. 
Finally, once you arrive at your gate, check in with the gate agents to remind them a dog will be on the flight and to provide any needed paperwork.
Making Your Dog Comfortable
When flying, your dog may experience feelings of unease and nervousness. To help keep your pup feeling safe and comfortable, even at 42,000 feet above the ground, we have a few tips and tricks on how to calm a nervous dog:
Opt for a soft carrier – A soft-sided carrier fits better under an airplane seat and gives your pup an added level of comfort during the flight.
Line the carrier with a potty pad – A potty pad makes it easy and sanitary, especially if they're prone to leaks when nervous or excited.
Administer a pet-prescribed sedative – Many vets can prescribe a sedative, such as Trazadone to ease nervousness and calm your pup during turbulent times.
Give them a yummy chew – Distract your dog during take-off and landing with a delicious treat they can gnaw on for hours. 
Use a Thundershirt – A Thundershirt may be a great option for a particularly nervous dog. The attire swaddles your pup, making them feel safe and cozy.
Administer canine CBD – CBD can ease your dog's feelings of unease throughout the flight. Dog-friendly CBD has no detectable THC (the psychoactive component of marijuana), so it's safe to give to your dog before a long trip. 
Now that's how to fly with your dog. 
Take Flight With Zebra CBD
Knowing how to travel with a dog on a plane can be a time saver — but you'll have to plan ahead. Make sure your bags are packed with vet records, pet identification and any documents your airline may require. Then it's smooth sailing — or should we say flying?
Another way to guarantee a stress-free travel experience? Zebra CBD.
We've formulated premium dog CBD products made especially to support your pup's overall health and vitality. Each of our products is tested by two independent third-party labs and guaranteed to contain high-quality ingredients that'll help the health of your pet reach new heights. 
Most importantly, our CBD products can help quell your dog's unease as they embark on their trip. It can help them calm down in a time they need to most. 
Check out our Zebra Canine line including CBD Oil, CBD Stress & Calming Chews, CBD Joint & Hip Chews and CBD Balm today.
Source:
Animal and Plant Health Inspection Service. Find Accredited Veterinarians. https://vsapps.aphis.usda.gov/vsps/public/VetSearch.do
Animal and Plant Health Inspection Service. Take Your Pet From the United States to a Foreign Country (Export). https://www.aphis.usda.gov/aphis/pet-travel/take-pet-to-foreign-country
United States Department of Transportation. United States Department of Transportation Service Animal Relief Attestation Form. https://www.transportation.gov/sites/dot.gov/files/2021-01/U.S.%20DOT%20Service%20Animal%20Relief%20Attestation%20Form.pdf
United States Department of Transportation. U.S. Department of Transportation Service Animal Air Transportation Form. https://www.transportation.gov/sites/dot.gov/files/2021-01/U.S.%20DOT%20Service%20Animal%20Air%20Transportation%20Form.pdf
United States Department of Transportation. U.S. Department of Transportation Announces Final Rule on Traveling by Air with Service Animals. https://www.transportation.gov/briefing-room/us-department-transportation-announces-final-rule-traveling-air-service-animals
American Veterinary Medical Association. Air Travel and Short-Nosed Dogs FAQ. https://www.avma.org/resources-tools/pet-owners/petcare/air-travel-and-short-nosed-dogs-faq
Embassy.org. Washington D.C. Embassies. https://www.embassy.org/embassies/
VCA Hospitals. Flying with Your Dog in the Airplane Cabin. https://vcahospitals.com/know-your-pet/flying-with-your-dog-in-the-cabin-of-the-plane
U.S. Department of State. Pets and International Travel. https://www.state.gov/pets-and-international-travel/
Centers for Disease Control and Prevention. Traveling with Pets. https://www.cdc.gov/importation/traveling-with-pets.html