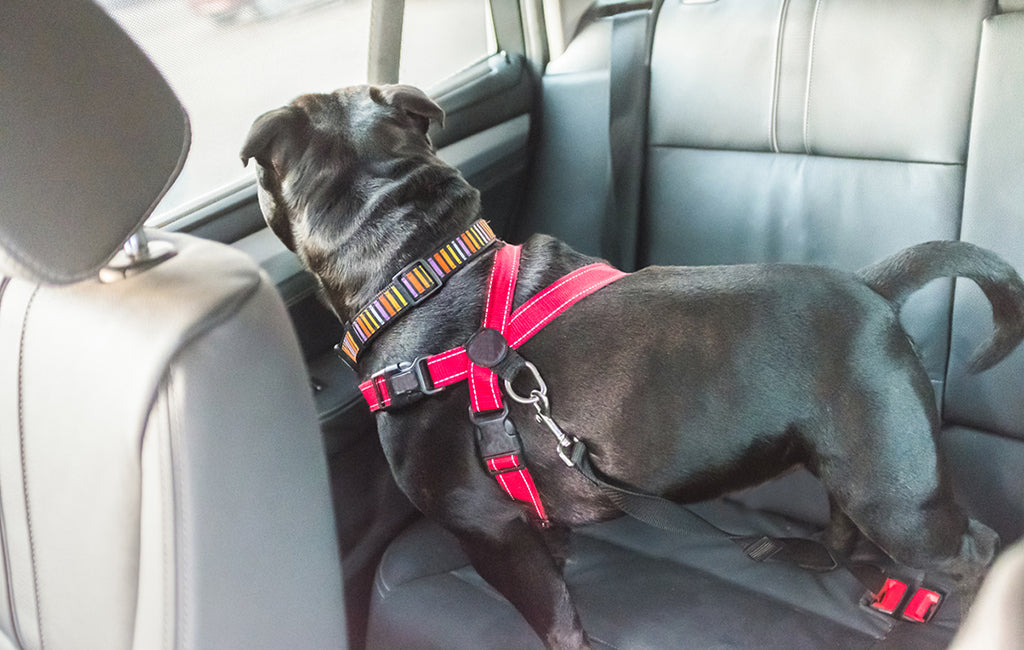 Some dogs love sticking their heads out the car window as high-speed winds blow through their ears. However, others hate it — refusing to even step foot in a vehicle without the promise of a treat or chew toy.
However, a long road trip can be stressful for even the most enthusiastic of pups — the confined space, the lack of a potty area and the stress can make for an unpleasant experience.
When planning your highway holiday, be aware of your dog's specific needs and phobias before setting out on the road. 
Whether your furry friend is a driving fiend or a nervous nelly, it's paramount to always keep your dog safe, comfortable and calm when road tripping. To that end, using CBD oil can help. Plus, we've also put together the best tips and tricks to achieve a stress-free road trip with your dog in the car. 
Talk to Your Vet
When planning your highway holiday, be aware of your dog's specific needs and phobias before setting out on the road. 
A vet can help identify how to calm a dog down in a car by providing calming or sedative medication to ease your pup's nerves, especially if they get startled during car rides. Additionally, if you want to know more, you can read up other methods on how to calm a nervous dog.  
You'll also need to get your pup up to date on any vaccinations and compile a valid health record, especially if you're crossing state lines or borders. 
A health record typically consists of:
Vaccination records
Blood tests
Health history
The health record will need to be issued no more than 30 days before you plan to travel.
Typically, a rabies vaccination is the most essential vaccination needed for puppy travel, but you'll also want to make sure your pup is up to date on: 
Canine hepatitis
Distemper 
Influenza
Also, make a few paper or electronic copies of your dog's medical records in case the original copies are lost along the way. 
If you're going to be traveling through areas with large tick or flea populations, you'll also want to consider making a vet appointment for a Lyme Disease vaccination. In addition, begin your dog on an oral flea medication one month prior to your trip.
Prepare Your Dog With Pre-Travel Rides
If you're the dog owner of a particularly nervous pup, take your dog on a few pre-trip rides to acclimate them to the idea of spending a significant amount of time in a car. You won't have to worry how to calm your dog down in a car if they are very used to traveling by car. They might eventually get excited about riding in the car once they are familiar with it.
Start slow with a 15-minute ride along city streets. Consider avoiding the fast-paced environment of the highway on the first run, as the motion may cause added stress to your dog. You can even make the drive personally rewarding for your pup with an exciting destination, such as:
A dog-friendly lake to splash in
A drive-thru to get their favorite sweet treat
A dog park to unwind from a stressful drive
Over the course of a few months, slowly build up the amount of time your dog spends in the car. In the best-case scenario, your dog will adjust to the new sights and sounds that come with car travel. 
Make Your Dog Comfortable 
With the travel day on the horizon, it's essential to prepare a space in your car for your dog to feel safe and comfortable.
If you have the room, designate the entire backseat or trunk to your pup. Place a cozy blanket or their favorite bed on the car seat or floor. Then, add their favorite toys or treats to provide an extra level of comfort and familiarity.
Many dogs are prone to heatstroke when riding in a car. 
As such, you'll also want to position your dog next to a window or air conditioning vent to provide them with enough ventilation during a particularly long stretch of driving. You can also keep your dog cool and comfortable by:
Keeping your dog hydrated with cool water
Buying a cooling vest for your dog
Installing portable fans in the car
Using a cooling pad in place of a blanket or bed
In addition to creating a comfortable space for your dog, you'll also want to schedule potty breaks intermittently throughout the drive. 
...you can ease your mind by securing your dog to the seat using a pet safety harness or backpack that works a lot like a doggy seat belt...
As a general rule of thumb, stop every two to three hours at a rest stop that's a safe distance from the highway or busy roads.
Walk your dog for 15 to 30 minutes along a trail or grass area to give them enough time to calm themselves and enjoy a bit of exercise. 
Keep Your Dog Safe
Driving can be dangerous. As such, adhering to the proper dog safety precautions when driving with a dog ensures they're protected throughout the travels. 
Hopefully, you won't experience any collisions, However, you can ease your mind by securing your dog to the seat using a pet safety harness or backpack that works a lot like a doggy seat belt, keeping your pup safely in place during an accident or sudden stop.
In 2011, New Jersey actually made it illegal to travel with an unrestrained dog in your car. As such, the market boomed with effective dog restraints that are both safe andcomfortable.
Additionally, don't allow your dog to climb into the front seat and curl up on your lap. While it's wonderful to have your furry friend riding shotgun, it can be unsafe for your pup and create unnecessary distractions for the driver. To keep your dog in its lane, consider incorporating:
A safety harness
A backseat divider
A dog crate
By preventing any distractions, you and your dog can travel safely andcalmly — no matter the road or traffic conditions.
Find Dog-Friendly Accommodations
If you're planning a multi-day road trip, you'll inevitably need to find a dog-friendly hotel or camping spot that's safe and accommodates our furry friends.
Plan ahead, as it'll be a lot harder to find dog-friendly accommodation once you're on the road. 
Instead, you can search online for appropriate boarding before you set off on your adventure. When choosing a dog-friendly overnight stay, look for added perks like:
A grassy area or dog run for your pup to play
Pet-friendly lobbies and restaurants to avoid any stress-inducing separation 
Rooms with patios or outdoor space
Extra benefits, such as dog treats, bowls and beds
An absence of add-on pet fees
Staying at a pet-friendly hotel can be rewarding. The staff is typically very accommodating to furry friends and other guests are usually aware of the dog-friendly amenity, so there won't be any unnecessary complaints.
As a thank-you to your fellow guests and hotel staff, it's also important to follow the proper etiquette when staying at a hotel with a dog:
Always pick up after your dog
Avoid leaving your dog alone in the room if they're prone to barking
Dog-proof your room to avoid any property damage and to keep your pup safe, especially if you're leaving them alone for a few hours to explore the town or go out to dinner. You can also leave the T.V. on to provide your dog with some small-screen company.
In addition to finding a dog-friendly hotel, you might also want to factor in the amount of pet-friendly restaurants or event spaces near your overnight destination. That way your pup can stay riding shotgun, and you won't have to worry about them getting nervous in an empty hotel room. 
How to Calm a Dog Down in a Car
During a long car ride, your dog will inevitably become nervous due to outside or internal circumstances: They may become stressed by rushing cars outside the vehicle, overwhelmed by a thunderstorm, or frustrated by their inability to move at their own free will. 
Either way, it's important to keep your dog calm during long car rides. As the driver, it's your responsibility to:
Control the temperature – Keep the temperature inside the car cool. This will allow your pup to rest easily and help with pant-induced stress.
Exercise your dog regularly – Keep your dog's energy levels down by walking them before the trip and during rest stop breaks. Your dog will feel satisfied and you'll be able to drive distraction-free.
Spray dog pheromones – Relaxing pheromones are available in most pet stores. They mimic the odor of a nursing mother and are typically very calming for dogs. 
Use canine CBD – CBD is a supplement that can calm your dog and support its overall health and vitality. It may also help your pup's muscles recover after a long car ride, and you can explore this benefit further with the use of high-quality CBD calming chews for dogs.
Support Your Car-Bound Pup With Zebra CBD
When questioning how to travel with a dog in a car or even how to travel with a dog on a plane, remember that you mustplan ahead with vet visits, preparatory rides and proper safety equipment. Your dog's comfort and safety should be your first priority (then you can start planning fun roadside stops, whether it's a quirky diner or a doggy playground).
Ultimately, a calm dog will make your journey an enjoyable one. And here at Zebra CBD, we can be your backseat driver. Our collection of dog-friendly CBD products range from CBD oils to calming CBD chews to make sure your dog is traveling lightly.
Our vet-formulated CBD products help to calm your dog should they feel nervous, jittery, or upended. Canine CBD can give them that much-needed deep breath on a long drive. Additionally, each of our products is third-party tested by two independent labs and comes with a Label Accuracy Guarantee™. 
No matter your destination, Zebra CBD can help you get there as smoothly as possible.
Source: 
Centers for Disease Control and Prevention. Traveling with Pets. https://www.cdc.gov/importation/traveling-with-pets.html
College of Agricultural, Consumer & Environmental Sciences. There's Hope for Thunder-Phobic Dogs. https://aces.illinois.edu/news/theres-hope-thunder-phobic-dogs
New York Daily News. New Jersey says drivers should buckle up their pets, or face a fine. https://www.nydailynews.com/news/national/new-jersey-drivers-buckle-pets-face-fine-article-1.1090567