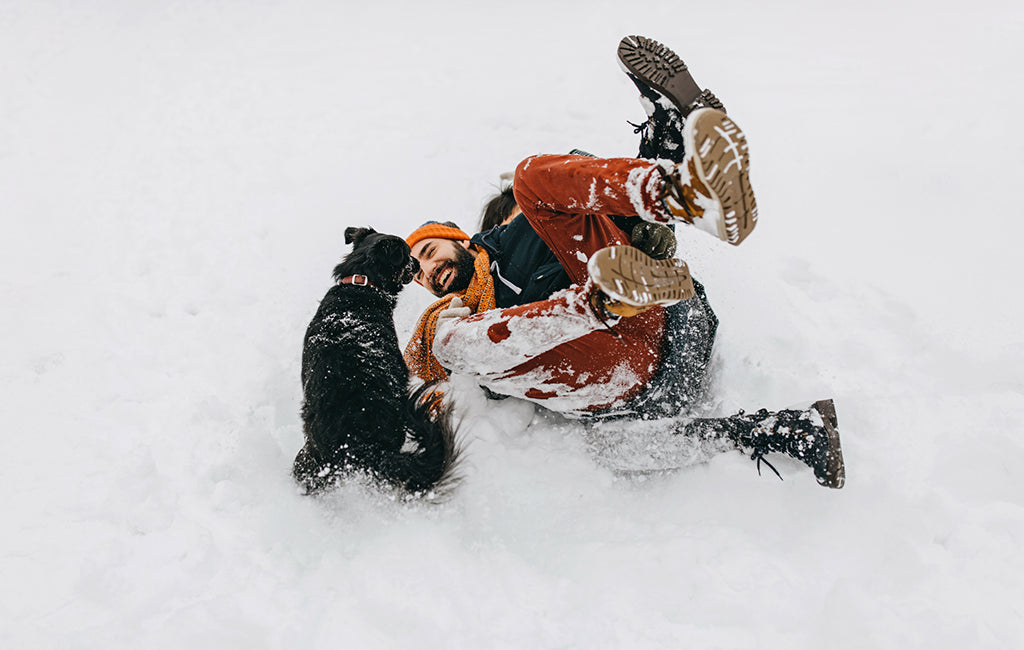 Cold winter weather doesn't have to stop you and your faithful companion from having a good time or enjoying new adventures. While you'll always want to keep a close eye on your dog to make sure that he's comfortable in the cold, there are plenty of wintertime activities that you can both enjoy together.
Go For a Hike or Snowshoe Journey
Snow doesn't have to keep you and your dog indoors. Instead, head outside to enjoy a hike or snowshoe journey together. If you're feeling ambitious, you could even give cross-country skiing a try. 
During your outings, bring along some water for your dog; even if it's cold out, he's sure to work up a thirst. Stick to shorter outings at first — especially if there's deep snow — since it will make for a more strenuous outing than your typical walks. 
Play Fetch
Fetch is a fabulous, year-round game, but it can be extra fun in the wintertime. Get your dog's favorite frisbee or toy and let him land in the snowbanks. You can also toss your dog some lightly packed snowballs as long as they're free of hard chunks of snow or ice.
Chances are your dog will love a good game of fetch, but if you're playing in the snow, you'll need to pay extra attention to your dog's comfort and safety. Try to play only in fresh, soft snow that hasn't been packed down, since packed snow with ice can cut and irritate your dog's paws. 
Remember that playing in deep snow is more strenuous than playing on normal ground. Watch your dog for signs he's getting tired, and be sure to end the game before he becomes exhausted or sore.
Set Up a Winter Photo Shoot
The winter also makes for a perfect time to hold a special photo shoot. You can hire a pet photographer or ask a friend or family member to help you capture beautiful wintertime shots of you and your dog. 
When you have some winter weather, the possibilities for your photo shoot are virtually endless: 
Toss snowballs to your dog and capture his enthusiastic leaps.
Have your dog help you build a snowman.
Go for a walk in the snowy woods.
Sit by the edge of your favorite frozen pond.
Dress up in matching scarves.
Take pictures as you relax inside by the fire.
Winter photo shoots can be lots of fun for both you and your dog. They can also make for a great winter tradition. 
Take a Class Together
If you're looking for a warmer activity, consider taking a class with your dog. There are plenty of indoor classes where you can both learn something new. Look for training classes, clubs that offer introductions to new sports like agility or scent work and even classes like pet CPR. 
When you take a class together, you and your dog will have a chance to deepen your bond. You might even discover that you both love a sport like agility or obedience by trying out something new together.