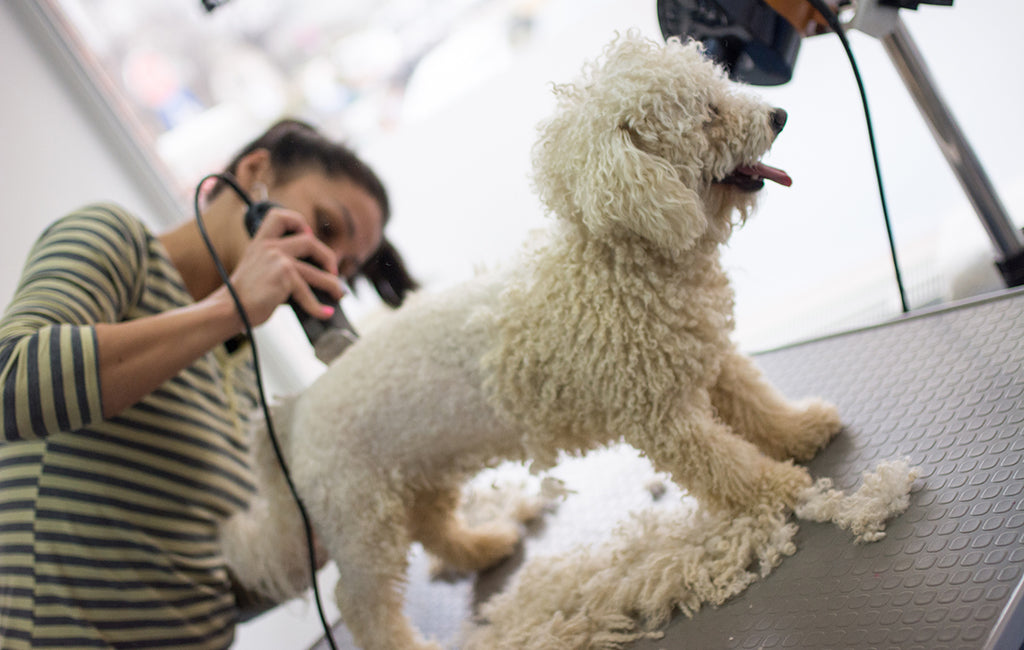 A beautiful, shiny coat is a sign of a healthy dog, but if your dog's coat lacks a healthy shine and his skin is dry and itchy, he may need a little help from you. Maintaining your dog's skin and coat health can take a little work, but there are many ways you can help him to look and feel great.
Start With Nutrition
It's important to start by considering your dog's nutrition. A well-balanced and nutritious diet will help to promote a healthy coat and skin naturally. If your dog's diet is lacking in essential ingredients like omega-3 fatty acids, it will be difficult to get his coat and skin healthy, no matter what you try. 
Matted hair or fur traps heat and moisture, and air can't get to your dog's skin. This is a recipe for sores, itchy skin and overall skin irritation.
Make sure that your dog is getting the nutrition that he needs. Talk with your vet to see if he or she has any recommendations regarding elements of your dog's diet that you should change. 
Your vet might recommend adding a supplement, like fish oil, to give your dog extra omega-3 fatty acids and nutritional support. Feeding fish oil on top of your dog's food gives him an extra nutritional boost and can help to promote a shiny, healthy coat and well-moisturized skin.
Check Your Coat Care Products
If you're bathing your dog at home, make sure that you're using only shampoos and conditioners that are specifically formulated for dogs. If your dog is having issues with sensitive skin, then look for formulas that are extra gentle. 
Certain products can help to relieve dry, itchy skin; many of them contain oatmeal for naturally soothing properties. If you're trying to treat your dog for itchy or dry skin, then use a gentle shampoo and conditioner with moisturizing properties. Bathing your dog too often with a strong shampoo can strip out the natural oils from his coat, leaving his coat and skin dry and even itchier. 
Provide Regular Grooming
Regular grooming sessions are essential for your dog's skin and coat health. Grooming is about more than just leaving your dog looking pretty; it plays an important role in his comfort and health. 
Grooming sessions are essential, particularly for dogs with longer, thicker coats, to avoid matting. Matted hair or fur traps heat and moisture, and air can't get to your dog's skin. This is a recipe for sores, itchy skin and overall skin irritation. By removing mats promptly, you're keeping your dog's skin as healthy as possible. 
Grooming also helps to keep your dog's coat healthy by distributing the natural oils in his coat. These oils help to support hair health, and regular brushing helps to move those oils around so they're evenly distributed for overall coat health. 
For your dog's well-being, grooming is crucial, but some dogs get stressed during it. Ease their stress with CBD calming chews for dogs and other CBD dog products. These solutions reduce grooming-related stress and make grooming enjoyable for both you and your furry friend.
Perform Daily Coat Checks
In addition to grooming, be sure to check your dog's skin and coat often. Ideally done at the end of the day after all of your walks and outdoor time, this checkover session gives you a chance to evaluate your dog's skin and coat health and address any issues. Use this time to look for ticks, remove any newly forming mats and give your dog's coat a quick brush to remove any debris that he may have picked up outside.
Use CBD Products
You can also support healthy skin in your dog with CBD. Zebra CBD Canine Oil contains a blend of phytocannabinoids, terpenes and flavonoids. You can apply it topically to your dog's cracked skin, nose or paws.
Soothing plant-based oils can help alleviate skin irritation caused by allergies and flea and tick bites. 
To get the best results, combine several or all of these tips. If your dog's skin and coat don't improve, or if he develops additional issues or symptoms, be sure to get your vet involved. Underlying conditions like allergic reactions or infections can also result in poor skin and coat health and will need veterinary treatment. 
Improving your dog's skin and coat health can take some time, but addressing any issues you notice promptly will not only make him more comfortable — it can also save you from large grooming and vet bills down the road.