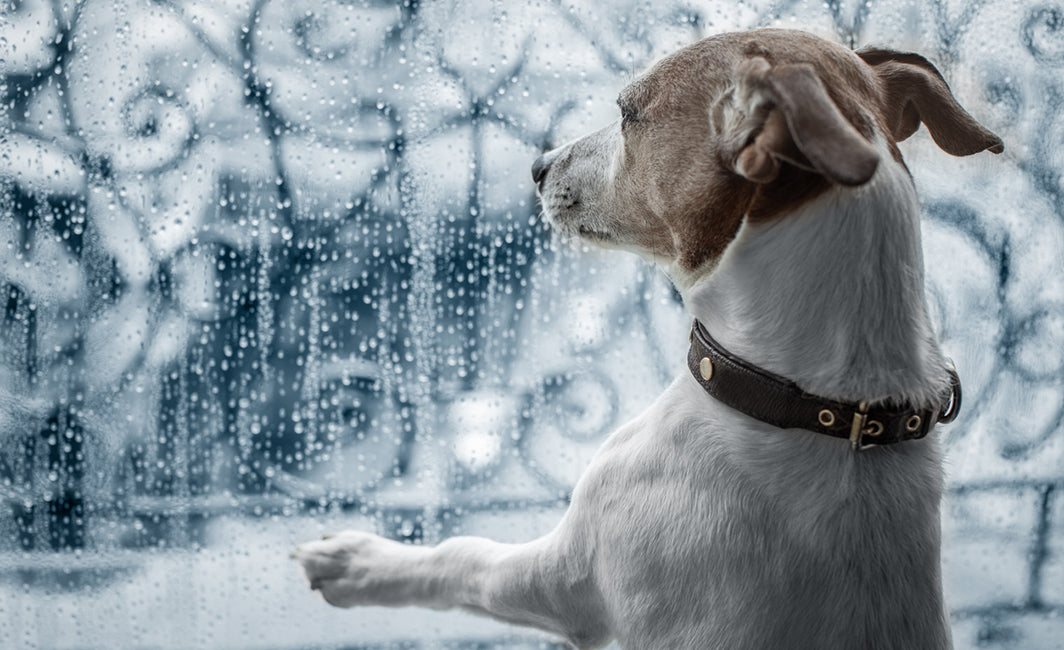 If you notice that your dog is panting, pacing, experiencing behavior changes, exhibiting destructive behavior or having accidents in your house, he might be stressed. Stress in dogs not only manifests in different ways, but it can have many different causes. If you want to reassure your dog and help him to feel less stressed, it's important to determine what's causing the issue. 
He's Missing You or a Family Member
Separation can be very difficult for some dogs, especially if they're used to having you or another family member around most of the time. Having a household member leave for college or return to the office after working from home for months can cause chronic stress in your dog. He might also feel short-term stress when you or the entire family leave for work or go out to run errands.
His Household Has Changed
Major household changes are common sources of stress in dogs. The addition of a new family member or a move to a new home are major stressors. Even smaller changes in the household routine can stress your dog. For example, if you take a job that requires you change the time your dog is fed and walked,it can leave your dog feeling unsettled.
He Doesn't Feel Well
A dog that's uncomfortable, sick or experiencing another medical issue can suffer from stress. Changes that come with getting older, like hearing or memory loss, can turn your formerly laid back companion into a distressed doggie. Supporting him with regular veterinary care and appropriate treatments for physical ailments can help.
He's Encountering New Situations
New situations and experiences are stressful for most dogs. A trip to training classes for the first time, new noises in the house and meeting new people can be stressful for dogs. Some dogs handle these types of events more easily than others, so it's important to be aware of how well your dog handles change and new challenges.
He Has Bad Memories
A negative prior experience with a certain situation, like a trip to the vet, can stress your dog when he encounters that same situation again in the future. Those memories can run deep, so even with repeated positive exposures to that same situation, it may still upset your dog.
How to Help Your Dog Relax
The best ways to help your dog relax will partially depend on what's rattling him. Slow introductions to new situations, accompanying changes with lots of treats and praise and gradual schedule changes can all help. The more aware you are of what upsets your dog, the more you'll be able to take steps to minimize that stress.
You can also use CBD to support a sense of calmness in your dog. Using a CBD product like Zebra CBD Stress & Calming Chews can give your dog extra support during stressful situations. Our  broad-spectrum Hip and Joint Soft Chews for Dogs have a calming effect on your dog's nerves and promote relaxation and mood stability. Thanks to their tasty beef flavor, they're easy to feed to your dog.
CBD can be a great addition to the other steps you take to minimize stress for your dog. The extra support that CBD provides can help to promote more balanced behavior, so both you and your dog can relax and enjoy life more.