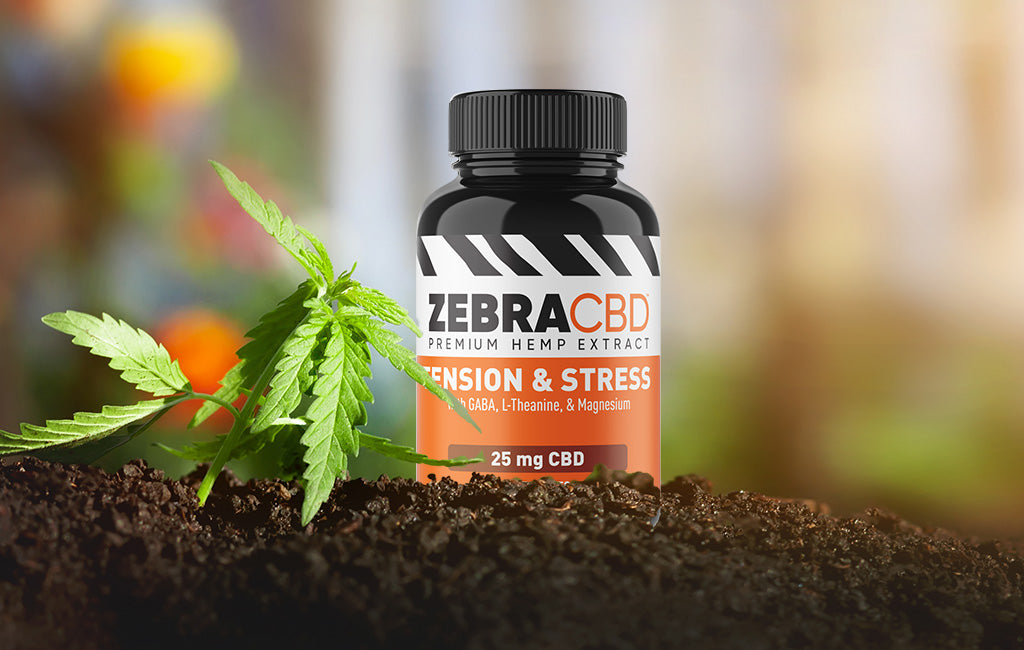 Stress and tension affect millions of individuals of all ages around the world. Stress is an epidemic in today's world. Participants in the American Psychological Association's Stress in America 2019 survey reported feeling higher levels of stress than they felt were healthy.
Ingredients in Zebra CBD's Tension & Stress Tablets are shown to reduce stress, support a relaxed state of mind and help relieve tension headaches.
Premium CBD Oil
Our chewable Tension & Stress Tablets contain premium CBD oil derived from organically grown hemp that is high in CBD, short for cannabidiol, but low in THC. Research has found that CBD shows promise in unease and nervousness, especially when exposed to stress-inducing stimuli or circumstances. 
In all of our CBD tablets with premium hemp oil, we use only high quality CBD oil which provides a range of cannabinoids and terpenes, improving the effectiveness of the CBD at lower doses. Terpenes are the aromatic metabolites of the cannabis plant, some of which may have anti-stress properties. Examples of terpenes that may ease stress and tension include D-limonene, linalool (also found in lavender) and B-caryophyllene.
Magnesium
Magnesium is a mineral that is important in the prevention and treatment of many chronic illnesses and has various functions within the body. It is found in foods like leafy green vegetables, legumes, nuts, seeds and whole grains. Unfortunately, magnesium deficiency is becoming more common due to decreased dietary intake of magnesium-rich foods, which may cause, low stress tolerance, sleep disorders, nervousness and tension. Magnesium supplementation may also be effective for improving symptoms of mild stress.
L-theanine
An amino acid found primarily in green tea, L-theanine may decrease subjective reactions to stress. L-theanine's effects on stress symptoms were also found that it may help reduce stress management in individuals exposed to stressful situations.
GABA
Gamma-aminobutyric acid (GABA) is a major neurotransmitter responsible for inhibiting neuron activity. GABA helps maintain the brain's balance between inhibitory and excitatory neurons. Research suggests that an impairment in GABA function or concentration may disrupt the body's ability to manage normal tension and stress. Studies suggest that oral GABA supplementation may decrease psychological fatigue and production of stress biomarkers after completing stress-inducing tasks.