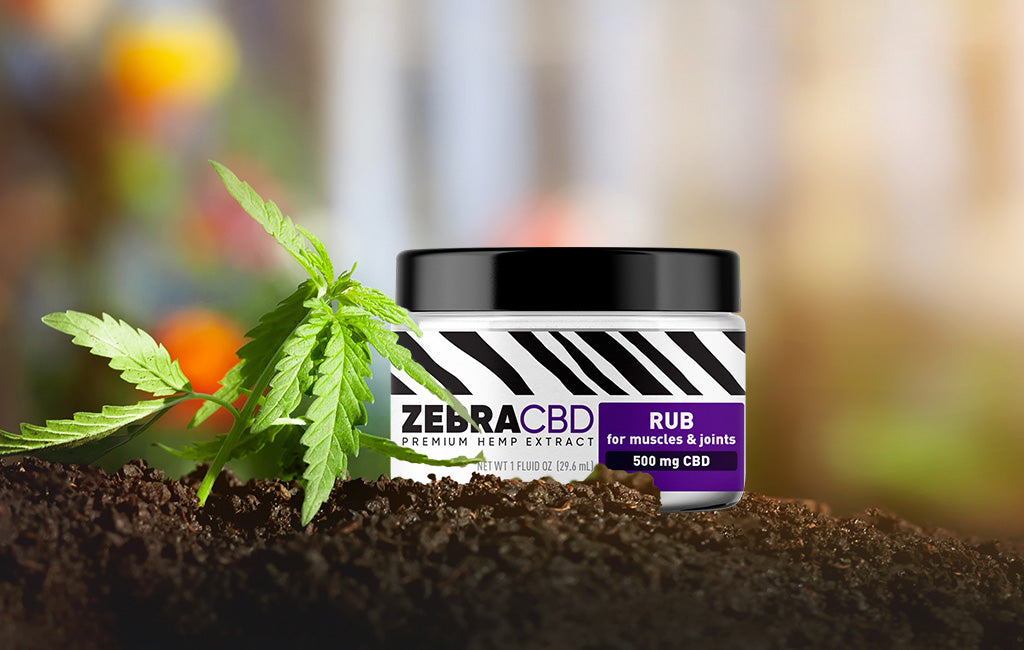 Before you rub any topical product into your skin, it's important to know if the ingredients support or hinder your health. Many products have a laundry list of chemical-laden compounds that may not be beneficial to your well-being. Zebra CBD Rub contains the highest quality CBD in addition to extra virgin coconut oil, menthol, organic rosemary and organic lavender — all of which enhance the absorption of CBD while supporting your active lifestyle.
Full Spectrum CBD Oil
CBD, or cannabidiol, is one of the active ingredients in the hemp plant with a wide range of uses. For athletes looking to recover faster from exercise-induced inflammation and for people seeking relief from joint discomfort and stiffness, CBD has been found to potentially be effective for these common ailments.
The current research shows promising results. A study appearing in the Journal of Pain surveyed a variety of participants who reported that CBD products have helped their condition. Patients using CBD reported relief from exercise induced back, nerve, neck and limb discomfort.
Extra Virgin Coconut Oil
Coconut oil is rich in medium-chain fatty-acids, which can have a positive impact on your health. When applied to your skin, coconut oil can reduce associated aches.aak care found that it protects the skin by enhancing skin barrier function. The barrier function refers to the strength of the skin and how well it protects against harmful bacteria and irritants.
Menthol
When applied directly to the skin, menthol produces a cooling effect by blocking the calcium flow along the nerves that are responsible for detecting temperature. Menthol also relieves aches associated with physical exercise, joint soreness, sprains and muscle cramps.
Additionally, menthol intensifies the effectiveness of topically applied ointments by enlarging the blood vessels in a process known as vasodilation. This allows the menthol to penetrate deep into the affected area.
Organic Rosemary
Rosemary is an herb that provides for a rich source of antioxidants and anti-inflammatory agents. For people looking to reduce tissue inflammation that can lead to irritation  and stiffness, adding rosemary to their routine may help. A study looked at using a rosemary oil blend for  joint discomfort and found study participants experienced a 50% decrease in inflammatory knee fatigue, compared with just a 12% decrease for those not given the rosemary oil.
Organic Lavender
Aside from its captivating fragrance, lavender is also known for its calming effects and anti-inflammatory properties.
One study aiming to develop antimicrobial and inflammation-resistant fabric found that essential oils, including lavender oil, helped in skin smoothening and decreased skin irritation.
Another study evaluated the effect of lavender oil on acute inflammatory response. Researchers found that when applied topically, lavender oil can relieve swelling and demonstrated anti-inflammatory activity.   
As you can see, Zebra CBD Rub includes a variety of proven beneficial ingredients that support an active lifestyle to help keep you in great shape for the road ahead.