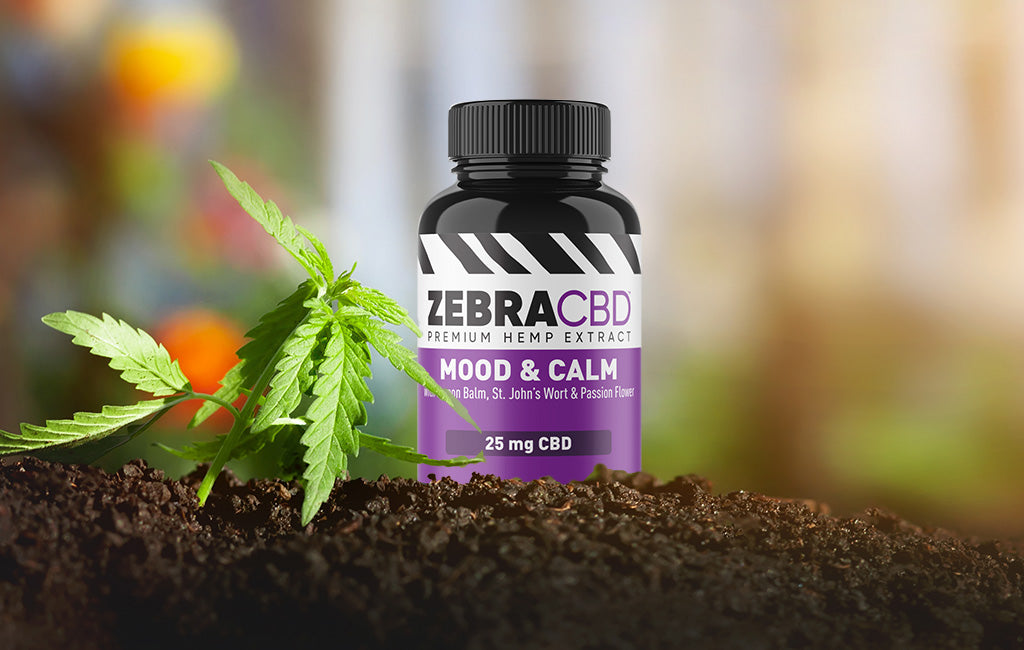 Zebra CBD Mood & Calm Tablets are a plant-based product that provides total mood support. Specific nutrients may be the key components in giving your mind and body the relief they need.
This formula is specifically designed for occasional stress relief and improved mood. It was formulated for three essential functions: to relieve nervousness, promote a positive mood and support emotional balance. The mood and calm cbd ingredients work synergistically to provide these benefits.
Premium CBD Oil
Each Zebra Mood & Calm tablet contains 25mg of premium CBD, which may help support a positive mood. CBD may also create a feeling of calmness and focus in the face of everyday stressors. Our tablets contain a CBD distillate to remove unwanted ingredients and to retain  all the beneficial ingredients in their purest forms. This high-quality CBD preserves the full range of components found in the hemp plant.
Lemon Balm
Lemon balm, otherwise known as balm, common balm or balm mint, is a perennial herbaceous plant in the mint family and is native to south-central Europe and the Mediterranean, but is now more commonly grown in the U.S.
Lemon balm extract has reported anti-stress properties that may help support a balanced mood. It increases brain levels of the neurotransmitter called GABA, which plays a role in reducing nervous behavior and stabilizing mood.
Previous studies have reported stress-reducing effects from lemon balm extract, which may improve cognitive performance and serve as a mood-booster.
St. John's Wort
St. John's wort, otherwise known as Hypericum perforatum, is a flowering plant in the family Hypericaceae. For quite some time, extracts from this herb have been used as a natural remedy to treat various conditions, including occassion mood issues. It is a unique herbal medicine with a longstanding history.
Passion Flower
Passiflora, known also as passion flowers or passion vines, is a genus of about 550 species of flowering plants in the Passifloraceaefamily. This group of plants includes mostly tendril-bearing vines, with some being shrubs or trees, found primarily in South America. Passion flower has a longstanding history used to help with emotions induced by occasional stress. 
With such a bounty of therapeutic ingredients in each chewable tablet, Zebra CBD Mood & Calm can help maintain a balanced mood and help you face life's occasional daily stressors head-on.