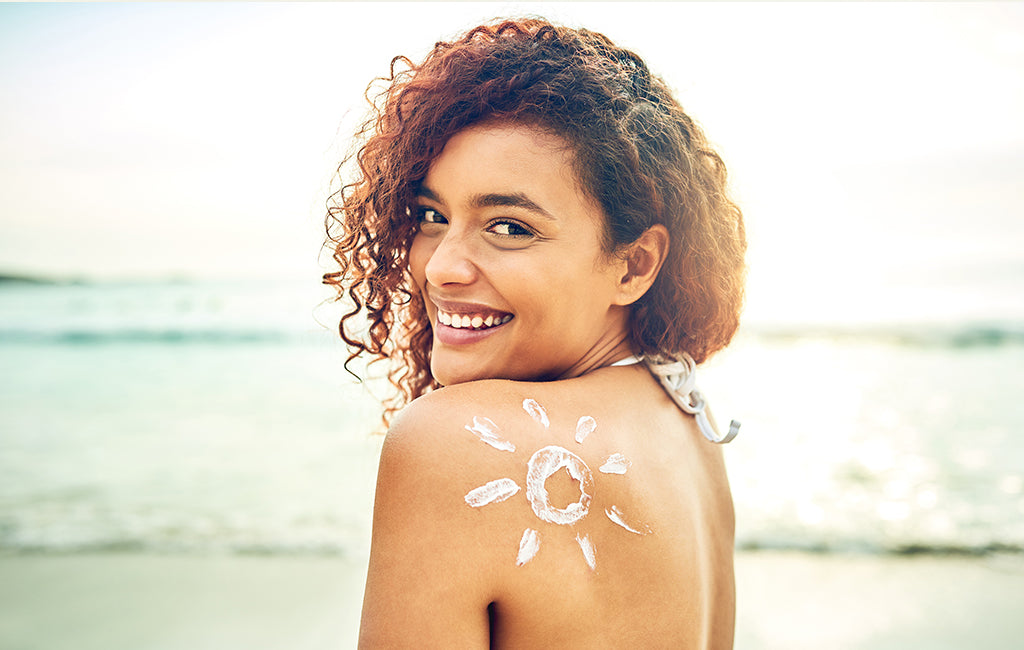 Summertime is upon us, which means it's time to enjoy all of the best parts of this sweltering sunny season — theme parks, music festivals and heading to your nearest body of water to find a reprieve from the heat.
But first and foremost, you want to be the most beautiful bronze you can be, starting with the right tanning lotion.
While tanning lotion alone can help you find your quintessential summer shade, combining it with CBD oil raises its advantages even more.
However, if you've got sensitive skin, finding the right tanning lotion for you can be challenging. That's where CBD comes in. Dive into the deep end and learn more about CBD for sensitive skin and CBD oil tanning lotion and how it can benefit you this summer.
What Exactly Is Tanning Lotion, Anyway?
Many people looking for that all-year-long summer glow take advantage of tanning lotions to accelerate the tanning process, especially when using indoor tanning methods like the tanning bed.
Because each session is quick, the lotion enhances the tanning bed's UV rays, so you can add brown color pigmentation to your skin more quickly than you would by laying in the sun.
When you invest in a tanning lotion, they typically have some of the following ingredients, to help you achieve your ultimate bronze:
Beta Carotene – The skin converts this red and orange pigment into vitamin A, which can boost the production of melanin to help you achieve a better tan.
Silicon – Silicon is often added to tanning lotions to provide your skin with an additional layer of conditioning.
Caffeine – Not only can you find caffeine in your morning cup of coffee, but now you can also spot it in your tanning lotions to reduce potential puffiness in your skin.
What Are CBD Tanning Lotion Benefits?
While tanning lotion alone can help you find your quintessential summer shade, combining it with CBD oil raises its advantages even more.
Whether you've got sensitive skin or are looking for that silky skin shield with anti-aging properties, there are plenty of reasons you should look for CBD in your tanning lotion, including:
Reducing irritation – Some skin types are more prone to inflammation or itchiness from tanning lotion than others. CBD contains anti-inflammatory properties that might make the hemp lotion more friendly to sensitive skin.
Alleviating blemishes – Sometimes, your skin doesn't agree with the topical lotions and creams you use, and it protests in the form of blemishes. Adding CBD in hemp tanning lotion may decrease your chances of those pesky blemishes due to its potential ability to soothe skin and decrease inflammation.
Offering anti-aging antioxidants – Hemp oil is rich in antioxidants and contains essential fatty acids. CBD's antioxidants may reduce signs of aging by counteracting damage caused by free radicals. This might lessen the appearance of fine lines, dry skin and wrinkles.
All the Benefits of CBD, Made Easy
The perfect tan wasn't built in a day, but it can be built after a few perfectly executed sessions of indoor tanning (and a tanning lotion your skin loves).
The next time you're hankering to add a quick glow to your summer style and want perfect tanning results, look for a CBD tanning lotion. Your skin will be most grateful — and silky smooth. And if you have had a little more sun than usual, a CBD lotion for sunburn will help with that too.
Your trusted CBD expert, Zebra CBD, is passionate about helping you achieve your wellness goals. From gummies to topicals, we're ready to find the perfect blend of CBD products just for you.
Source: 
Bronze Tan. Understanding the Types of Tanning Lotions. https://bronzetanstl.com/understanding-tanning-lotions/
Healthy Glow. Tanning Lotion 101. http://www.healthyglowchelan.com/blog-healthyglowchelan/2016/1/19/tanning-lotion-101
Forbes. CBD Oil: 9 Science-Backed Benefits. https://www.forbes.com/health/body/cbd-oil-benefits/
Medical News Today. Is CBD Oil Good For Skin? https://www.medicalnewstoday.com/articles/cbd-oil-for-skin