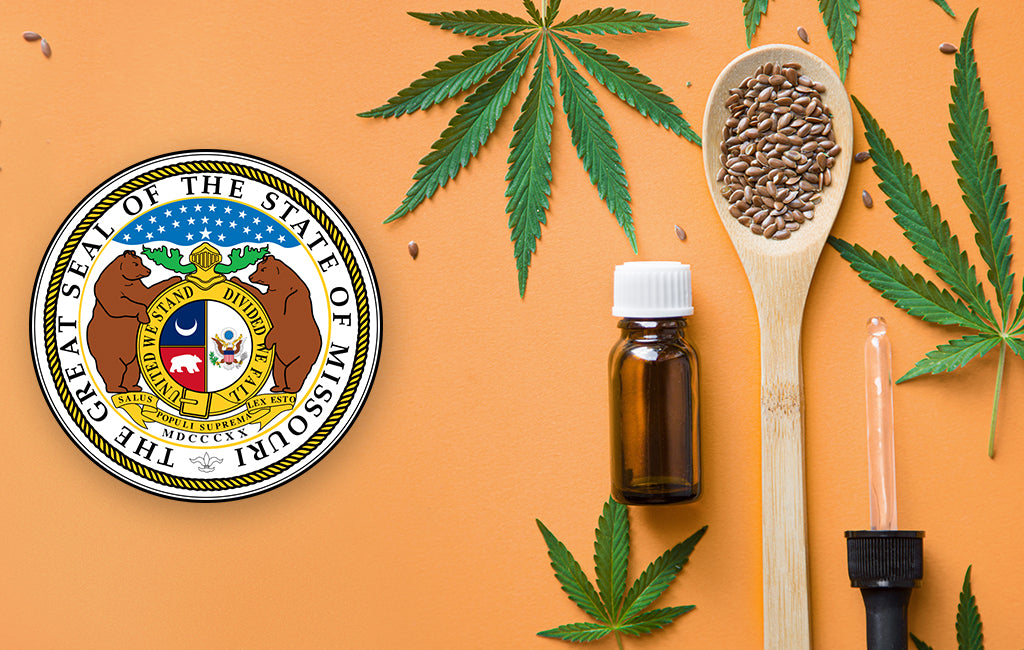 Between the lush forests of the Ozark Highlands, the rugged beauty of caverns and caves and, of course, the famed St. Louis Arch, the "Show Me State" has a plethora of attractions to please visitors and locals alike. It also offers CBD — including in foods and drinks.
Due to the rather limited CBD regulations currently present under Missouri law, Missourians can enjoy a wide range of CBD-infused products.
In 2018, Missouri passed HB 2034, which removed industrial hemp from its list of controlled substances and made it legal to grow, harvest and process within the state. Although CBD was not explicitly mentioned, it is technically legal as long as it contains less than 0.3% THC. Missouri residents enjoy relatively few restrictions on hemp-derived CBD products, including alcoholic beverages, as long as it includes no THC.
CBD Laws in Missouri: What You Need to Know  
CBD oil is legal and available for purchase across Missouri, per House Bill 2034 passed in 2018. This law regulates the licensing, growing and harvesting of hemp in the state. Because CBD is not explicitly mentioned, the state currently lacks regulations around different CBD products such as edibles, topicals and oils. HB 2034 stipulates the following:
Growing, cultivation and harvesting – Any person who has received an industrial hemp license to grow, harvest, cultivate and process industrial hemp may do so. Generally speaking, anyone without a prior drug-related offense is eligible to obtain a license.
THC concentration – Any finished CBD product, such as oils, vapes or gummies, is legal as long as it is derived from federally legal, industrial hemp and contains less than 0.3% THC on a dry weight basis.
Is CBD Legal in Missouri? 
In 2014, Missouri passed HB 2238, which mandated that residents with certain medical conditions could apply for access to state-approved CBD products, or "hemp extract," under the Missouri Hemp Extract Registration Program.
Following the Agricultural Act of 2018, also known as the Farm Bill 2018, Missouri introduced its own House Bill that legalized the production and sale of industrial hemp, as well as CBD products containing less than 0.3% THC. 
Minimal CBD regulations in Missouri mean that it's important to take care when looking for quality, safe and legal CBD products across the state. Consumers are encouraged to seek out credible manufacturers that present lab results and conduct third-party testing. 
A recent spate of raids across the state has spooked some into believing that CBD is illegal. While this is a myth, it's on the consumer to source CBD from trusted vendors who do their own quality controls to ensure that CBD does not contain more than the legal limit (0.3%) of THC. 
Taking this step will help you keep your CBD — and yourself — out of the hands of the law.
Can I Buy CBD in Missouri?
Due to the rather limited CBD regulations currently present under Missouri law, Missourians can enjoy a wide range of CBD-infused products such as hemp-infused coffee, energy drinks, tinctures, lotions and other topicals, soaps and Delta 8 products.
Beers, coffees, teas and other drinks containing CBD can be sold at local shops, bars and restaurants with no vendor license required. Simply put, anyone who owns a business that is permitted to sell food and drinks can add CBD to their products without worry of regulation or registrations.
The state does not currently check heavy metal or pesticide content in CBD products. This means that consumers are better off purchasing through dealers with established businesses, transparent testing processes and lab reports that are available to the public.
When shopping for CBD in Missouri, look for dealers that boost high consumer CBD reviews and share their testing processes and reports on their Web pages.
Can I Buy CBD Online?
As it is legal to buy CBD products online, Missouri residents can easily purchase through reputable online retailers in addition to buying CBD over the counter in convenience stores, pharmacies and specialty shops. 
Can I Buy CBD at a Dispensary?
CBD is widely available at dispensaries in Missouri, which are popping up across the state in increasing numbers thanks to the recent legalization of recreational marijuana. 
While the Missouri Department of Health and Senior Services does regulate marijuana-derived products made available in dispensaries, they do not have the authority to regulate hemp or hemp-derived products on offer in those spaces. Feel free to purchase CBD in dispensaries without the need to flash a medical marijuana card.
Legal Status of CBD in Missouri 
If you'd like to buy CBD in Missouri, have at it. CBD is legal in the Cave State and currently enjoying a lively burst of popularity among users, following hemp's removal from the list of controlled substances in 2018. There are age restrictions on who can purchase CBD products in Missouri, although retailers are allowed to specify age limits on their own.
Limited state regulations mean that consumers should strive to make informed decisions about the wide variety of hemp-derived products on offer before completing any purchases. This will ensure that the products they buy are high quality and safe to use. 
Legal Disclaimer
The information contained above is provided for educational and informational purposes only, and should not be construed as legal advice. The provided information may not reflect current legal developments or information, and is not guaranteed to be correct, complete or current. We recommend checking our source(s) to see if the information or legal status have been revised since our content was published.
FAQ
1. Is CBD legal in Missouri?
Yes, CBD products are legal in Missouri.
2. How old do you have to be to buy CBD in Missouri?
There are no legal age restrictions when purchasing CBD in Missouri.
3. Can I sell CBD products in Missouri?
Under current Missouri law, retailers do not currently need to obtain a license in order to sell CBD. As of January 1, 2023, anyone looking to grow, harvest, or process industrial hemp must obtain a license at no cost through the United States Department of Agriculture (USDA) Domestic Hemp Production Program. Please note that the Missouri Department of Agriculture's Industrial Hemp Program will be closed, effective December 31, 2022.
Sources: 
Missouri House of Representatives. HB 2034. https://house.mo.gov/billtracking/bills181/sumpdf/HB2034T.pdf
Missouri Division of Alcohol and Tobacco Control. Industry Circular CBD Oil. https://atc.dps.mo.gov/IndustryCircular/cbd-oil-1-24-19.pdf
U.S. Congress. H.R.5485 - Hemp Farming Act of 2018. https://www.congress.gov/bill/115th-congress/house-bill/5485
Missouri Department of Health and Senior Services. Missouri Hemp Extract Registration Program. https://health.mo.gov/about/proposedrules/hempextract.php
Missouri Department of Health and Senior Services. Medical Marijuana FAQs. https://health.mo.gov/safety/medical-marijuana/faqs-general.php
Missouri Department of Agriculture. Industrial Hemp Program. https://agriculture.mo.gov/plants/industrial-hemp/