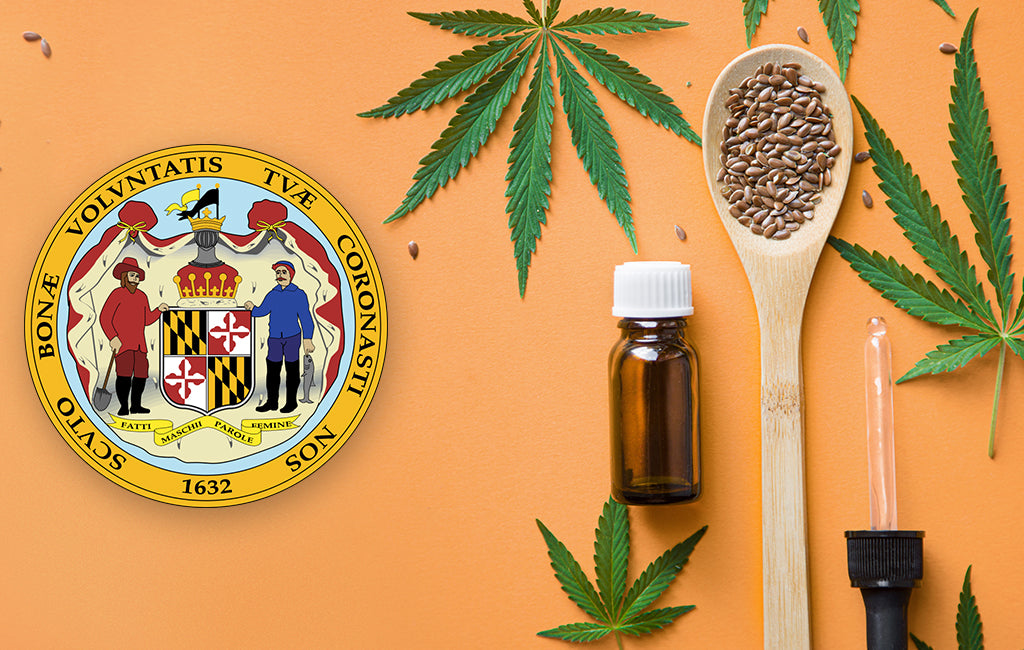 Maryland offers plenty of reasons to stop by for a visit — its famed blue crab, the Chesapeake bay, and a variety of beautiful landscapes, to name a few. But if you're also interested in CBD while you're here, you may be wondering, can I buy CBD oil in Maryland?
You can purchase CBD from licensed retailers in Maryland, either through a local CBD dispensary or an online retailer.
Yes, you can purchase hemp-derived CBD products that contain 0.3% or less THC. However, food and beverages that contain CBD still aren't considered legal and may not be purchased at retail stores in the state.
CBD Laws in Maryland: What You Need to Know
Although the Farm Bill of 2018 legalized the cultivation, harvest, manufacturing and selling of hemp-based CBD products at the federal level across the nation, Maryland was ahead of the curve. 
In 2015, it passed House Bill 803, which made it legal for licensed growers to cultivate their own hemp plants, as long as they contained no more than 0.3% THC. Any hemp found containing more than that amount is still considered marijuana, which is illegal in the state of Maryland (until June 1, 2023, when the state plans to officially legalize recreational marijuana — and marijuana-based CBD products).
Until then, here's where the general CBD laws in Maryland currently stand:
CBD purchase – Individuals interested in purchasing CBD products, such as oils and topicals, may purchase them through licensed in-store and online retailers, so long as the products contain a maximum of 0.3% THC content.
CBD consumption in food and beverages – Under the Food Drug and Cosmetic Act, it is illegal for licensed sellers to add CBD-based products into any food or beverages and sell them as dietary supplements. For instance, local retailers aren't allowed to sell smoothies infused with CBD oil. However, an individual could use their own CBD oil at home to make a CBD-infused smoothie.
Licensing to cultivate – Individuals must be at least 18 years old to grow hemp. They must also have proof they can legally grow hemp on the land on which they plan to grow. The application requires a multitude of completed paperwork including (but not limited to) the applicant's legal information, the GPS coordinates of the land they intend to use and a recent criminal background report. Upon success, a license is valid through December 31st of the same calendar year their license was approved.
Licensing fees – There is a $50 annual licensing application. In addition, the license is $500 per year.
Sampling and testing – Samples are tested during the growing season and again before harvest. The Department of Agriculture tests hemp for excessive THC levels by performing a "quantitative laboratory determination of the delta-9 THC concentration on a dry weight basis." Successful testing occurs when the Department verifies that no more than 1% of the total harvest exceeds the acceptable THC level of 0.3%.
Is CBD Legal in Maryland?
In short, yes, CBD is legal in Maryland. Here's a brief timeline of Maryland's history with marijuana and CBD:
2014 – In 2014, Maryland passed House Bill 881, which legalized medical marijuana throughout the state. This bill allowed individuals 18 or older with certain medical conditions to purchase medical cannabis (and CBD products) with the approval of a certified physician and a medical marijuana card.
2015 – A year later, Maryland legalized the growing, manufacturing and selling of hemp-based CBD products with House Bill 803. This meant that individuals could cultivate, sell, and purchase CBD oil and topicals that contained 0.3% or less THC.
2022 – In November 2022, the citizens of Maryland voted to legalize marijuana at the recreational level. In June of 2023, it will officially become legal to purchase CBD products with a concentration of 0.3% THC or higher as well as other cannabis-based products.
Can I Buy CBD in Maryland?
You can purchase CBD from licensed retailers in Maryland, either through a local CBD dispensary or an online retailer. It is important to note, however, that you cannot purchase food or beverages with added CBD-derived products. That said, you won't see edible CBD products at retailers like grocery stores or restaurants.
Can I Buy CBD Online?
If you're interested in buying CBD online, you're in luck. You can easily purchase CBD products through licensed online retailers — and there are plenty of benefits in doing so. Namely, you can buy a wide variety of CBD products from the comfort of your couch and have them delivered to you at no added cost.
Most online retailers (including Zebra CBD) also provide a Label Accuracy Guarantee, which ensures all your products contain exactly what's listed on the label — so you'll always know precisely what you're consuming. We also test each batch to make sure they're free of things you don't want, like heavy metals and microbials, so you have peace of mind when using your products.
Can I Buy CBD at a Dispensary?
Individuals wanting to purchase CBD locally can also go to licensed in-store dispensaries to buy CBD products. Shopping at a physical location is ideal for people who have questions about certain products, prefer to see the CBD selection in person or want to go home with their products in hand the same day.
If interested in shopping at a dispensary, consider asking the employees for a Label Accuracy Guarantee that ensures the only ingredients in the products are the ones on the label.
Legal Status of CBD in Maryland
Although Maryland has no legal age restrictions for people seeking CBD products, some licensed retailers will only allow consumers 18 and up to purchase products.
That said, CBD laws in the state of Maryland will likely alter from their current state as federal and state regulations continue to develop.
Legal Disclaimer
The information contained above is provided for educational and informational purposes only, and should not be construed as legal advice. The provided information may not reflect current legal developments or information, and is not guaranteed to be correct, complete or current. We recommend checking our source(s) to see if the information or legal status have been revised since our content was published.
FAQ
1. Is CBD legal in Maryland?
Yes, individuals can legally grow and sell CBD in Maryland with a license. People can also purchase CBD from licensed retailers.
2. How old do you have to be to buy CBD in Maryland?
There are no legal age restrictions when purchasing CBD in Maryland.
3. Can I sell CBD products in Maryland?
You can sell CBD products in Maryland after obtaining a license through the state. That said, licensed retailers may not sell foods or drinks infused with CBD products.
Sources: 
Maryland.gov. 15.01.17 Hemp Farming Program. https://mda.maryland.gov/plants-pests/Documents/MD-Hemp-Farming-Regulations.pdf
Maryland.gov. CBD in Foods. https://health.maryland.gov/phpa/OEHFP/OFPCHS/Pages/CBD_in_Foods.aspx
Maryland.gov. House Bill 803. https://mgaleg.maryland.gov/2015RS/bills/hb/hb0803f.pdf