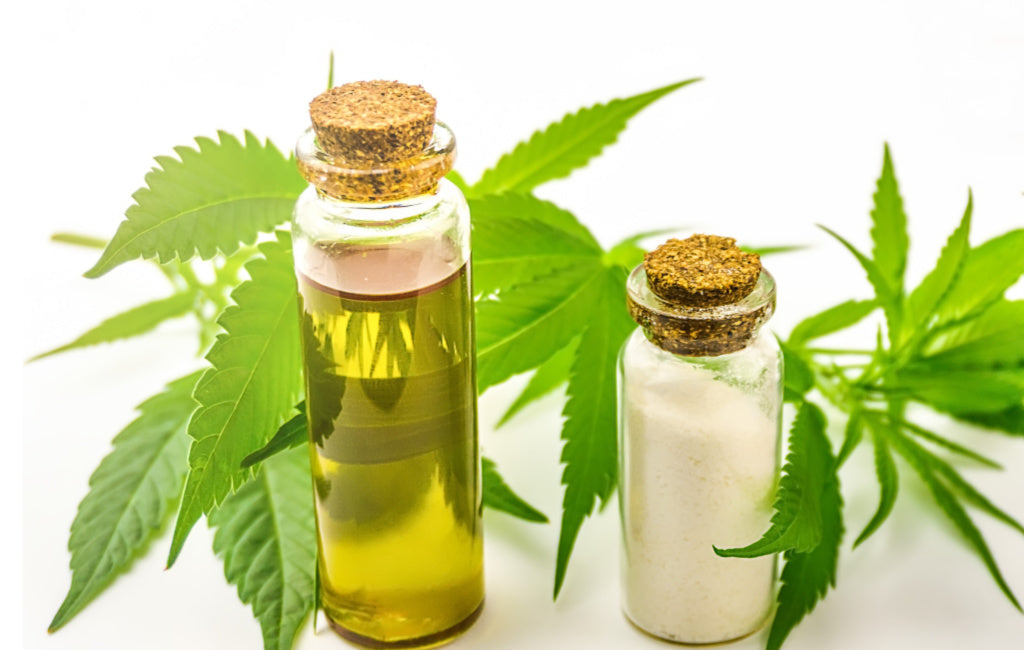 If you've been shopping around for full-spectrum CBD oil, you've probably noticed the terms CBD full spectrum, CBD isolate, full-spectrum extract blend or broad spectrum. Understanding the differences among these types of CBD oils, and the different effects they can have, will help you zero in on a CBD product based on your individual needs and preferences. At the end of the day, everyone's preference and body is different. Where some prefer their daily dose under the tongue with a CBD oil, or CBD tincture, others might prefer the precision of a ​CBD roll-on​.
Phytocannabinoids and the 'Entourage Effect'
CBD, short for cannabidiol, is one of at least 113 naturally occurring compounds, known as phytocannabinoids, found in the hemp plant. Phytocannabinoids act on your body's endocannabinoid system, which in turn acts on other systems in the body, including the cardiovascular, respiratory, reproductive and nervous systems.
For most people, because it has such broad health benefits, full-spectrum may be the most effective form of CBD oil
There are health benefits to be gained from each phytocannabinoid. But the news gets better: When they are present together, they have a synergistic property called the "entourage effect," in which the phytocannabinoids work together to enhance the overall effect on the body for the CBD user.
Full-Spectrum, Broad-Spectrum and Isolate CBD
Full-spectrum hemp CBD oil — In addition to other phytocannabinoids, full-spectrum CBD contains the following naturally occurring beneficial plant compounds:
flavonoids – There are about 20 flavonoids in cannabis. These compounds give plants their pigmentation (color), filter out UV rays, attract pollinators and prevent plant diseases. Flavonoids are important because have shown these cannabis compounds to have additional effects help maintain a healthy body.*
terpenes – The essential oils of plants, giving them smell, color and taste, terpenes also have been shown to work with the endocannabinoid system, or ECS, as well as the immune, nervous, and gastrointestinal systems*
vitamins, minerals, proteins, fiber and essential fatty acids. 
less than 0.3% THC.
Because additional compounds are present in full-spectrum CBD, you get the added benefits of the entourage effect.
For most people, because it has such broad health benefits, full spectrum vs. isolate or broad-spectrum may be most effective form of CBD oil, which has made it the most popular option by far. That's because full-spectrum CBD not only has the potential to support overall wellness but also may provide relief from occasional muscle & joint discomfort, mood disorders, sleep disturbance, stress and tension, as well as support healthy blood pressure.
A distillate is CBD oil that is further refined to the point where it contains 70%-80% pure CBD. The remaining 20%-30% consists of other cannabinoids and terpenes.
CBD oil distillate is ideal for people who want more CBD in each dose plus the benefit of the entourage effect. Many companies blend the distillate with full-spectrum product to create an oil that tastes and looks better compared with purely full-spectrum CBD.
Broad-spectrum CBD is full-spectrum CBD that is further refined in the extraction process to remove all THC. Broad-spectrum CBD contains 80%-90%  CBD, no THC content and a reduced level of other cannabinoids.
Isolate CBD is a THC-free alternative made by isolating CBD and then refining it to a single compound, which results in an almost pure, highly potent dose of CBD. Pure CBD isolate is mostly found in a tasteless crystalline form.
Isolate CBD is the best choice if you are concerned about drug testing. Isolated CBD (99.9% pure) may sound appealing, but it does not provide the benefits of the entourage effect like full-spectrum CBD product. Without the other cannabinoids, the dosage may be difficult to calculate with a minimum and maximum threshold range before the beneficial effects wear off. This is not true of full-spectrum CBD.
When making a decision about the best CBD product for you, it's important to work with a trusted company that uses product that is grown organically, extracted in the U.S. and has undergone third-party testing for quality and reliability.