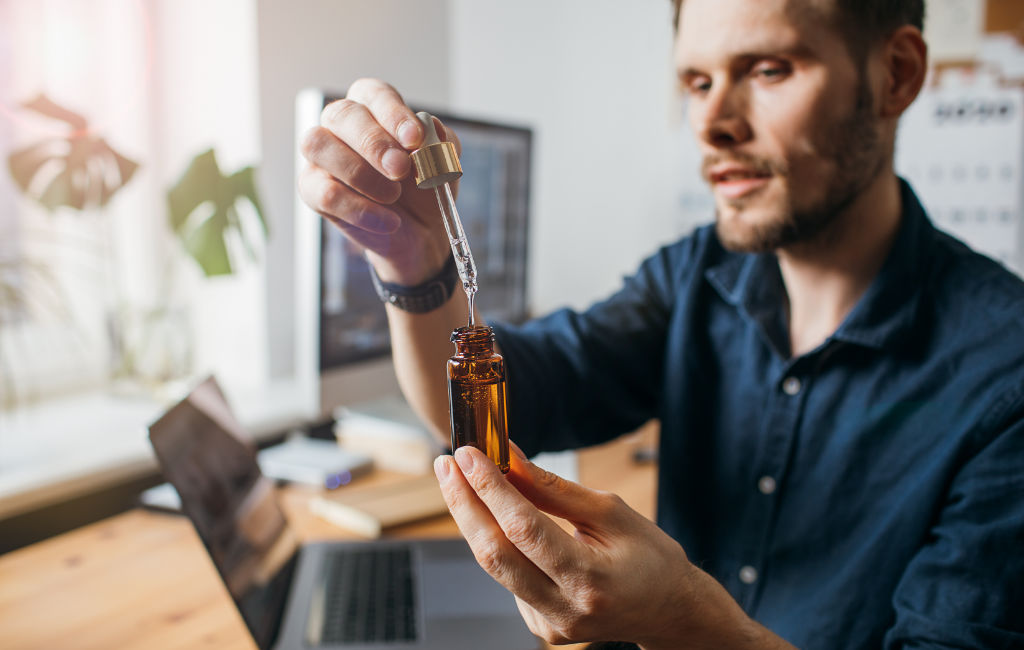 From helping you relax to reducing discomfort in muscles and joints, if you've been reading our blog or taking our products, you're already familiar with CBD's many potential benefits. But if you're a brand-new user or you're considering adding even more CBD to your routine, it's normal to wonder about the appropriate dose.
Can you take too much CBD?
The short answer is no(under most circumstances). A 2011 study in Current Drug Safety found that most people can regularly take up to 1,500 mg daily with no negative side effects. (For reference, many CBD oils contain less than 1,000 mg in the entire bottle!)
At the same time, learning more about CBD's safety can put your mind at ease and help you determine your personal perfect dose. In this short guide, we'll cover the basics of CBD dosage.
CBD Safety and Side Effects
Well known for its numerous potential health benefits, CBD is also recognized as "generally safe" by the World Health Organization. This label is based on more than a decade of research into CBD's efficacy and safety. The meta-analysis in Current Drug Safety surveyed dozens of existing studies on CBD and found that — even with chronic use and high doses — CBD did not affect the following:
heart rate
digestion
blood pressure
mental health
motor function
Indeed, taking large amounts of CBD is generally not toxic. There are just a few purported and reported side effects from CBD:
One study recorded a number of participants with dry mouth. 
Some websites list hunger and sleepiness as side effects. While there are no human studies that confirm these effects, some CBD products may contain more THC than advertised. It's well known that THC can cause munchies, paranoia and drowsiness.
People may experience an upset tummy as a result of additives to ingestible CBD products.
CBD 'Toxicity'
In extremely large doses, CBD may have some unwanted side effects.
The aforementioned study in Current Drug Safety found that a toxic dose would be around 20,000 mg — or more than 26 bottles of Zebra CBD oil ingested in one sitting. And even at this massive dose, the most likely symptoms would be:
drowsiness 
nausea
upset stomach
confusion and disorientation
However, there are a few select scenarios where CBD users may experience these unwanted side effects at lower doses.
In 2019, researchers sought to update the 2011 findings in a study published in Cannabis and Cannabinoid Research.They confirmed the finding that CBD is generally safe.
They also pointed out a few potential contraindications for CBD (especially in large doses), which include: 
interaction with other medication – Some antifungal and antiviral medications inhibit a particular enzyme that metabolizes CBD. This lengthens the amount of time that CBD remains in the bloodstream. If you take CBD on a daily (or more frequent) basis while on certain prescription antifungal and antiviral medications, it may remain in your body at higher concentrations for longer periods, which could cause some of the aforementioned negative side effects. Consult your doctor if this is the case.
hormonal changes – Some in vitro and animal studies indicated that CBD can cause hormonal changes. Although there are no human studies that confirm this potential side effect, it may be worth avoiding very high doses of CBD if steady hormone levels are of specific concern for any medical reason.
when expecting – There isn't much research on CBD use when expecting or breastfeeding. We recommend consulting with your physician to better understand whether CBD is the right choice for you and your baby.
CBD vs. THC Safety
So what happens if you take a ton of CBD? The short answer is that you may feel a little sick or disoriented. However, the symptoms will most likely pass. But it's important to note that this research is generally based on laboratory studies using CBD that is isolated from THC. Researchers seeking to understand CBD's specific effects need to look at CBD on its own.
THC can have different effects in high doses. A 2019 study in StatPearls found that, in doses higher than 7.5 mg, THC can lead to:
stress
labored breathing
memory impairment
restlessness
increased risk of cardiovascular events
There was no recorded lethal dose of THC (i.e., it can't kill you), but it goes without saying that these symptoms are less than desirable.
The Importance of Brand Transparency
Legal CBD products must be formulated with less than 0.3% THC. In theory, hemp-derived CBD products should contain undetectable levels of very little THC.
However, not all CBD products are created equal. In 2019, the FDA issued warnings to 15 companies based on their CBD content and marketing.
It's totally possible that some CBD products contain more THC than advertised. To avoid the negative and psychoactive effects of THC, be sure to purchase your CBD products from a reliable brand that can meet its label claims.
Choosing Your CBD Dose
While the chances of adverse effects from CBD are very low, it still pays to start your CBD intake slowly. Make sure to listen to your body to get an idea of the optimal dose for you. After all, the amount of CBD you need to feel an effect can potentially vary based on factors like:
age
gender
body weight
metabolism
Getting Started With CBD
The first step on your CBD journey is deciding how to take CBD. You have several options: 
topical use – If you feel at all nervous or hesitant, applying CBD topically can be a great way to experience its potential effects for the first time. CBD is known to soothe sore joints and aching muscles, as well as help reduce post-exercise inflammation. When applying CBD topically, using too much is rarely a concern. You can place only so much CBD oil, cream or balm on a patch of skin! The CBD will be absorbed through your skin (transdermally) and delivered to the site where you need it most.
CBD edibles – CBD edible gummies and mints are a gentle introduction to CBD. When purchased from a reliable source, you'll know exactly how much CBD is in each dose. Take the same amount daily or experiment with increasing your dose for a stronger effect.
CBD oil – CBD oil is one of the most versatile products out there. It can be used as a massage oil and absorbed transdermally; added to drinks and recipes; or placed under the tongue for sublingual absorption. The best part? You can choose exactly how much you want. While a dropperful of Zebra CBD Hemp Oil contains 25 mg of CBD, you can easily adjust the amount.
Your First Dose
The first time you take CBD, it can be reassuring to take less than the recommended amount. Then, you can gradually increase your daily dose to achieve the desired effect. 
Try out the following technique to find the right CBD dosage for you:
Start with ½ dropperful of CBD oil (12.5 mg).
If you're hoping for a strong effect, increase to ¾ dropperful the next day (18.75 mg).
Finally, try the full recommended dose of 25 mg.
If you want an even stronger effect, try upping your dose 5 mg at a time.
Troubleshooting Your CBD
If you're not getting the desired result from your new CBD product, it can be tempting to try increasingly larger doses. However, it's possible that the issue actually lies in the product or the way you're using it.
Here are a few factors that can affect how strongly you experience CBD:
Using full-spectrum vs. CBD isolate – Full-spectrum hemp oil contains CBD alongside other cannabinoids like CBN and CBG, while CBD isolate is pure CBD. In addition, full-spectrum CBD oil is full of numerous terpenes that give the cannabis plant its unique smell. When these compounds work together, they're thought to have an "entourage effect." In short, CBD may work better when it partners with naturally co-occurring compounds. If you're currently using a CBD isolate, consider trying out a full-spectrum CBD product.
How the product is consumed – If you're popping CBD gummy after gummy, keep in mind that you may not be choosing the most efficient absorption method. We love CBD mints and CBN gummies, which are much more discreet than oil. However, CBD is better absorbed through mucous membranes like the one under the tongue than through the gastrointestinal system. This is why sublingual CBD oil may have a stronger effect than edibles.
The quality of the brand – As we've noted, not all hemp oil is of equal quality! In fact, some manufacturers don't even tell you how much CBD they think is in a bottle, much less an individual dose. Look for clearly marked labels from brands that regularly test their products.
Safe, Transparent Zebra CBD
While CBD is safe, with few known side effects, it's always important to buy your health and wellness products from a brand you can trust. After all, many supposed CBD side effects are actually caused by a substance that isn't supposed to be in CBD products in the first place — whether it's more than 0.3% THC, a chemical additive or an unnatural pesticide. 
At Zebra, we set the industry standard for high-quality CBD. Our pure, hemp-derived extracts are free of unnatural pesticides and backed by our
Label Accuracy Guarantee™
. That way, you can be 100% confident in the dose you're getting.
Source:
FDA. FDA Warns 15 Companies. https://www.fda.gov/news-events/press-announcements/fda-warns-15-companies-illegally-selling-various-products-containing-cannabidiol-agency-details