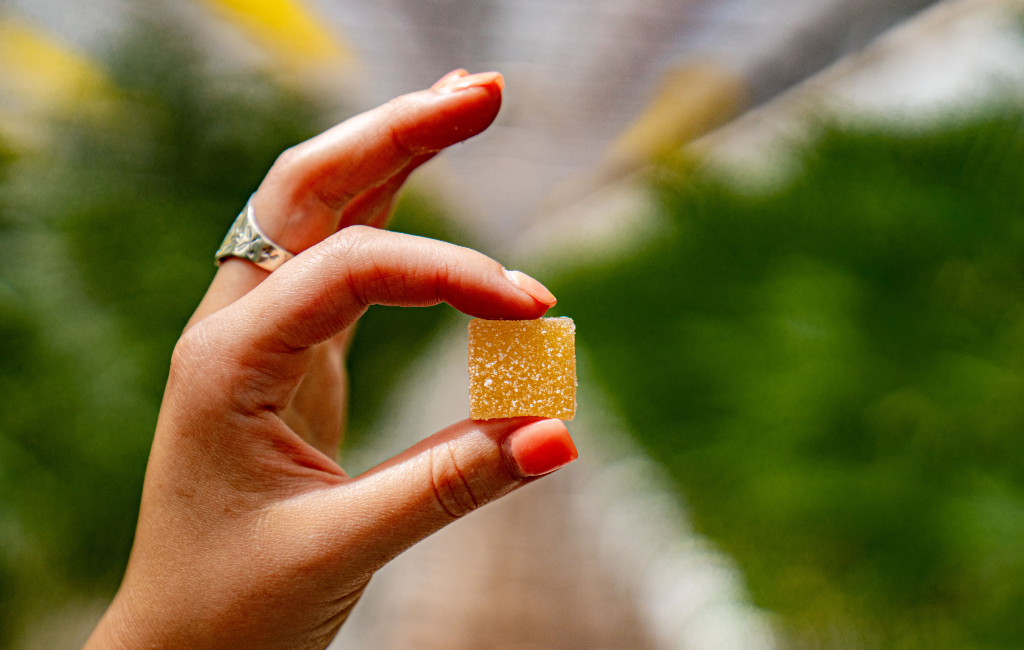 By Lauren Panoff, MPH, RD
In this article:
Can CBD Gummies Get You High?
CBD edible gummies are made with either CBD isolate or full-spectrum CBD, but neither one can get you high. CBD gummies made with isolate contain only cannabidiol, a cannabinoid compound found naturally in both hemp and cannabis plants that have no psychoactive properties.
The cannabidiol (CBD) industry is rapidly expanding, with numerous options for consumers looking to incorporate CBD into their lifestyle. One of the most popular ways to enjoy CBD is in the form of gummies. Some people wonder whether consuming CBD gummies can result in getting high — since full-spectrum CBD does contain a small amount of THC — and if there are considerations to be made when choosing which ones to use. You may still be wondering "does CBD get you high?" To answer this question, it's important to understand what ingredients are in CBD gummies and how to choose high-quality CBD-infused gummy products. 
What Are CBD Gummies?
CBD gummies are exactly what they sound like: chewable gummies that often have a fruity flavor similar to a traditional gummy candy or vitamin. They are a convenient and discreet way to enjoy the benefits of cannabidiol, requiring no dropper or other measuring tool to determine dosing. All you have to do is read the bottle to determine appropriate serving size. 
...while full-spectrum CBD-containing products may contain trace amounts of THC, it won't be enough to cause a high.
Many people take CBD gummies to help alleviate mild pain and stress; to improve mood, focus, and sleep patterns; or to shorten recovery time after exercise. 
How Do CBD Gummies Work?
CBD gummy edibles are candies that contain CBD oil. CBD oil is extracted from the hemp plant which, when ingested, interacts with your endocannabinoid system.
The endocannabinoid system is a network of neurotransmitters spread throughout your body that can stimulate numerous positive health benefits.
Full-spectrum CBD contains less than 0.3% THC, another cannabinoid compound found in marijuana cannabis plants. THC is known for its high-inducing psychoactive effects. The high one may experience from using THC is typically described as a state of euphoria or a heightened sense of pleasure and perception. But while full-spectrum CBD products may contain trace amounts of THC, it won't be enough to cause a high.
Choosing a High-Quality CBD Gummy 
A 2017 study published in the Journal of the American Medical Association reported that 70% of 84 CBD products tested did not meet label claims. For peace of mind and the best experience, it's a good idea to research and choose a high-quality CBD gummy product. Check out our Zebra CBD gummies for sale. Look for a product that provides a label accuracy guarantee, meaning that it's been third-party verified for a second time to ensure that what's in the container matches the label.
All Zebra CBD products are independently tested to ensure they contain less than 0.3% THC. What's more, they are made from organically grown hemp free from  unnatural pesticides, herbicides and fungicides. 
Each Zebra CBD gummy contains 25 mg of full-spectrum, premium CBD oil. We add pectin in place of the animal-derived gelatin often used in other gummies to make our vegan gummies, which are sweetened with only tapioca syrup and granulated sugar — no artificial flavors, colors or preservatives here!
If you've tried other gummy edibles, you may have noticed a "hempy" taste. The chlorophyll in the hemp plant that causes this unpleasant taste is removed from our gummies during the distillation process.
Summing It Up: Do CBD Gummies Get You High?
No, you do not have to worry about experiencing unwanted psychoactive effects when you choose a high-quality CBD product. Plus, you can feel good about the other ingredients and processes used to make them.