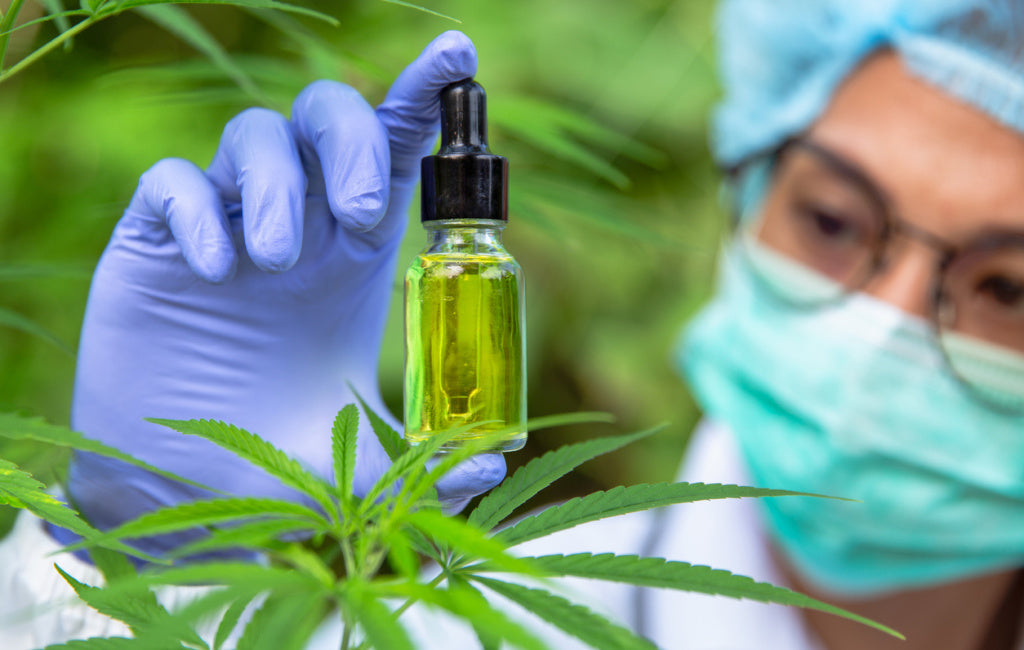 The short answer to the question "Is CBD legal?" is yes... though it depends on the source of the CBD.
If the CBD product is sourced from a hemp plant, then the CBD oil is legal in all 50 states. But if the CBD oil is sourced from a marijuana plant, then things get a bit more complicated.
...the key difference between hemp and marijuana comes down to one chemical compound: tetrahydrocannabinol, or THC.
When you start delving into CBD legality, there can be a lot of confusion. A breakdown of the terminology can help to clarify why some CBD oil products are legal everywhere, while others aren't. That breakdown looks like this:
Hemp vs. marijuana
What is THC?
What is CBD?
Why hemp-sourced CBD is legal in all 50 states
Hemp vs Marijuana vs. CBD vs. THC
Hemp, marijuana, CBD and THC are all interwoven within the CBD industry. To understand one component, you have to understand all the rest. By starting with the sources of CBD, you will be able to distinguish what makes one product legal across the nation. 
Hemp vs. Marijuana
Hemp and marijuana are varieties of the plant genus called Cannabis. Hemp has been cultivated for textiles and its edible seeds since 2,800 BCE. Today, the agricultural industry produces hemp for fabrics, ropes, oils, edible goods and many other products, including CBD. 
Marijuana is nearly identical to hemp in stalk, leaf and life cycle. But the key difference between hemp and marijuana comes down to one chemical compound: tetrahydrocannabinol, or THC.
Hemp plants are differentiated from marijuana plants in their THC content. Hemp plants have 0.3% or less THC content by weight. Marijuana plants, on the other hand, have more than 0.3% THC content by weight.
What's THC?
THC is a psychotropic chemical compound in Cannabis plants. When absorbed by the human body, this substance creates the sensations associated with being "high." The effects can include:
drowsiness
a sense of euphoria
difficulty focusing
elevated sensory awareness
increased appetite
feelings of paranoia or panic
What Is CBD?
CBD oil, or cannabidiol, is a natural oil derived from a plant in the Cannabis genus. That means CBD can be found in both marijuana and hemp. It is a non-psychoactive chemical compound — meaning humans don't experience the symptoms of being "high" from CBD that they would from THC. Thus, it's the THC level that determines the legality of the product by state. 
So is CBD oil legal? If you're asking about CBD produced from hemp plants, the answer is a resounding yes. 
For more on CBD's effects, read "What Does CBD Oil Do?" on our blog.
Why Hemp-Sourced CBD Is Legal in All 50 States
CBD oil sourced from hemp plants has almost no THC, making it legal in all 50 states. But CBD legality surrounding products sourced from marijuana can vary by state. States may also control the amount of CBD sold, how old you have to be to buy marijuana-sourced CBD and whether you need a doctor's recommendation to obtain it. 
So is CBD oil legal? If you're asking about CBD produced from hemp plants, the answer is a resounding yes, while CBD oil products derived from marijuana plants are more controlled and monitored by each state. 
Breaking Down the Legality of Hemp, Marijuana and CBD
Because of the confusion around marijuana vs hemp-sourced CBD, there are plenty of questions  regarding the legality of CBD products. Below is a list of the most common questions and answers for quick reference:
Is Hemp Legal?
Yes, hemp is legal. Because of its low THC content, hemp and hemp-derived products are legal across the United States. 
Is Hemp Oil Legal?
Any hemp product is legal to produce, purchase and use in every state.
Is CBD Hemp Oil Legal?
If you're looking to buy CBD legally in your state, the magic word to look for on the product label is "hemp." All CBD products derived from hemp plants, and not marijuana, are legal everywhere. 
As you're browsing for CBD products, always look for third-party accredited laboratory results on the company's website. This can help assure you that the CBD's source has been verified by a reputable scientific laboratory. Even further, look for a Label Accuracy Guarantee, which confirms that what you read on the label is what you will get inside.
Is CBD Legal in All 50 States?
CBD derived from hemp plants is legal nationwide, as long as THC levels are less 0.3%
For CBD derived from marijuana, it depends on the state. But state laws for marijuana products are constantly changing. If you're interested in the legality of marijuana-sourced CBD in your state, you can find up-to-date information on the Business Insider website,
As you're researching the legality of marijuana and marijuana-sourced CBD products, you may come across some different legal classifications that vary state by state. To clarify your findings, here are the different ways marijuana and marijuana-sourced CBD are classified:
Legalized – The legalization of marijuana products means that the state government has removed all penalties for possessing or using these products. However, there may still be rules in place. For example, these rules may dictate the amount each person can buy or the age someone has to be to purchase marijuana-sourced CBD.
Medical use – A few states have legalized the use of marijuana products but only for medical purposes. That means a doctor's recommendation is required. Some states even require you to have a medical card. This medical card states that you have a medical need for your marijuana products.
Decriminalized – States that have decriminalized marijuana products have eliminated jail or prison time as punishment for possessing or using marijuana. In these states, the punishments for holding or using marijuana are similar to those doled out for minor traffic violations. 
Can I Bring CBD Across State Lines?
Any CBD products sourced from hemp plants that have less than 0.3% THC are completely legal to bring across state lines. 
However, carrying CBD products sourced from marijuana across state lines can be more complicated. Check your state's laws to find out what limitations are in place.
How Old Do I Have to Be to Buy CBD?
There's no law that requires you to be a certain age to purchase hemp-derived CBD products. In fact, they can often be found in health food and wellness stores across the country. However, some hemp CBD companies have a strict age policy, requiring customers to be 18 years or older to purchase.
When it comes to marijuana-sourced CBD products, the answer varies by state. In some cases, CBD purchasers have to be 18 and in others, it's 21. It's always best to familiarize yourself with your state's marijuana laws before purchasing. 
Can I Legally Buy CBD Online? 
If you're looking to buy premium hemp extract CBD products, you can absolutely buy CBD online. If you're looking to buy marijuana(full-spectrum) CBD products, you'll need to check your state's laws. 
How Can You Buy Legal CBD You Can Trust?
Hemp-based CBD oil is legal everywhere. But CBD oil products made from premium ingredients and guaranteed to work may be more difficult to find. 
That's why our new line of Zebra CBD products is getting some great buzz. While our customers appreciate that our products are made in the U.S.A. from organic, premium hemp oil, most of all they are surprised and happy to find out they actually work.
The key to determining quality is to look for two things:
Third-party verification or a certificate of analysis – Reputable CBD companies want to give consumers as much reassurance as possible. As a result, they seek out third-party testing. Third-party verification or a certificate of analysis means a company has sent its products to an accredited laboratory to ensure the products' ingredient list and amounts are true to the label. However, once the lab has completed the analysis, the CBD company doesn't always double-check the lab's results. And in the Wild West of CBD products, the more information and verification you can get, the better. That's why each Zebra CBD product batch undergoes redundant testing to ensure you're getting the purity & potency promised.

Label accuracy guarantee – First, a third-party accredited laboratory examines the product to verify the ingredients and their amounts. Then thoseresults are double-checked by another third-party accredited laboratory. It's the most thorough product quality check in the CBD industry. 
Another consideration after you purchase CBD is to make sure the product has not expired.
For all of your CBD questions, from "Where is CBD oil legal?" to "What CBD oil is right for me?", Zebra CBD has the answer. We are deeply committed to guiding you on your health journey as well as bringing you CBD products you can trust.
Sources: 
Vox. 9 questions about marijuana legalization you were too embarrassed to ask.
https://www.vox.com/policy-and-politics/2019/8/30/20826835/marijuana-legalization-medical-decriminalization-federal-vote
Encyclopedia Britannica. Hemp.
https://www.britannica.com/plant/hemp
Business Insider.States where marijuana is legal.
https://www.businessinsider.com/legal-marijuana-states-2018-1
U.S. Food and Drug Administration. FDA Regulation of Cannabis and Cannabis-Derived Products, Including Cannabidiol (CBD).
https://www.fda.gov/news-events/public-health-focus/fda-regulation-cannabis-and-cannabis-derived-products-including-cannabidiol-cbd