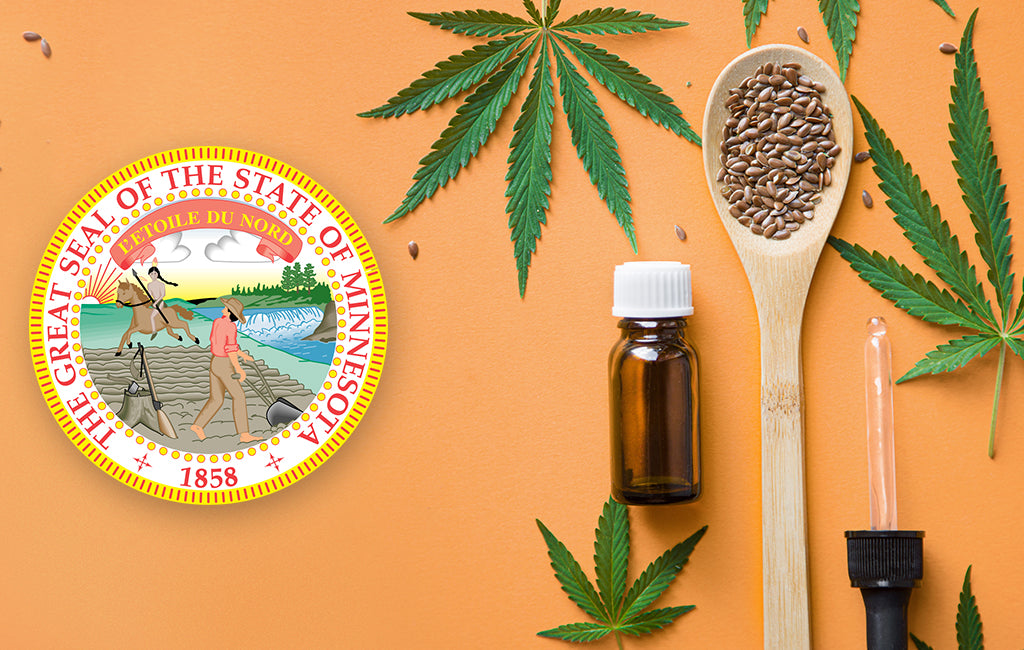 Minnesota may be most famous as the Land of 10,000 Lakes, but there's another reason to enjoy your time in the North Star State: CBD products are fully legal and easily accessible throughout Minnesota for adults over the age of 21.
CBD is legal in Minnesota without a prescription, as long as it contains less than 0.3% THC, or any THC derivative like delta-9.
As of June 2022, the amended Minnesota Statute 151.72 allows the sale of edible products containing CBD, so long as they are accurately labeled, contain less than 0.3% THC and comply with independent testing requirements. 
CBD Laws in Minnesota: What You Need to Know
CBD oil and other hemp-derived products are legal in Minnesota per several laws: Chapter 18K, Minnesota Statute 151.72, and HF 4065. 
Chapter 18K is Minnesota's industrial hemp development statute. This legislation went into effect in 2015, and it established:
Legal production of industrial hemp – Hemp is redefined as an agricultural crop, distinct from marijuana, as long as its THC content doesn't exceed 0.3%. This removes hemp from the state's list of controlled substances.
Regulation by the Department of Agriculture – Licensing and regulation of the industrial hemp program was put under the authority of the state's Dept. of Agriculture.
In January 2020, Minnesota Statute 151.72 went into effect. This law concerns the sale of cannabinoid products, including hemp-derived CBD oil and other CBD products. This statute established:
Sale of hemp-derived products – Hemp and related products like CBD are legal to buy and sell in Minnesota as long as they do not exceed the legal THC limit, don't claim to treat any disease and are contaminant-free. The Minnesota Board of Pharmacy oversees the sale of CBD products.
Requirements for testing and labeling – CBD products must be tested for potency and contaminants by an independent, accredited lab. The label must provide the name of the testing laboratory along with accurate CBD and THC content information (or a scannable code that takes the consumer to a website providing this information).
HF 4065 is Minnesota's newest legislation concerning CBD. This act went into effect on July 1, 2022, and amended Statute 151.72 to clarify the state's policies around hemp products. The bill established:
Age limit for purchasing CBD – Individuals must be over the age of 21 to purchase hemp-derived cannabinoids like CBD. 
Use of CBD in foods, beverages, and topicals – CBD can be sold in consumable forms, as long as it's derived from hemp and contains less than 0.3% THC. Legal products must contain no more than 50 mg THC in a package and no more than 5 mg THC per serving.
Regulations for all forms of THC – The legislation clarifies that the state's limits on THC content apply to any and all derivatives of THC, including delta-9.
Is CBD Legal in Minnesota?
Yes, CBD is legal in Minnesota without a prescription, as long as it contains less than 0.3% THC, or any THC derivative like delta-9. As of July 2022, even food and beverages containing CBD are legal. 
Keep in mind that the laws surrounding CBD are evolving quickly in Minnesota. It's always best to keep up to date with your local regulations before purchasing or using any CBD products.
Can I Buy CBD in Minnesota?
Yes, you can buy CBD in Minnesota. The state allows the sale and use of CBD products, as long as they are properly labeled and tested, produced from hemp, and contain less than 0.3% THC (the amount considered to have psychoactive effects). You can purchase and use CBD products without a prescription from a doctor. 
Can I Buy CBD Online?
Yes, you can buy CBD online in Minnesota and have your choice of CBD product shipped right to your door. Shopping online will give you easy access to a full range of CBD products like tinctures, edibles and even pet products. 
There are a few things to keep in mind when buying CBD online to be sure your product is high quality. State law requires CBD products to be accurately labeled and tested by an independent laboratory, so do your research before making a purchase. Look for:
Accurate labeling – Check the retailer's certificate of analysis (COA) and independent lab testing results. These should be easily accessible on the website of any reputable company. 
Hemp-derived CBD – Unless you have a medical cannabis prescription from your doctor, you'll need to stick with hemp-derived CBD that contains less than the federal limit of 0.3% THC. 
Tested and certified contaminant-free – To be sure your CBD contains only what you want, choose a manufacturer that uses high-quality hemp and tests their products for contaminants. Zebra CBD uses only certified organic hemp to produce our CBD, and every batch is tested to ensure it's free of heavy metals, pesticides, and microbial contaminants.
Can I Buy CBD at a Dispensary?
Yes, you can purchase CBD at dispensaries in Minnesota. If you need CBD with higher THC content for medicinal purposes, you'll have to purchase it at a licensed dispensary. 
Since the legalization of CBD for recreational use in 2020, you can also find CBD at many other brick-and-mortar locations in the state, like pharmacies, corner stores and markets. You will need to be over age 21 to buy it, though.
Legal Status of CBD in Minnesota
CBD products are legal in Minnesota, but there are some regulations that must be followed. CBD products can only contain up to 0.3% THC and must be labeled properly. You must be over the age of 21 to purchase CBD in Minnesota. 
Currently, CBD can be purchased online or in person from a variety of retailers. Remember that the legal status of CBD changes frequently as laws evolve, so check your local statutes regularly.
Legal Disclaimer
The information contained above is provided for educational and informational purposes only, and should not be construed as legal advice. The provided information may not reflect current legal developments or information, and is not guaranteed to be correct, complete or current. We recommend checking our source(s) to see if the information or legal status have been revised since our content was published.
FAQ
1. Is CBD legal in Minnesota?
Yes, CBD is legal in Minnesota, so long as it is produced from hemp and not over the legal limit of THC (0.3%).
2. How old do you have to be to buy CBD in Minnesota?
You must be over 21 to purchase CBD products in Minnesota.
3. Can I sell CBD products in Minnesota?
Yes, you can sell CBD without a license in Minnesota, but if you wish to grow or process hemp, you'll need to obtain a license from the Minnesota Department of Agriculture.
Sources: 
Minnesota Board of Pharmacy. Frequently Asked Questions - 2019 Legislation. https://mn.gov/boards/assets/FAQ2019Legislation04012020Update_tcm21-426252.pdf
Minnesota Legislature. Statute 151.72. https://www.revisor.mn.gov/statutes/cite/151.72
Minnesota Legislature. Chapter 18K, Industrial Hemp Development. https://www.revisor.mn.gov/statutes/cite/18K/pdf  
Minnesota Legislature. HF 4065. https://wdoc.house.leg.state.mn.us/leg/LS92/HF4065.3.pdf
Minnesota Department of Agriculture. FAQS Regarding Minnesota's Hemp Program. https://www.mda.state.mn.us/plants/hemp/industhempquestions