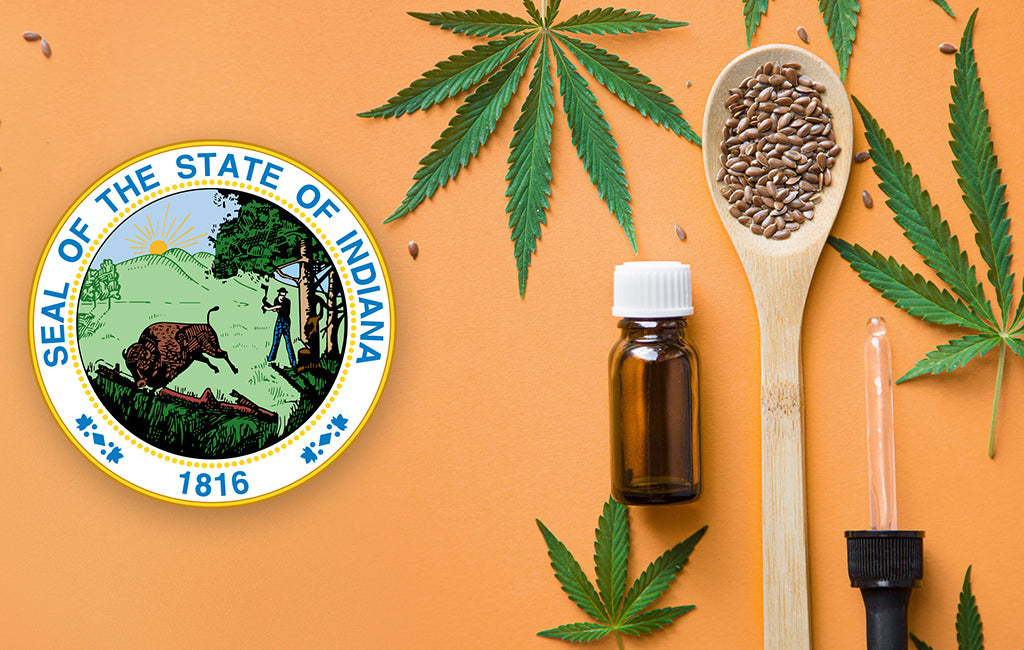 With its scenic views, enormous swaths of flourishing farmland and bustling, cosmopolitan cities, the "Hoosier State" is as lovely of a place to visit as it is to call home. Whether you're in the "Crossroads of America" for a quick visit or have called the state home for decades, you may be wondering: Is CBD legal in Indiana?
In a word: yes, albeit with some caveats.
Indiana residents may distribute and use hemp-derived CBD that doesn't exceed 0.3% of THC.
Although Indiana has historically been thought of as an anti-cannabis state, the 2018 Farm Bill legalized CBD at the federal level and Indiana followed suit under Senate Bill 52. In accordance with federal law, CBD sold and purchased in Indiana must be derived from industrial hemp and contain less than 0.3% of THC — the psychoactive agent that causes intoxication. However, smokable CBD is illegal across the state.
CBD Laws in Indiana: What You Need to Know
Today, the cultivation, distribution and use of CBD products, with the exception of smokable hemp, are legal in Indiana for medicinal and recreational purposes —  no prescription required. Manufacturers, however, must adhere to packaging, testing and licensing mandates. 
Testing regulations – CBD products must undergo testing performed by an accredited third party that evaluates for the presence of contaminants and controlled substances, as well as the specific amounts of THC and CBD the product contains. To be considered legal for purchase, CBD products must include 5% of cannabinoids — and, again, less than 0.3% of THC.
Labeling requirements – Packaging on CBD products is legally required to contain a QR code or barcode linked to the product's name, manufacturer's name, batch date, batch ID number, expiration date, batch size, list of ingredients, number of CBD milligrams and Certificate of Analysis (COA).
Licensing rules – Industrial hemp may be grown and processed by individuals who received a license through the Office of the Indiana State Chemist; this requires an FBI background check. Unlicensed individuals who grow and distribute CBD may face penalties such as fines or incarceration. 
Is CBD Legal in Indiana? 
Yes, Indiana residents may distribute and use hemp-derived CBD that doesn't exceed 0.3% of THC. That said, smokable CBD flowers are legally prohibited. Here's a brief rundown of the history of CBD in Indiana:
2014 – Then-Governor and former Vice President Mike Pence signed the Industrial Hemp Bill into law, which authorized the Office of Indiana State Chemist & Seed Commissioner to produce and regulate industrial hemp. This law did not extend to the sale and purchase of hemp-derived consumer products, however.
2017– Indiana Governor Eric Holcomb legalized CBD that may help with a condition under House Bill 1148.
2018 – Low-THC, hemp-derived CBD was legalized under Senate Bill 52 — the same year the Farm Bill rendered CBD federally legal (with stipulations).
2019 – Under Senate Bill 516, the Indiana Hemp Advisory Committee was formed to provide counsel on Indiana hemp laws to the Office of Indiana State Seed Commissioner. This bill also clarified dealing, selling and possessing smokable hemp as a punishable criminal activity. 
Can I Buy CBD in Indiana? 
Indiana residents may purchase a wide range of CBD-infused products, including CBD oil, tinctures, gummies and other edibles. This also pertains to products that use hemp-derived Delta 8 — an alternative cannabidiol that falls under the 2018 Farm Bill and the Indiana Hemp Act. 
CBD products are offered by many retailers throughout the state, from pharmacies to convenience stores. And if you're at a loss of where to find them in your hometown, head to one of the more populated cities in your region, such as Indianapolis, South Bend or Bloomfield. 
Can I Buy CBD Online?
Certainly. Purchasing from an online retailer gives you the chance to dig a bit deeper into a manufacturer — you can browse their collection of products to find those that would best suit your lifestyle and preferences, read their consumer reviews and ensure their legitimacy.
If you choose to buy your CBD online, you may also want to assess a retailer for their transparency. Companies such as Zebra CBD include a Label Accuracy Guarantee, which certifies that their products have undergone third-party analyses and contain what you want — cannabinoids — and what you don't (heavy metals, pesticides and other potential toxins). And what could possibly beat having CBD delivered to your door?
Can I Buy CBD at a Dispensary?
Indiana residents may also purchase CBD from licensed dispensaries throughout the state. For some, this might be preferable: it offers a sense of safety and provides consumers the opportunity to ask questions. 
But, while Indiana residents are free to purchase CBD from licensed retailers, dispensaries may have an age requirement — for some, you must be 18 or older; for others, 21 and older.
Legal Status of CBD in Indiana 
Harvesting, processing and selling CBD in Indiana is legal as long as you have obtained a license through the state. Indiana residents are also at liberty to purchase CBD from brick-and-mortar stores (including dispensaries) and online. Neither distributors nor consumers are permitted to sell, use or possess smokable CBD flowers.
Keep in mind, though, that some retailers may not sell to minors. It's also important to note that CBD laws, on the state and federal level, are subject to change. For now, though? You can reap the potential benefits of CBD throughout the Hoosier State.
Legal Disclaimer
The information contained above is provided for educational and informational purposes only, and should not be construed as legal advice. The provided information may not reflect current legal developments or information, and is not guaranteed to be correct, complete or current. We recommend checking our source(s) to see if the information or legal status have been revised since our content was published.
FAQ
1. Is CBD legal in Indiana?
Yes, hemp-derived, low-THC CBD is legal in Indiana — for both licensed growers and consumers.
2. How old do you have to be to buy CBD in Indiana?
There are no legal age requirements to purchase CBD in Indiana. However, some retailers may sell only to those who are 18 (or 21) and over.
3. Can I sell CBD products in Indiana?
Yes, but this requires licensure through the state. 
Sources: 
Indiana General Assembly. Senate Bill 516. https://iga.in.gov/legislative/2019/bills/senate/516/#digest-heading
Indiana State Department of Agriculture. Indiana Hemp Licensing Stats. https://www.in.gov/isda/divisions/economic-development/hemp/
Office of Indiana State Chemist. Indiana Hemp Regulatory Website. Indiana Hemp Regulatory Website (purdue.edu)
Indiana General Assembly. House Bill 1148. https://iga.in.gov/legislative/2017/bills/house/1148