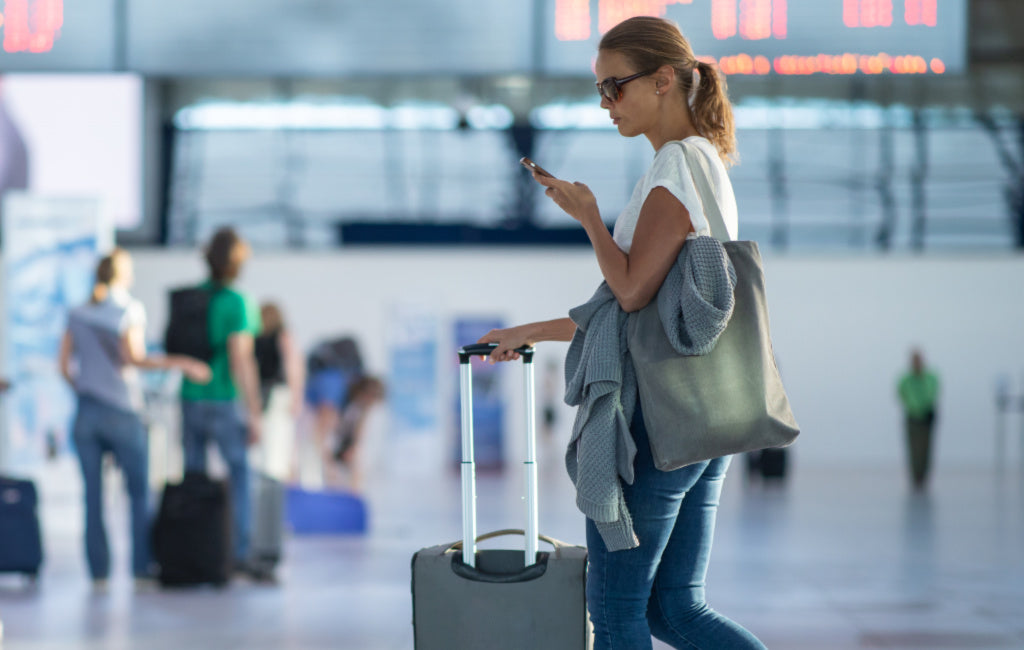 Whether you're setting off on a much-needed vacation or flying out for a business trip, travel can be a little more complicated with CBD (cannabidiol) in tow. CBD products — including CBD flower, CBD gummies, CBD isolate, CBD edibles and CBD oil — can help improve your mood and manage stress during travel. 
But the big question is, "Can you travel with CBD gummies?"
The short answer is, "Maybe." There's a lot to unpack regarding traveling with CBD in terms of national and international regulations. 
Law enforcement in most states have passed laws allowing the use of hemp derived CBD and hemp oils.
From defining legal CBD to exploring legal statutes, this is your guide to traveling with CBD.
What is the Difference Between Marijuana and Hemp?
The use of CBD products has become more culturally accepted and widespread, but there are still a lot of questions about the legality of CBD, especially as it relates to travel. 
To comply with federal and local law, it helps to have an understanding of the differences between marijuana and hemp and becoming familiar with CBD laws by state. These two compounds come from the same plant (cannabis) but are considered distinct due to their intended uses and effects.
Consider these crucial differences between these substances:
Psychoactive factors – Traditional marijuana is a federally regulated substance known for its psychoactive effects. The cannabinoid THC (tetrahydrocannabinol) is the main psychoactive ingredient in marijuana. Cannabidiol, otherwise known as CBD, is a non-psychoactive cannabinoid derived from the cannabis plant that is commonly used for its mood-boosting and wellness properties.
Usage – CBD is found in both the hemp and marijuana strains of the Cannabis sativa plant. The hemp plant differs from marijuana in that it is primarily grown for its fibers and seeds as well as for CBD products.
Sale – The sale of both marijuana and CBD is regulated at the state, federal and international levels. That said, the sale of CBD products is legal in the United States and may be purchased from reputable companies locally or online.
Is CBD Legal?
Unfortunately, there's no simple answer to that question. CBD law depends on where you are and where you are traveling to. The best way to determine the legality of purchasing and using a CBD product is by examining three key areas of regulations.
#1 State Level Laws
Law enforcement in most states have passed laws allowing the use of hemp derived CBD and hemp oils. Additionally, several states have further legalized cannabis products, including recreational marijuana, medical marijuana, edible cannabis, marijuana derived CBD and THC products.
If you're traveling within the US, consider the following breakdown of state law in terms of CBD and THC to make sure you're not traveling with what be considered illegal drugs:
Low restrictions – Currently, 17 states have legalized the recreational and medical use of THC products. This legislation allows for the unrestricted sale of CBD products no matter their THC content. These states include Alaska, Arizona, California, Colorado, District of Columbia, Illinois, Maine, Massachusetts, Michigan, Montana, Nevada, New Jersey, Oregon, South Dakota, Vermont, Virginia and Washington.
Moderate restrictions – Twenty states have legalized medical cannabis usage, which may also extend to CBD products containing THC. These states include Arkansas, Connecticut, Delaware, Florida, Hawaii, Kansas, Louisiana, Maryland, Minnesota, Mississippi, Missouri, New Hampshire, New Mexico, New York, North Dakota, Ohio, Oklahoma, Texas, Utah,  and West Virginia.
High restrictions – States including Alabama, Georgia, Idaho, Indiana, Iowa, Kentucky, South Carolina, Tennessee, Wisconsin,  and Wyoming have higher restrictions for the sale of CBD and THC products. Iowa, in particular, only allows for the sale of CBD with 0% THC content.
#2 Federal Level Laws
In 2018, the federal government of the United States passed the 2018 Farm Bill, a piece of legislation that outlines the federal legality of CBD.
Key factors to understand regarding the 2018 Farm Bill include:
New classification – The bill stipulates that hemp and hemp-derived products are separate from marijuana and other cannabis products. This crucial difference forms the basis of new CBD regulations.
0.3% THC or less – All CBD products must contain 0.3% or less THC by dry weight to be sold and used legally according to federal law. Products containing a higher amount of THC are considered marijuana or cannabis products and are not currently legal nationally (though some states have passed legislation legalizing these products).
FDA oversight – The Food and Drug Administration (FDA) is considered the governing authority over all hemp products. They are responsible for ensuring hemp and CBD products are safe and properly labeled to protect and inform consumers.
Federally legal CBD products must be extracted from FDA-approved hemp. CBD extracted from a standard marijuana plant risks the chance of having a higher concentration of THC than what's legally allowed, so it is best to get a CBD product or gummy made with hemp derived CBD.
#3 International Level Laws
Looking to travel outside of the country with CBD? There are nearly 200 countries across the globe to explore, each with its own rules and regulations regarding CBD products. Always do your research regarding your country of destination to ensure you're following all local laws.
Consider the following facts regarding international travel with CBD gummies and other products:
Many countries are currently investigating CBD legislation and new laws and regulations could appear at any time. To stay informed about recent developments keep an eye out for CBD-related news and investigate official government websites.
How Do I Know The Quality of My CBD?
To confirm the quality and composition of your CBD gummies, you can usually request a CBD certificate of analysis (COA) from the manufacturer of your purchased product. A COA is an independent analysis of the product's cannabinoids by an accredited laboratory to assess product specifications. 
A COA could inform you about:
The THC quantity by weight
Concentration of cannabinoids
Heavy metals or pesticides content
With a COA, you can know precisely what's in your CBD product, which is important because manufacturers may use different CBD extraction methods. To stay safe while traveling with CBD, always opt for products offering a COA.
Traveling With CBD Gummies
Now that you know what kind of CBD gummies are ideal and how to check their quality, can you travel with your gummies? 
Flying With CBD Gummies
According to the Transportation Security Administration (TSA) guidelines, you can travel between states with products that contain no more than 0.3% THC or with those that are approved by the FDA in your checked or carry-on bag. 
If your CBD gummies are made with hemp derived CBD, your gummies likely follow the TSA guidelines for your airport and domestic flight. 
Before heading off to the airport, consider these practical flying tips:
Easy access – Keep your CBD in an easy-to-access location within your luggage. A TSA officer may ask you to remove your gummies for examination, so be sure you know exactly where to find them.
Bring your certificate of analysis – For extra reassurance, you can bring a copy of the product's COA and the most recent TSA guidelines to prove the legality of your gummies to the TSA agents at airport security.
Driving With CBD Gummies
Crossing state lines with a cannabis product can add new complexities to your travel. It may be illegal to enter certain states with CBD products completely, so pay attention to state laws and consider leaving your gummies at home if you're making a trek across the country.
Other Forms of Travel
If you're traveling by sea, stay aware of any international borders and regulations. Additionally, certain cruise lines may also prohibit travelers from having CBD-containing products on board.
Zebra CBD For Home and Travel
Keep your trips stress-free by doing your due diligence when it comes to CBD travel. Fortunately, this article should help you take steps to enjoy the best CBD gummies safely and legally anywhere you go. 
If you're looking for a high-quality CBD gummy or CBD oil product to be your co-pilot during your next trip, check out Zebra CBD.
Every gummy contains full spectrum CBD derived from premium hemp oil to keep your mood stable and your stress under control when you venture outside your home turf. 
Traveling soon? Order Zebra CBD Gummies today for delivery in just a few days. You can even download a copy of our gummy COA to take with you.
Sources:
Healthline. Hemp vs. Marijuana: What's the Difference? https://www.healthline.com/health/hemp-vs-marijuana
FDA. Hemp Production and the 2018 Farm Bill. https://www.fda.gov/news-events/congressional-testimony/hemp-production-and-2018-farm-bill-07252019
World Population Review. CBD Legal States 2022. https://worldpopulationreview.com/state-rankings/cbd-legal-states
Legal Reader. CBD in Europe: Legal Status of CBD Country by Country. https://www.legalreader.com/cbd-in-europe-legal-status-of-cbd-country-by-country/
Cannabis Law Report. The legality of CBD oil in Asia. https://cannabislaw.report/the-legality-of-cbd-oil-in-asia/
Newsweek. Is CBD Legal in the US, UK, Canada, EU and Australia? https://www.newsweek.com/amplify/cbd-legal-us-uk-canada-eu-australia
Daily CBD. Guide to Buying CBD in South America (2022 Edition). https://dailycbd.com/en/south-america/
TSA. Medical Marijuana. https://www.tsa.gov/travel/security-screening/whatcanibring/items/medical-marijuana