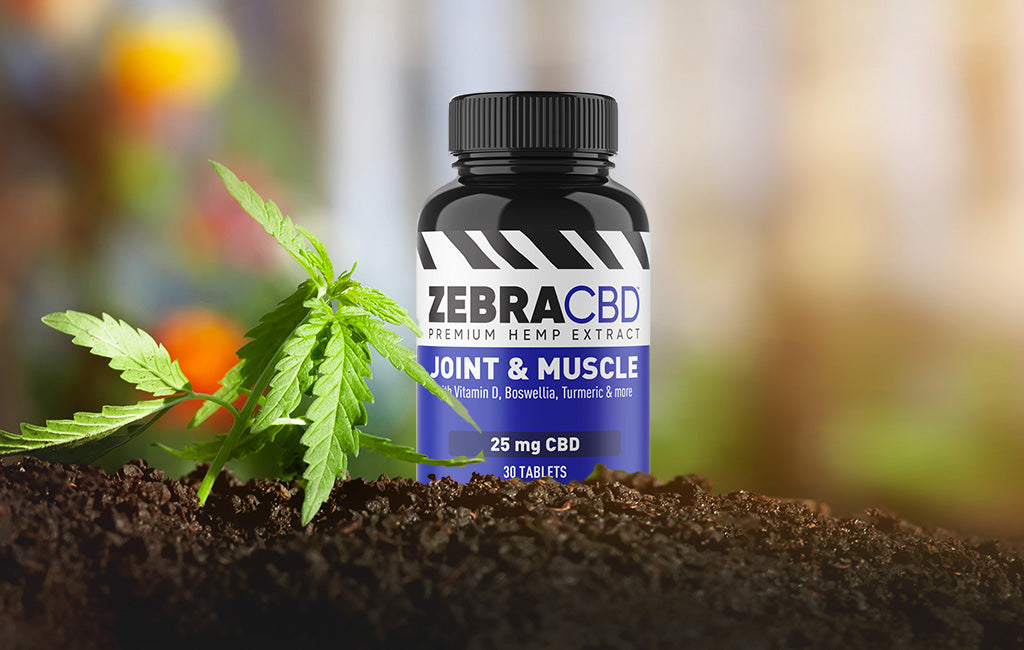 Our Joint & Muscle Tablets contain premium CBD oil plus botanical ingredients to support joint and muscle health. The formula includes boswellia, turmeric and ginger root — all natural ingredients that have been clinically tested and documented to reduce joint stiffness, swelling and tenderness related to exercise.  
Taking this blend of plant-based, ingredients daily can help you stay active by managing both exercise-induced muscle and joint discomfort.
Premium CBD Oil
Our hemp extract is derived entirely from organically grown hemp. We only use full-spectrum and distillate CBD oils in our Joint & Muscle Tablets to ensure you get the full range of health benefits CBD has to offer. Our CBD oil contains several types of cannabinoids in addition to cannabidiol (commonly known as CBD), plus terpenes that work together for maximum benefit. Combined with other ingredients, CBD oil may help support the health and normal functioning of joints and muscles.
Vitamin D
Vitamin D3 helps the body absorb calcium and build and maintain healthy bones. Unfortunately, many people don't get enough Vitamin D. Research has found that low levels of Vitamin D are linked to decreased bone density and reduced muscle strength and size.  Supplementing with this vitamin may help reverse the negative effects of deficiency .
Astaxanthin 
Astaxanthin is a carotenoid pigment responsible for pink and reddish hues found in some sea life, including salmon. It's thought that salmon's high astaxanthin content helps them swim long distances upstream. Astaxanthin has been studied for its effects on exercise endurance. Several studies have found supplementing with astaxanthin provides increased endurance and muscle strength, helping healthy athletes power through longer, more efficient training sessions.
Boswellia Extract 
Boswellia extract comes from the Boswellia tree, also known as Indian frankincense. It's been used in Indian, Chinese and African folk medicine as a remedy for a variety of ailments. Boswellia has properties that can relieve exercise-induced pain. Regularly supplementing with boswellia can be part of an effective exercise-induced pain-relieving regimen for muscular pain.
Turmeric Extract 
Turmeric is a root plant used in cooking and for thousands of years in Ayurvedic medicine. You may be familiar with the ground, yellow spice that is the main ingredient in curry dishes. Turmeric is often found in joint-health formulas for its proven beneficial effects on improving exercise-induced joint pain, stiffness, and swelling in individuals.
Ginger Root Extract
Ginger is a root plant rich in antioxidants with powerful properties. Ginger is often used in cooking, and in teas and supplements to settle digestive distress. Research has found ginger's mechanisms are particularly effective at relieving exercise-induced joint discomfort. 
If you love to workout, but hate the aches and strains that come along with it, Zebra CBD Joint & Muscle Tablets can help ease some of the side effects and get you back in the gym quicker.